Cueto looks sharp in two innings in spring debut
Ace shows now sign of pain in strong outing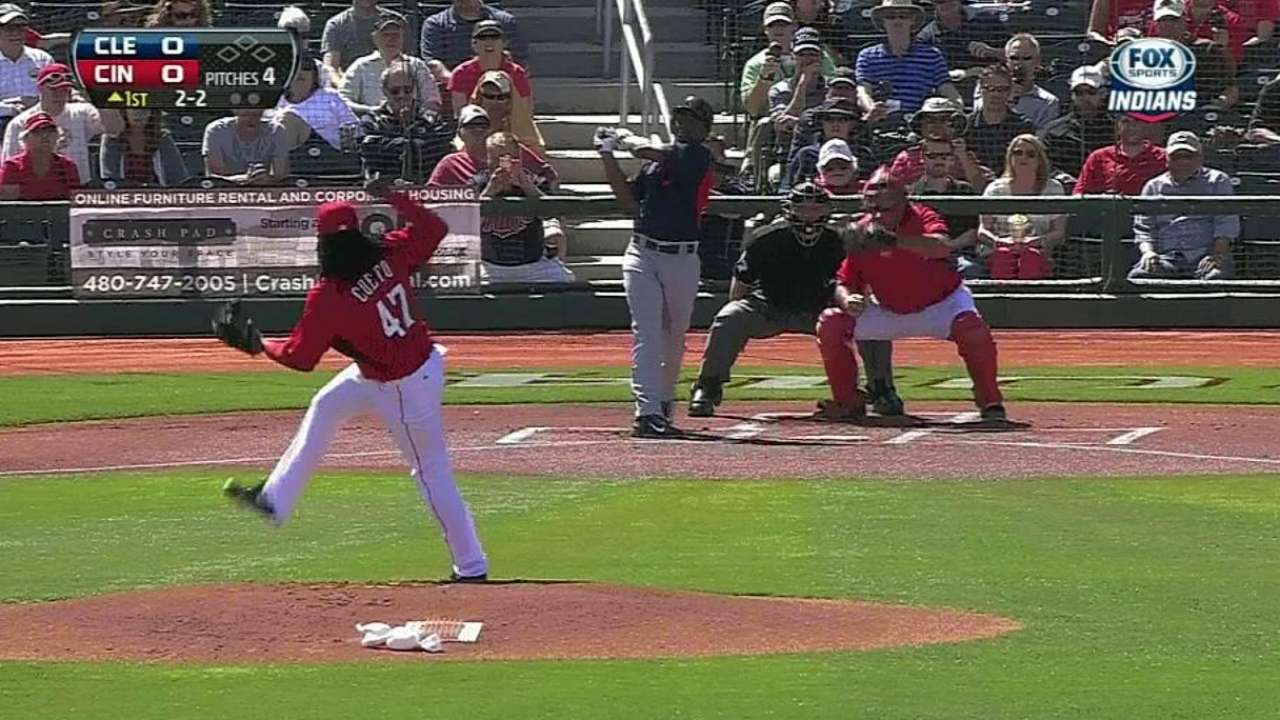 GOODYEAR, Ariz. -- Thursday's exhibition game between the Reds and Indians featured each clubs' aces. Both fared well in their 2014 debuts before the Indians took a 12-3 victory at Goodyear Ballpark.
Cleveland used a five-run top of the fifth inning after the starters were long gone to snap a 2-2 tie and move ahead for good.
Johnny Cueto, who made three trips to the disabled list last season with a strained right lat muscle, showed no signs of trouble. He pitched two scoreless innings with one hit, two walks and two strikeouts. In the first inning, Cueto gave up a one-out double down the left-field line to Mike Aviles before escaping. His two walks came in the second inning but he escaped by getting a lineout and a strikeout.
"I felt great. I felt nothing," said Cueto, who started the previous two Opening Days for the Reds. The club has not named this season's rotation as of yet.
Justin Masterson, Cleveland's likely Opening Day starter, pitched one scoreless inning with one hit and two strikeouts. Billy Hamilton led off with the first inning with a lined single to left-center field and advanced two bases when Aviles' cutoff throw from shortstop to first base went for an error into the seats.
"In a live game, you get a little amped up early on," Masterson said. "That's always my battle -- getting a little amped up. I had to settle down a little bit and try to throw some four-seamers and some sinkers."
Cincinnati scored first in the bottom of the second against Corey Kluber. Zack Cozart hit a two-run double to left field before he was thrown out at third base trying for a triple.
In the top of the fourth against Reds lefty David Holmberg, Elliot Johnson hit his first home run of spring with a game-tying two-run shot to left field on a first pitch.
Prospect Daniel Corcino entered for the Reds in the fifth and struggled to allow four runs with one hit and three walks. Corcino gave up an RBI ground-rule double to left field by Erik Gonzalez. The Reds lifted Corcino with the bases loaded. Lefty Ismael Guillon's first batter, Jake Lowery, crushed a 1-0 pitch for a grand slam to right field.
With one out in the sixth against Guillon, Nyjer Morgan hit a RBI double off of the wall in right-center field. Guillon let another run in on a wild pitch.
Manager Bryan Price wasn't too concerned with all the runs his team gave up.
"We were up in the zone and situations, especially here, you get some balls up in the air and they hit some balls real well," he said. "You give up 12 runs on 12 hits, that usually means there were some extra base hits and some walks involved also. It's going to get a lot better. These early outings for me don't carry a whole lot of credence or any barometer."
It was the first game this spring as a third baseman for Indians star Carlos Santana, who converted from catcher. Santana played two innings in the field without a ball being hit his way.
Up next for Reds: Reds closer Aroldis Chapman is slated to make his spring debut Friday, on his 26th birthday, when the Reds meet the Indians for a third-straight day at Goodyear Ballpark. First pitch is at 3:05 p.m. ET. Homer Bailey will make the start since signing a six-year, $105 million contract last week.
Mark Sheldon is a reporter for MLB.com. Read his blog, Mark My Word, and follow him on Twitter @m_sheldon. This story was not subject to the approval of Major League Baseball or its clubs.