Dunn to witness Hollywood's biggest spectacle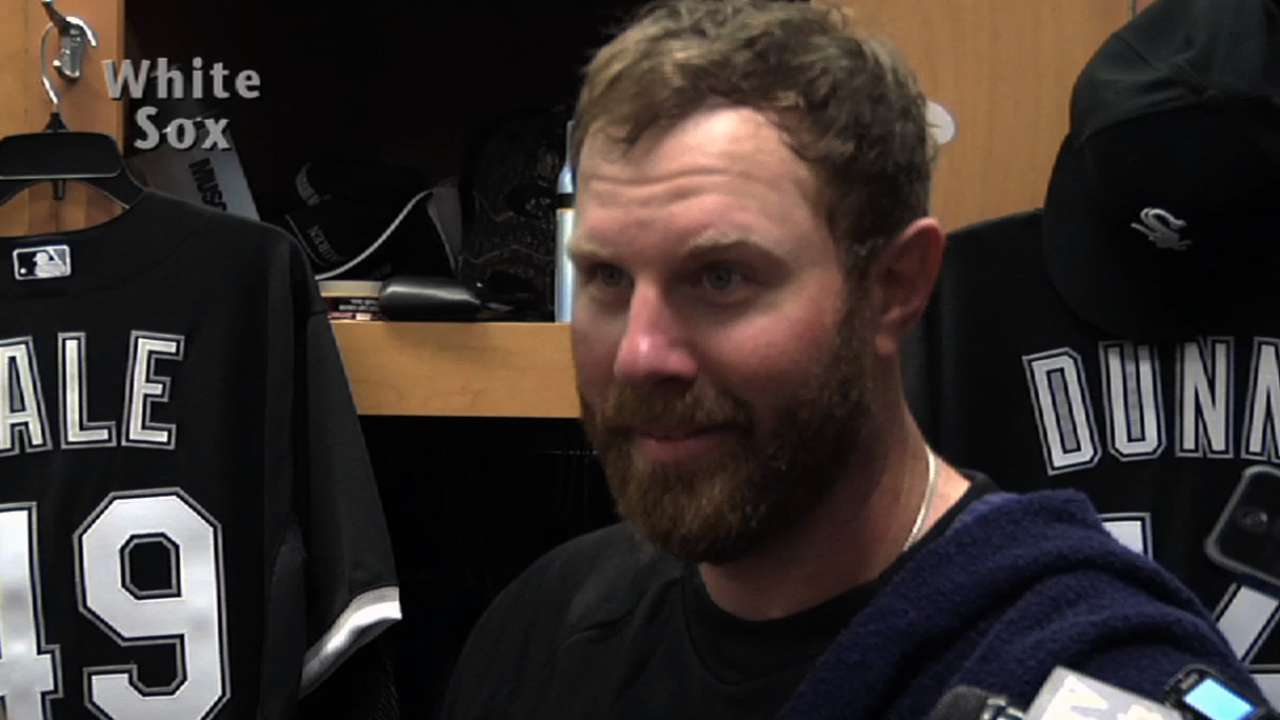 GLENDALE, Ariz. -- "And the Oscar trip from Glendale, Ariz., to Los Angeles, Calif., goes to ... Adam Dunn of the Chicago White Sox."
The White Sox designated hitter made that piece of news official on Thursday, after finding out his weekend playing schedule in Cactus League action and once again receiving the full blessing from the organization and his teammates. Manager Robin Ventura basically told Dunn that he was going, not allowing him to miss a possible once-in-a-lifetime opportunity, but with two conditions.
Ventura doesn't want to see him on Monday, the day after Sunday night's celebrations. And if Dallas Buyers Club wins for Best Picture, Dunn and his tuxedo have to be on stage as part of the group accepting.
"He's a great teammate. He came in and talked it over and he wanted to make sure everybody was all right with it, but I think he should go," Ventura said. "It's probably once in a lifetime.
"I don't know if his career is going to take off after Neddie Jay. But it's a cool thing. I think he should go do it, and guys are happy for him. Everybody's probably going to watch it to see if they can spot him. Hopefully, he wins. Everybody's happy for him to go and do something fun like that."
Dunn is an investor in his friend Joe Newcomb's company, which produced Dallas Buyers Club, the movie that ended up with six Oscar nominations, including one of the nine Best Picture nominees, Matthew McConaughey for Best Actor in a Leading Role and Jared Leto for Best Actor in a Supporting Role. Dunn also had a small part referenced by Ventura as bartender Neddie Jay, and has joked about being overlooked in the 2014 Academy Awards.
Ventura's present plan is to have Dunn in the lineup Saturday and then at least work out on Sunday before leaving. Dunn appreciates Ventura and general manager Rick Hahn giving him the encouragement face to face, as he would have stayed behind with any hint of an issue.
"I said earlier, I'm not here to go to the Oscars," Dunn said. "I'm here to get ready for Opening Day, and if I was playing [Friday] and playing Sunday and all that stuff and the schedule didn't line up, then I wouldn't have gone.
"No, it will be cool. It will be a lot of fun, and just I don't really know a whole lot about it. I know people have parties for this kind of thing, so it must be pretty cool."
Scott Merkin is a reporter for MLB.com. Read his blog, Merk's Works, and follow him on Twitter @scottmerkin. This story was not subject to the approval of Major League Baseball or its clubs.