Hughes a strike-thrower in first Twins action
New Minnesota righty K's four in two scoreless innings in intrasquad game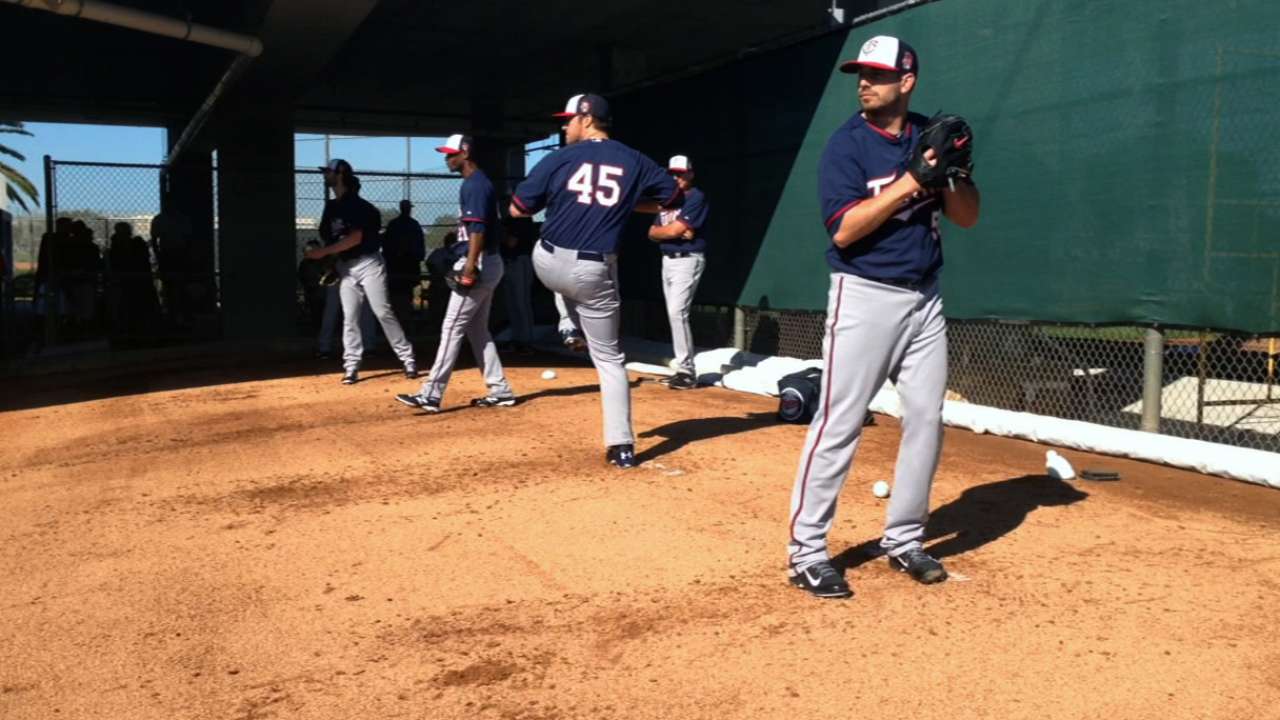 FORT MYERS, Fla. -- It was a successful Twins debut for right-hander Phil Hughes, even if it was just an intrasquad game against his teammates on Thursday at Hammond Stadium.
Hughes, who joined the club on a three-year, $24 million deal this offseason, threw two scoreless innings with four strikeouts -- including whiffs of top prospects Byron Buxton and Miguel Sano. Hughes, whose fastball was at about 91-92 mph, was pleased with the results, as he threw 20 of his 26 pitches for strikes.
"I was just trying to attack the zone," Hughes said. "It was good to see some live hitters for the first time, so that was a positive. ... To be able to be in a game setting and see some hitters and some swings was good. Throwing strikes and staying within my mechanics was the biggest thing."
Hughes added that one of his biggest goals this spring is to work on his curveball, as he's ditching his slider in favor of a cutter and a curve. He said he threw about seven to eight curveballs during his outing and will continue to mix in more this spring.
Hughes threw his slider a career-high 23.8 percent of the time last year while not throwing a cutter and using his curveball 8.6 percent of the time, according to data at Fangraphs.com.
Hughes said he'd like to get back to his success from 2010, when he was an All-Star and threw his cutter 16.1 percent of the time and his curveball 20.6 percent of time. Hughes said he didn't even start throwing his slider until late in the 2012 season, and will also mix in a few more changeups this season.
"I threw a lot of sliders last year, but I'm hoping to get away from that," said Hughes, who missed nearly all of Spring Training last year with a bulging disk in his back. "I'm just going with a little bit firmer cutter and get my curveball back on track and where it needs to be. It has the potential to be good, but last year it wasn't, so I had to figure it out on the fly, and it wasn't a recipe for good results. Now that I have a full Spring Training, if I can get that curveball where it needs to be, I can get back doing those things I've had success with."
Rhett Bollinger is a reporter for MLB.com. Read his blog, Bollinger Beat, and follow him on Twitter @RhettBollinger. This story was not subject to the approval of Major League Baseball or its clubs.