Moss making adjustments to counter defensive shifts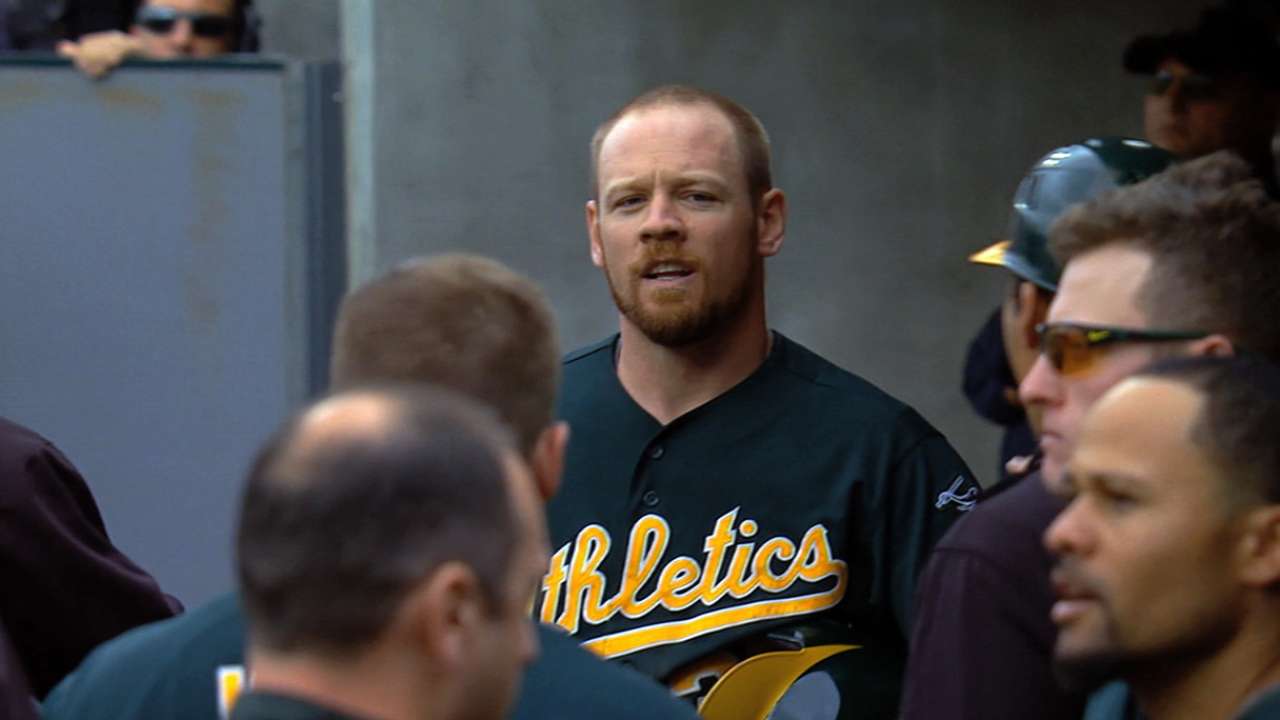 PHOENIX -- Brandon Moss made it look easy, ignoring the heavy defensive shift and beating it with a long home run over the right-field wall at Papago Park during a recent workout.
"But last year," said Moss, "only 30 times out of however many at-bats did I do that."
The qualifier may not be necessary -- Moss averaged a home run every 14.87 at-bats, good for fourth in the Majors -- but his point is succinct: He can't rely on the long ball to scare away the shift.
Oakland's first baseman was shifted on 165 of 505 plate appearances last year, the 12th-highest total for a batter from a specific bat side, according to Baseball Info Solutions. This doesn't surprise him.
"I saw a ton," he said. "I don't think after May I saw a single, straight-up defense, except maybe the Astros. I was one of a few guys the Astros played semi-straight up. The other teams, I saw a lot of shifts. Texas, they shifted me like crazy, and so did the Angels. Teams that know me, they know when to do it."
Now it's Moss' turn to make the adjustment, so he's making bunting one of his priorities this spring. Don't expect him to do it a lot. He just wants to have the option in his pocket.
"The over-exaggerated shift gets really frustrating sometimes," he said. "And there are times when I've come up late in the game, especially when I'm not going well, and they'll shift, and say you're down by two and you need a baserunner, it would be a very good thing to have.
"A lot of guys might look at it as, 'If I bunt, I'm not giving myself a chance to drive the ball.' You're just giving yourself an opportunity to get on base for your team. It was something I wanted to do last year, but I had no idea what I was doing. I think they want me to do it, too."
"We're creating awareness," manager Bob Melvin said. "I ask each of these guys, beware of your deficiencies and how you can incrementally get better. If everyone does that, then the team gets better because of it."
The pull-happy Moss said he has bunted perhaps four times in his entire Minor League career. Now he's putting them down every day during workouts and plans to gradually carry that work into exhibition games.
"It's a good thing to have," he said, "because once some advance scouts see that, they might be inclined to shift the defense back over. That's the goal."
Jane Lee is a reporter for MLB.com. Read her blog, Major Lee-ague, and follow her on Twitter @JaneMLB. This story was not subject to the approval of Major League Baseball or its clubs.