Kohn feeling strong, developing breaking ball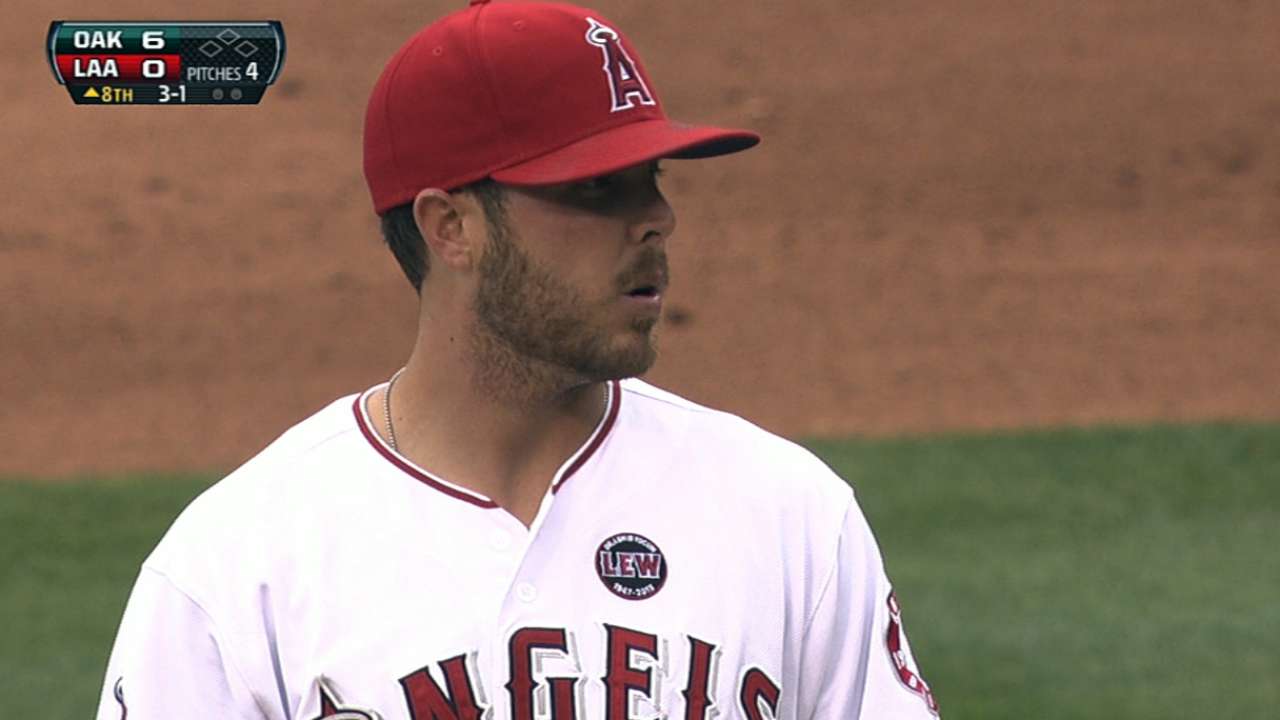 TEMPE, Ariz. -- They say the second year post-Tommy John surgery is when pitchers really start to feel good again, and hard-throwing Angels reliever Michael Kohn can certainly vouch for that right now.
"I don't know what the radar readings are," Kohn said, "but the ball feels like it's flying out of my hands."
Kohn had a 3.74 ERA, a 1.32 WHIP and a 1.86 strikeout-to-walk ratio in 53 innings (63 appearances) during his first year removed from Tommy John surgery in 2013. His average fastball velocity was 94.2 mph, almost a full tick higher than what it was in 2011. He pitched on back-to-back days 11 times, appeared in three straight games on four separate occasions. And he never once went on the disabled list.
It was, by most accounts, a success.
But Kohn's numbers also fell off down the stretch, with a 5.40 ERA from Aug. 7 to Sept. 26, and the easy place to go is that Kohn hit that proverbial wall after missing a full season.
"But my arm felt phenomenal," Kohn said. "Phenomenal. I actually wanted to end the season and keep throwing."
That's why the Angels never shut Kohn down, even though they weren't really in the playoff race for the last two months. Kohn wanted to keep throwing aggressive bullpen sessions in October, but the Angels told him to not even look at a baseball in the fall.
So he started throwing later than ever (the day before Christmas) and didn't get off a mound again until mid-January, completing eight bullpen sessions by the time he arrived in camp.
"Now I feel like I'm ready to go," Kohn said. "I still need to get my rhythm and timing back, but my arm feels great."
Kohn's focus this spring is to learn how to consistently throw his breaking ball for strikes, in hopes of evening out his splits. Thanks to his Ernesto Frieri-like tailing fastball, lefties posted only a .589 OPS against the 27-year-old right-hander last season. But righties had an .847 OPS against him.
As Kohn said: "I basically became a righty-lefty specialist."
The point of the breaking ball -- which would be added to the fastball Kohn relies on heavily, plus the changeup he developed late in the year -- is to have a pitch that breaks away from opposing right-handed hitters. It doesn't need to be great. Kohn just needs to prove he can throw it for strikes.
"Because if you look at the dominant relievers in the league who throw mid- to upper-90's -- besides guys like [Craig] Kimbrel who just have ungodly, wipeout secondary pitches -- most of those guys have average secondary stuff," Kohn said. "But they can throw it for a strike. And if you can let a hitter know, 'I don't have a [Clayton] Kershaw bender, but I have a bender I can get for a strike and then come at you with 96, 97,' then they're like, 'OK, he can throw two for strikes.'"
Alden Gonzalez is a reporter for MLB.com. Read his blog, Gonzo and "The Show", and follow him on Twitter @Alden_Gonzalez. This story was not subject to the approval of Major League Baseball or its clubs.