Ramos healthy, but Nats intend to keep him fresh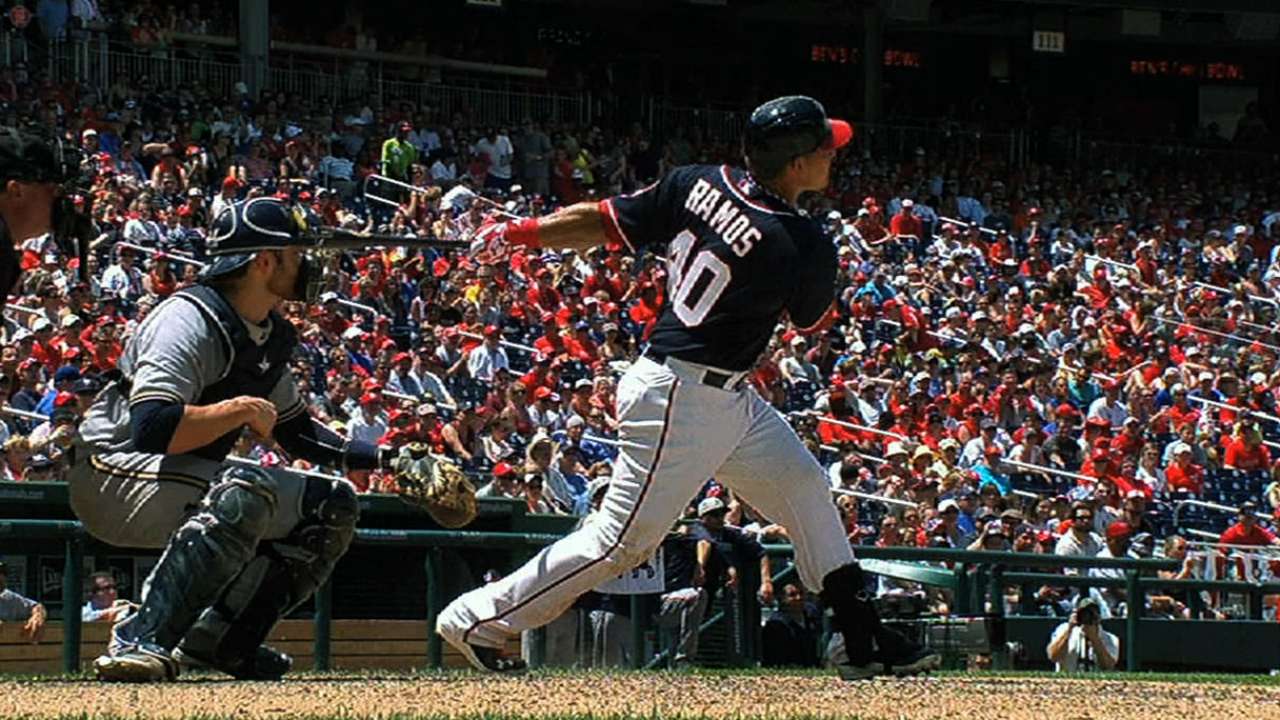 VIERA, Fla. -- While serving as a batting-practice pitcher on the field at Space Coast Stadium on Thursday, manager Matt Williams snuck one pitch past the bat of Wilson Ramos, kicking off a friendly competition. The burly catcher didn't miss another one, putting on an impressive power display that included two blasts off the scoreboard beyond left field and another that cleared the berm in deep left-center.
"I lost," Williams admitted afterward with a big grin.
When it counts this season, the two will be on the same side, and that has Williams smiling, too. Health could be the only thing holding Ramos back, as the 26-year-old comes off a season in which he hit 16 home runs and slugged .470 in only 78 games.
"He's an important piece to our team," Williams said. "You want to be strong up the middle, and it starts with him. So we need to make sure we take good care of him in Spring Training and get him enough at-bats and make sure that his legs are good and try to do that. He's an integral part of our team."
After a breakout rookie year in 2011, Ramos has suffered knee and hamstring injuries over the past two seasons. But he feels 100 percent healthy now. He ran the bases with no pain and no problems while playing winter ball in his native Venezuela, and as he showed Thursday, his legs are plenty strong.
"I'm very excited," Ramos said. "Two years in a row, getting hurt, it's pretty hard. But right now, it feels great. I'm excited to be healthy."
Even if Ramos stays healthy, Williams is committed to keeping the catcher's workload on the lighter side. That means plenty of scheduled days off, especially early in the season, and encouraging Ramos to use those days to maintain his strength and flexibility.
Considering that plan and the fact that Washington recently traded for a solid backup in Jose Lobaton, Ramos likely won't be behind the plate on an every-game basis. Asked if his catcher might repeat his streak of 23 straight starts from late last season, Williams gave an emphatic, "No."
"The perfect scenario in my brain says day game after night game, day before day off to give him two," Williams said. "But the nature of the game is such that that never works. We'll try to do those things where we can give him a couple days off at a time to get flushed out and feeling back to good for his next game."
Andrew Simon is a reporter for MLB.com. Follow him on Twitter @AndrewSimonMLB. This story was not subject to the approval of Major League Baseball or its clubs.