Porcello goes right to curve in first spring outing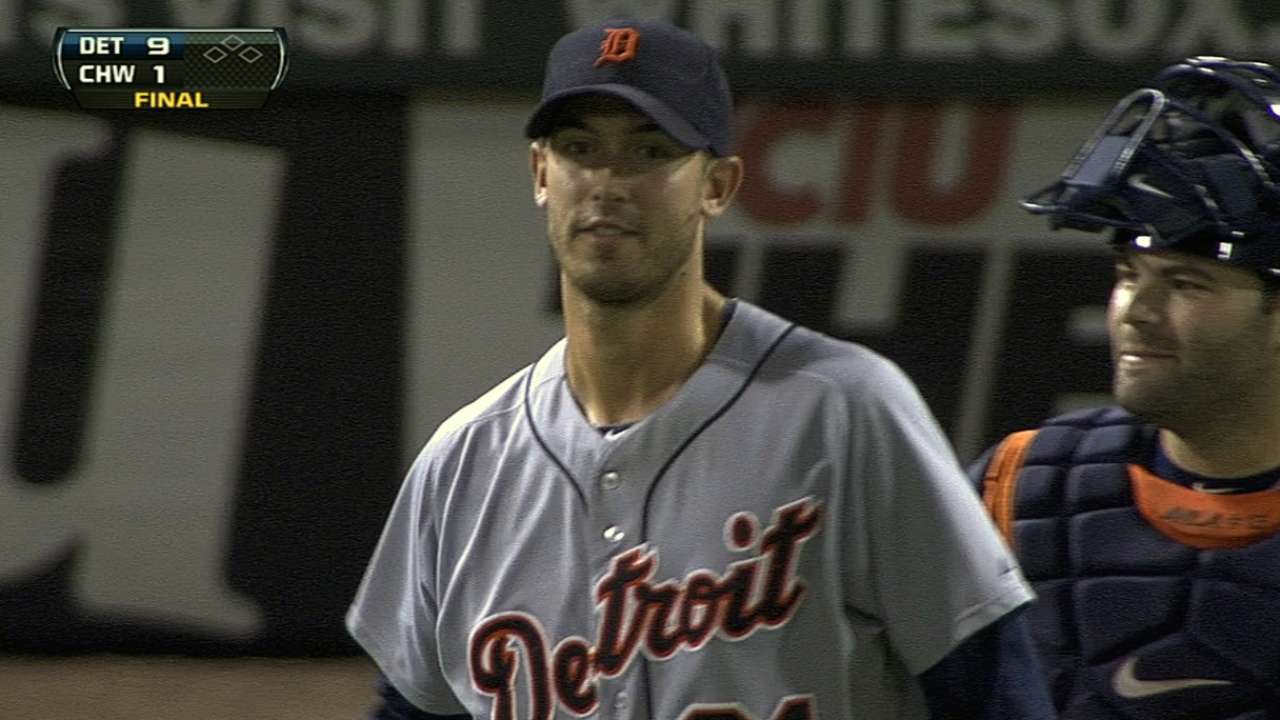 LAKELAND, Fla. -- Rick Porcello had adrenaline flowing in his first outing of the spring, evidenced by the 94-mph fastballs he was tossing. A two-out walk and an RBI double in the first inning left him regretting some of that.
Porcello gathered himself between innings, came back out to the mound for the second and struck out the side -- all on different pitches.
His curveball, the pitch he honed last spring as a counter to left-handed hitters that have punished him for several years, caught lefty Minor League slugger Mark Hamilton looking for the first out. His changeup induced a swing and a miss from Edward Salcedo, dispensing him quickly. Finally, after Jordan Schafer barely stayed alive fouling off a breaking ball, Porcello came back with a fastball that froze Schafer for strike three.
It was not the teeth of the Braves' order, but the point remained that the young sinkerballer -- who is supposed to benefit most from a defensively improved infield -- got through his second inning without a ball put in play after three groundouts in the first.
"Obviously, I didn't care for that two-out walk in the first," Porcello said, "but other than that, I felt pretty good, threw some good curveballs. The changeup's not quite there yet, but it got better in the second inning. It was pretty good overall."
Of those pitches, the curveball could be the biggest point of improvement for Porcello, even after vast improvement last year. It was a project at this point last spring, something he dusted off as an alternative to his slider. After strong results last year, it's a key part of his arsenal. With no job competition to press him this year, Porcello wants to push himself on improvement.
"Last year, I felt like the curveball was a big pitch, and I want to get it going early, to continue to get more confident and consistent with it," he said.
Porcello had one believer in the other dugout. A year ago at this point, Braves catcher Gerald Laird was forecasting a big improvement from Porcello -- if he could focus on one breaking pitch and get consistent with it. The curveball, a pitch Laird called for Porcello while catching him two years ago, became that offering for him.
"He's starting to mature," said Laird, who grounded out against Porcello in his lone at-bat before leaving the game with back problems. "People tend to forget this is his fifth year, and he's just [25] years old. He's been in the league so long. He's a special player and he has the stuff to be really good. You can tell he's starting to put it all together. I expect to see him have a pretty good year."
Jason Beck is a reporter for MLB.com. Read Beck's Blog and follow him on Twitter @beckjason. This story was not subject to the approval of Major League Baseball or its clubs.