McClendon has positive outlook for replay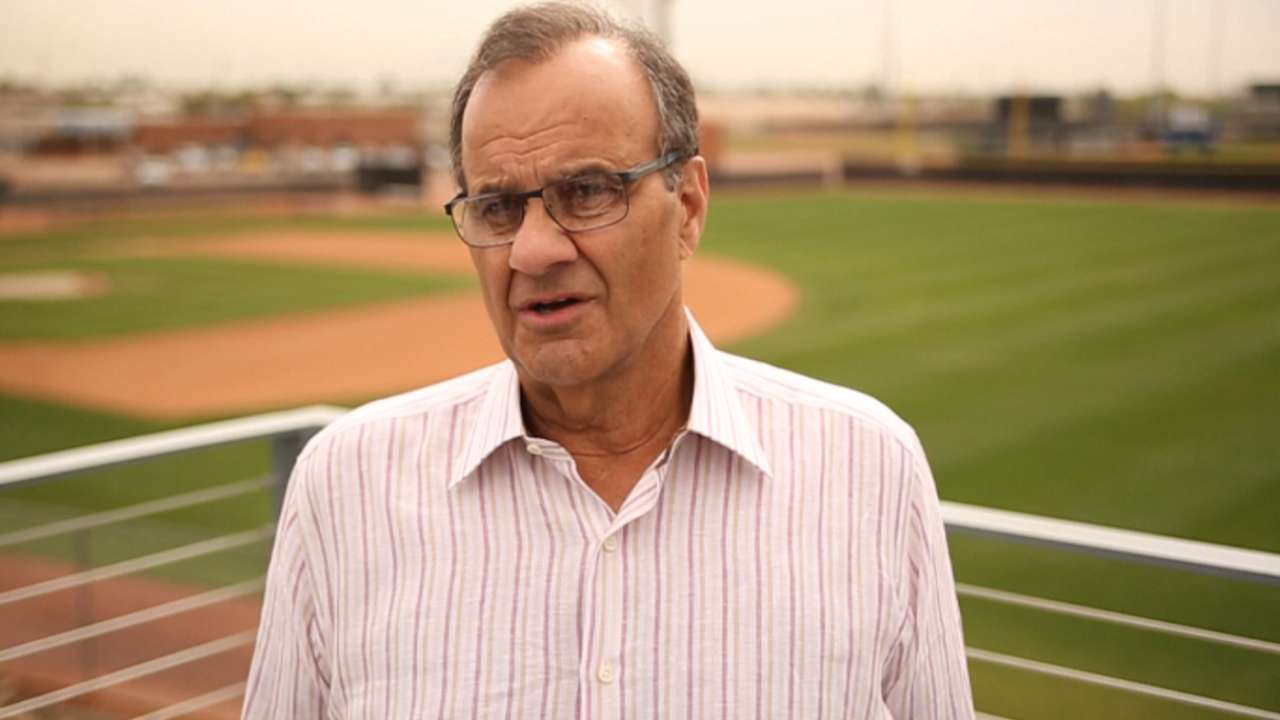 PEORIA, Ariz. -- Major League Baseball officials continued making the rounds to Spring Training camps to provide the latest updates on instant replay and the new plate-blocking rules for catchers, with the Mariners getting their session Tuesday afternoon along with seven other teams that play on the west side of Phoenix.
Former managers Joe Torre and Tony La Russa are among the MLB group providing insights and taking questions and new Mariners skipper Lloyd McClendon said the two-plus-hour session was helpful. McClendon, general manager Jack Zduriencik, assistant GM Jeff Kingston, bench coach Trent Jewett and video coordinator Jimmy Hartley represented the Mariners.
"I've got a big, thick book right here," McClendon said, tapping a stack of papers on his desk. "I thought they were great with their explanations. I think it'll be a give-and-take thing. It's going to take some time, but they've implemented a nice system. There'll be some bugs to work out, but in the end I think it's going to be good for baseball."
McClendon said the session mostly reinforced what already had been explained at the Winter Meetings. He plans to post a list of what plays are reviewable in the dugout initially to help keep things clear.
"It's a learning process," he said.
As for the home-plate collision ruling, McClendon -- who came up as a catcher before switching to outfield and first base in his playing days -- is all in favor of the new concept.
"Basically what they're saying is we don't want runners changing directions and going after catchers," McClendon said. "The catcher can still block the plate. And if the catcher blocks the plate, then the runner can run him over. But the catcher can't block the plate without the ball."
McClendon doesn't think that rule will greatly change how catchers set up as a runner is bearing down on them.
"We'll talk about it with our catchers," he said. "It's important they understand they have to give some plate. And if you really look at the vicious hits when it comes to home-plate collisions, most of the time the catcher is in front of the plate, blocking the plate, and doesn't really give the runner any recourse.
"So from that standpoint, we need to educate our catchers as to what they can do and giving them a lane, which really hasn't changed in the last 100 years. I was taught, you give them part of the plate, give them something to shoot for. And if you do that, they won't come after you."
Greg Johns is a reporter for MLB.com. Follow him on Twitter @GregJohnsMLB as well as his Mariners Musings blog. This story was not subject to the approval of Major League Baseball or its clubs.