Roenicke meets individually with Overbay, Brewers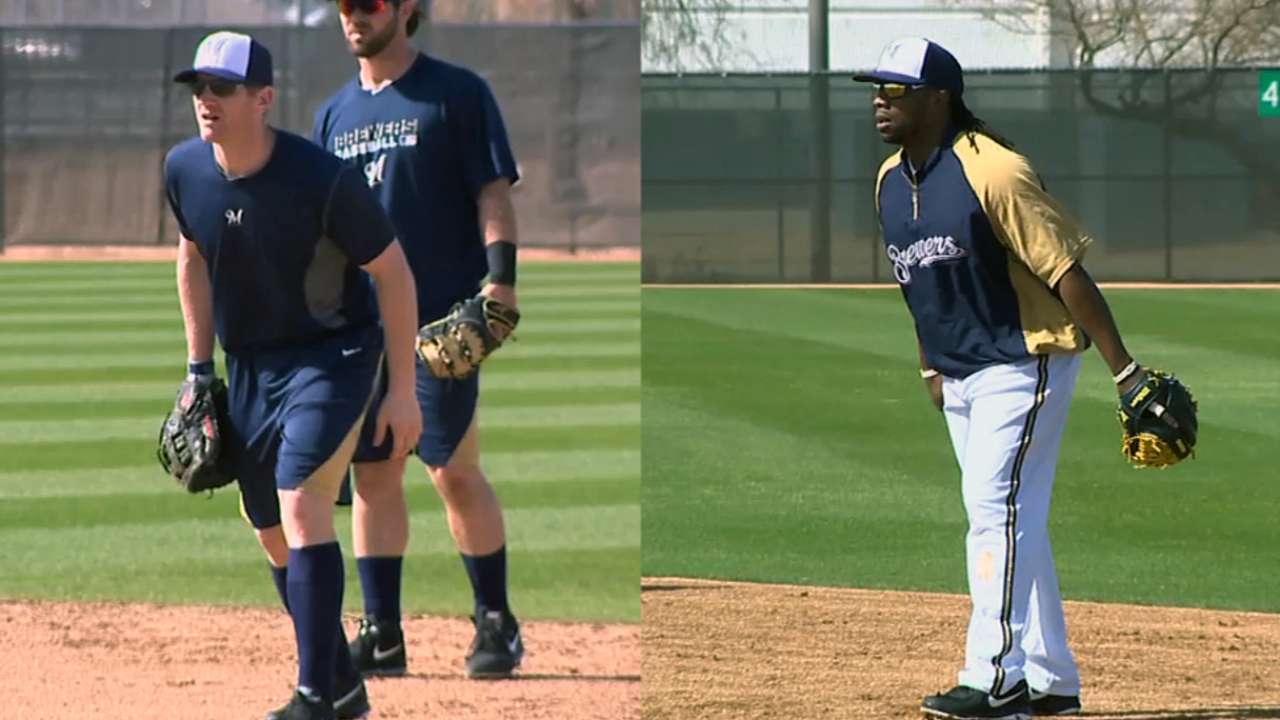 PHOENIX -- First baseman Lyle Overbay was pleased to sit down in Brewers manager Ron Roenicke's office Wednesday morning for a clearer sense of what coaches are looking for from him in Spring Training. On one hand, Overbay is a proven commodity used to using the spring to get ready for Opening Day. On the other hand, he is a non-roster invitee trying to win a job.
"It's good just to communicate and let them know what I feel like I'm trying to do," Overbay said. "And if they need to see something, just come tell me. I think it's always good to clarify that. I have a good feeling it's going to be alright."
Roenicke has been meeting individually for several minutes with all of the players in camp, and Wednesday happened to be Overbay's turn. Sometimes, it is simply a get-to-know-you session. Sometimes, players ask questions about their chances.
Roenicke has been keeping the content of those meetings private, but he likes what he sees so far from Overbay.
"I heard good things about him before -- and this isn't so much talking about baseball stuff, because we haven't seen a lot," Roenicke said. "But just moving around the bag in drills and stuff, he's a good defender. I like the way he works and the way he goes about his job. I like what he has to say out there. I like what some of the younger guys have already come to me and said about him. That doesn't happen very often. So he's a guy that we're really happy to have in camp."
Roenicke and Overbay communicated beginning last year, before the Brewers signed him in January to a Minor League contract that included an invitation to big league camp. Overbay played for the Brewers in 2004 and '05, long before Roenicke and the most of the current coaching staff joined the organization.
Roenicke said he feels for players like Overbay bidding for roster spots. Before each of his eight Major League seasons, Roenicke had to win a job.
"I think everybody is in a different situation, and I explained that to the guys in there [during the daily morning meeting], the difference of some guys in camp," Roenicke said. "The veterans are coming in here to get in shape by Opening Day. Then you have the younger group trying to impress us. Then you have the group trying to make the team. I always came trying to make the team. From the first game on, I felt like I had to impress, and it's really an uncomfortable feeling. I like that there's competition, but I tell you what, it's a nervous time. I don't have fond memories of Spring Trainings."
Adam McCalvy is a reporter for MLB.com. Read his blog, Brew Beat, and follow him on Twitter at @AdamMcCalvy. This story was not subject to the approval of Major League Baseball or its clubs.