Focus only on playing, Jeter set for first spring game
Yankees captain takes field for first time in 2014; game can be seen free on MLB.TV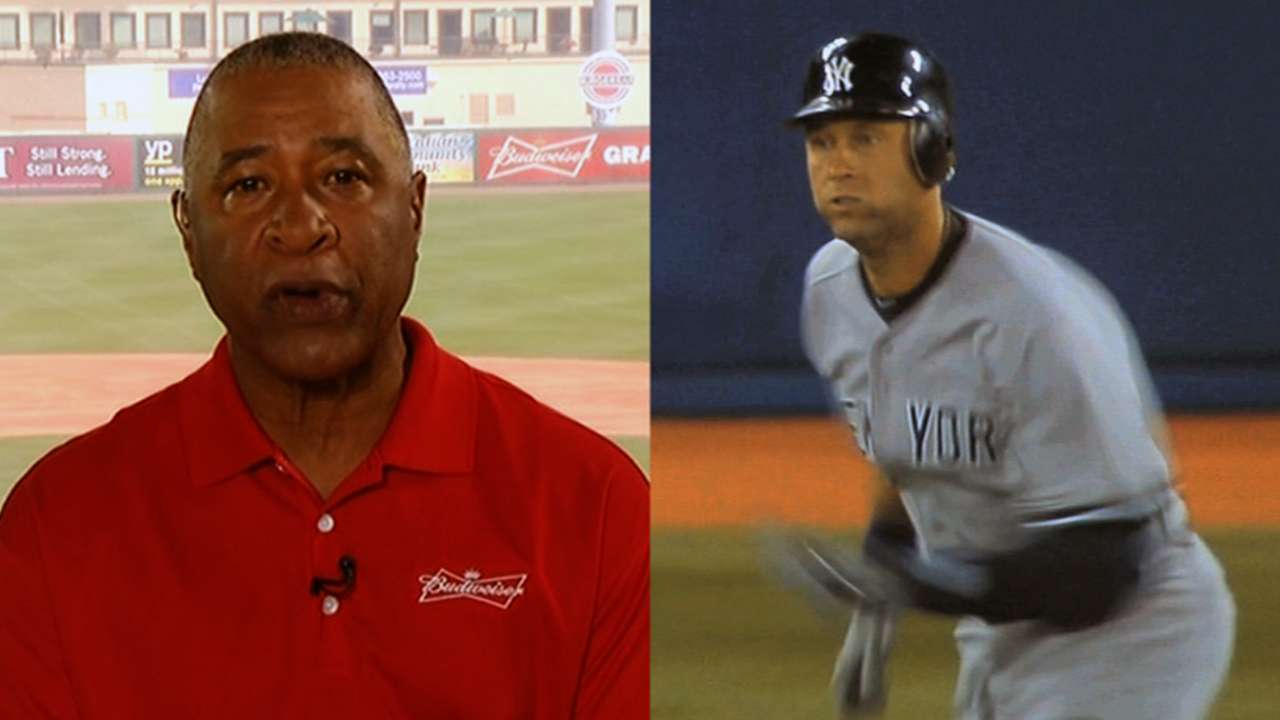 TAMPA, Fla. -- The trips to the trainers' office are much less frequent these days for Derek Jeter, and the Yankees' captain insists that he no longer thinks much about his surgically repaired left ankle. This spring it has been all about baseball.
Jeter is scheduled to play in his first exhibition game of the spring on Thursday, suiting up for the 1:05 p.m. ET contest against the Pirates at George M. Steinbrenner Field. Today's Game will be streamed free on MLB.TV with no blackouts.
"I'm looking forward to getting out there," Jeter said. "I think everyone, when Spring Training starts, looks forward to getting the games underway so they can get into a routine.
"The first few days of Spring Training, it's just going through a lot of drills, trying to get in baseball shape. Once the games start, you can get into a daily routine, so I'm looking forward to that."
Manager Joe Girardi said that there have been no restrictions this spring for Jeter, who has not played in a game since Sept. 7 and was limited to just 17 contests last season.
"The good thing for us is that everything he's done has been good and has been positive," Girardi said. "So last year, where we had some concerns with the way he was running or the way he was moving, we haven't had any of that this Spring Training."
Jeter announced earlier this month that he plans to retire after this season and that he will be making a greater effort to soak in each experience. He said that it has been much more enjoyable being able to work out consistently.
"Last year, the first few days, I did a lot of things inside as opposed to outside," he said. "Since I've been here this year, everything has just been like a normal spring. You can't really compare last year and this year -- it's two entirely different years. Last year I felt like I was rehabbing. This year I'm just here to play."
Jeter has had no issues with drills at shortstop, taking batting practice or running the bases. He has no concerns about how his leg or his lower half will respond when pushed under game conditions.
"Not at all. I've done my work," he said. "I feel like I'm ready to go. Every year that you come, it's always a little bit different when you start playing. You're hitting, and you're running.
"You're doing things at game speed that you don't do in the offseason. You can't really replicate it in the offseason. You have to pretty much just go through the games and start playing. Nothing out of the ordinary."
Bryan Hoch is a reporter for MLB.com. Follow him on Twitter @bryanhoch and read his MLBlog, Bombers Beat. This story was not subject to the approval of Major League Baseball or its clubs.