Konerko taking starter's mindset into part-time role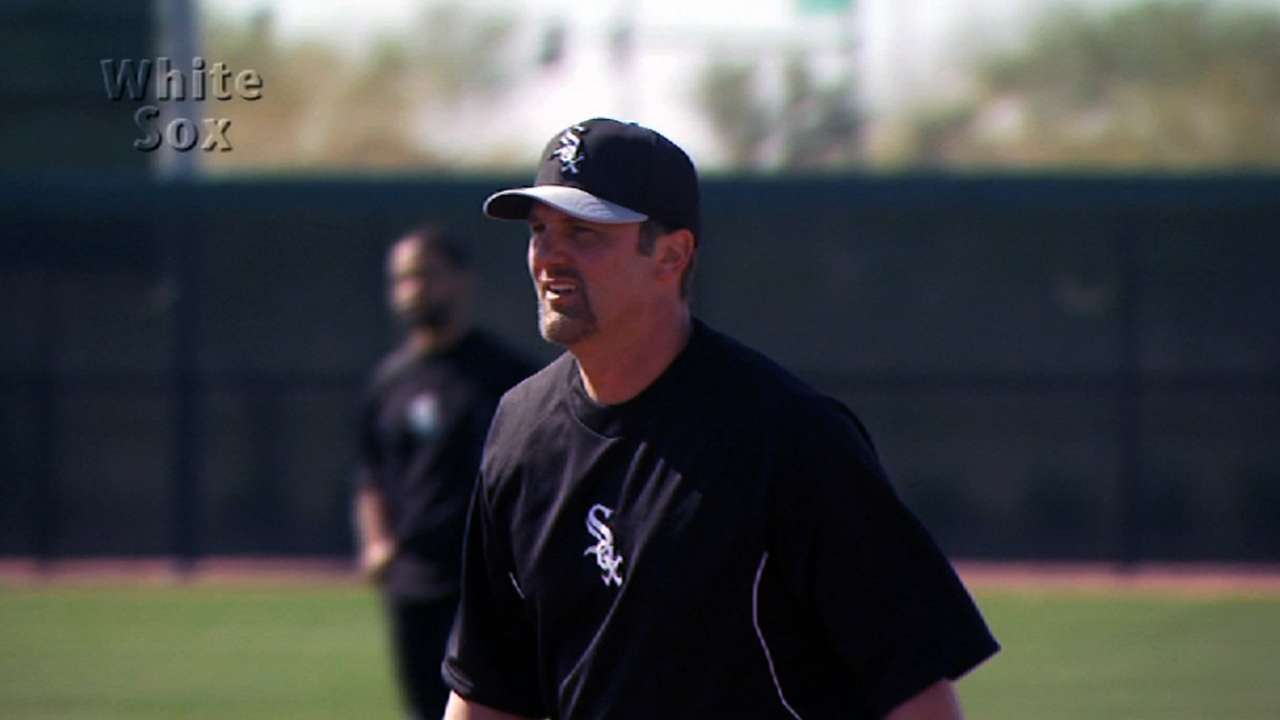 GLENDALE, Ariz. -- Based on Paul Konerko's intrasquad showing Tuesday on a Camelback Ranch back field, the White Sox captain is primed for solid production during his 16th and final year with the organization.
Of course, absolutely nothing can be based on intrasquad results. The line single to left and the ground ball past third baseman Matt Davidson simply represented the expected change of pace from workouts to game action.
"It's just one of those where every year it's the same thing. You just have to get in there and start hitting off pitching," Konerko said. "There is no real easy way of doing it. You can sit there and take BP every day, you can do the pitchers' batting practice, and just like the game on Friday, everything just gets heightened as you go.
"I think the weather, it's a little warmer now than it is usually, so that makes you feel a little better and makes it feel real. Barring injury, there is no bad day out there. Even your first couple weeks of Spring Training, it's trying to get your work in, get your reps and just try to be moving forward on what you're working on."
Konerko always talks about a team having to play into June or even July before a true feel about its direction can be derived. But from the early going at camp, the veteran sees a hungriness among young White Sox players to be good, set themselves up for life and establish themselves as players.
That same attitude sparked Konerko, who feels healthy and ready to take on his final season -- even in a part-time role.
"Yeah, I don't feel like there is anything that … a certain ball that I can't hit or this pitch or that pitch. I feel like I can do the same thing I have always done," Konerko said. "The question is always as you get older is the volume of it.
"And that's probably where I would lack. I have lacked -- the evidence would say that. I feel like I still could hit a good fastball but in baseball, it's not just a single act of doing something, hitting the ball far over the fence. It's a matter of doing it every day. When you get older, that's where the rub is.
"A starting player to me is 150-something games, not 130, not 120," Konerko said. "That's a starting player. That is beyond me now. It is, I would say. But that doesn't mean in the games I play I can't have the same actions of when I did play as many games like that, or like I say, with that mindset that I'm showing up to play 162. I hope that's how the young guys approach it."
Scott Merkin is a reporter for MLB.com. Read his blog, Merk's Works, and follow him on Twitter @scottmerkin. This story was not subject to the approval of Major League Baseball or its clubs.