Herrera looks to utilize talents for roster spot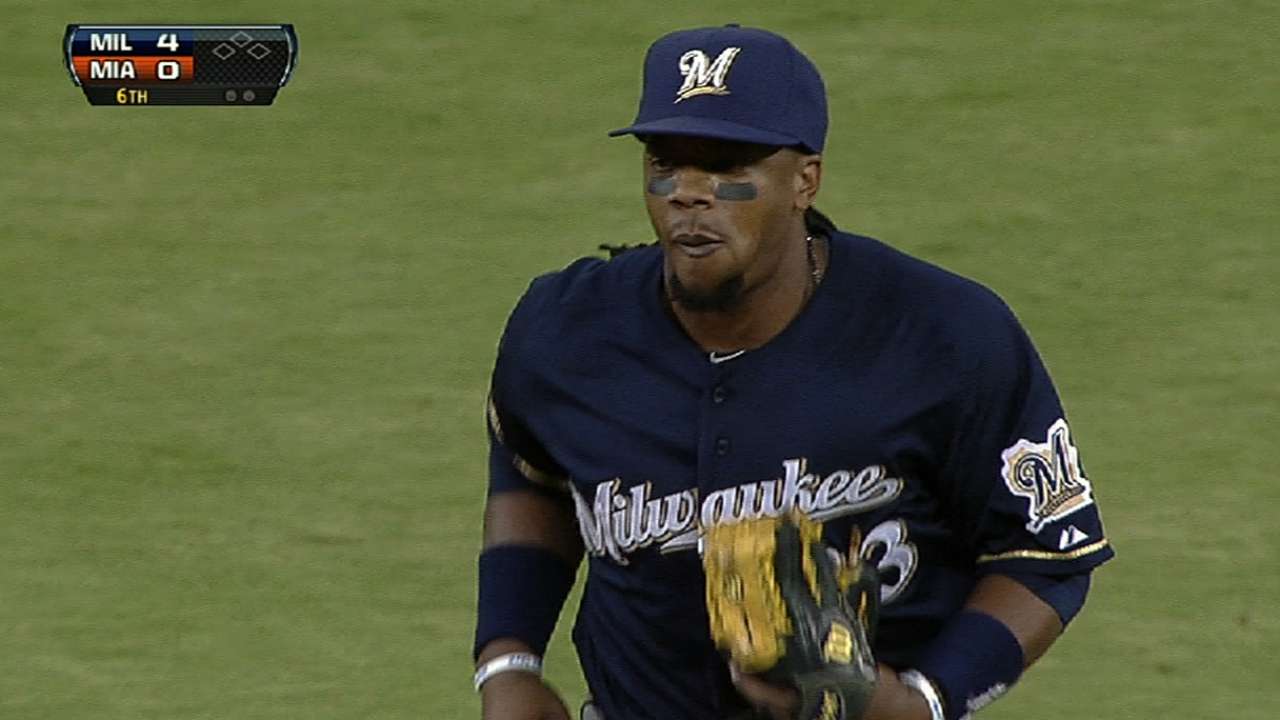 PHOENIX -- Elian Herrera knows any role he plays for the Milwaukee Brewers will be as a utility player. He performed that service for the Los Angeles Dodgers for 67 games in 2012, playing all three outfield spots plus second base, third base and shortstop while providing a decent bat.
Now, as the 29-year-old from the Dominican Republic gets more familiar with his new teammates, he has to go out and make the 25-man roster for Opening Day.
It's far from a given, though the Brewers claimed Herrera off waivers from the Dodgers soon after last season. Herrera needs a very good Spring Training, as he's spent almost all of his career outside of 2012 in the Minor Leagues. The Brewers have Jeff Bianchi, who played second, third and shortstop in 100 games last season, and invited journeyman Eugenio Velez and former Kansas City infielder Irving Falu to camp this year.
Velez hasn't played in the Majors since 2011 and Bianchi batted just .237 last season. So, Herrera will get his opportunity to win a roster spot.
Herrera is happy to have a better opportunity with a new team, as the Dodgers used him as an injury replacement more than anything else.
"I think I have a chance to make the roster for Opening Day," Herrera said in Spanish. "So, I'm happy to be here. That's my goal. I have lot of confidence in what I'm doing and I'm feeling positive right now."
Herrera spent 11 seasons in the Dodgers organization and has never played at Miller Park.
"I've always said, it doesn't matter where I'm playing, I'm going to give it 100 percent," he said. "I did it for the Dodgers and now I'll do it with Milwaukee."
All four utility player candidates made their mark on Tuesday's intrasquad game. Herrera singled in a run, Bianchi walked and scored, Falu drove in a run with a single and Velez got a base hit.
Brewers manager Ron Roenicke said the team was happy with Bianchi's performance last season and praised Velez and Falu as well.
"It's the fit, the makeup of those five [bench] guys," Roenicke said. "If you have five, it's what specifically you need that fits in. If we have a platoon system at second base, we've got a platoon system at first base, now it becomes more difficult to fit in those last guys. Probably can only go with one [backup] outfielder, one backup catcher, that leaves you with one utility man."
That player will have to be able to play shortstop, according to Roenicke. That appears to give Bianchi an edge. It will also depend on who can provide more offense.
"I'm ready for whatever," Herrera said. "I'm prepared to work at any position they want. I understand it's a competition for a place and I'm trying to win it."
Jose M. Romero is a contributor to MLB.com. This story was not subject to the approval of Major League Baseball or its clubs.