Hitting competition light-hearted fun for Astros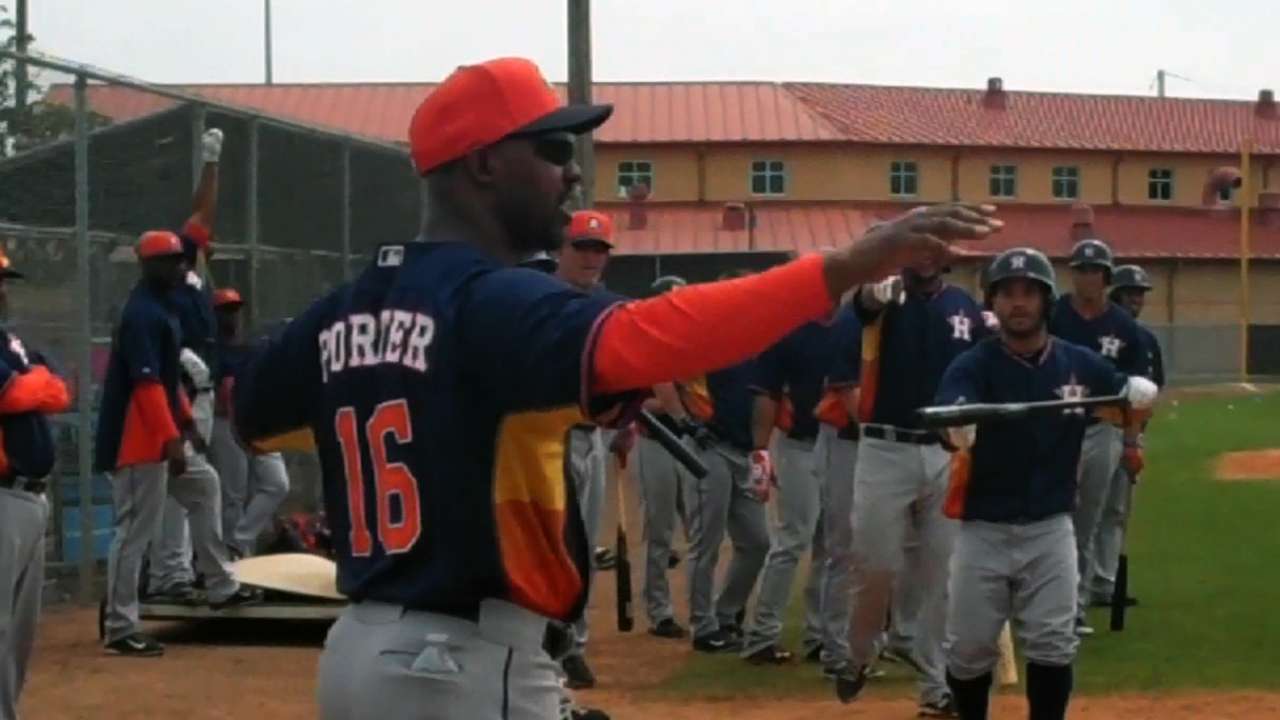 KISSIMMEE, Fla. -- In an effort to ramp up the intensity while promoting some camaraderie, Astros position players ended their workout Tuesday with a hitting competition that pitted a team picked by Jason Castro against a team picked by Brett Wallace.
The teams took turns batting against a pitching machine while trying to execute in different situations -- squeeze bunts, man on third and one out, etc. -- with manager Bo Porter standing behind a net and playing umpire, determining whether the batted ball would have done the job in real life.
Each team was awarded points for proper execution, and Wallace's team won the competition on a walk-off home run by catcher Rene Garcia.
"I thought it was great," Porter said. "Those guys started ragging each other a little bit. It's always good to add a little fun to Spring Training, but at the same time, you keep it intense and competitive, and I felt the guys did a great job."
The losing team had to pick up more than 500 baseballs that were scattered around the outfield and the bullpens, while the winning team headed to the clubhouse.
"We've been working on a lot of those situations," Wallace said. "It's been a big focus for us this whole camp for everybody. Not only was it like competing against yourself, the guys in your group, but you're putting the whole team in a real competitive situations.
"It's the closest we're going to get to a game right now. Any time you're out on the field in a separate dugout competing against each other, it's going to make it more real.
Garcia proved to be an unlikely hero.
"He called it, too," Wallace said. "After everybody went through [and hit], you could pick who you wanted to go up. I went a couple of times and some other guys went up, and Rene was like, 'I got it, I want to go.' He called it and requested it and went up there and delivered. It's pretty neat he did that."
Brian McTaggart is a reporter for MLB.com and writes an MLBlog, Tag's Lines. Follow @brianmctaggart on Twitter. This story was not subject to the approval of Major League Baseball or its clubs.