Scioscia gets 14-game test run on new replay rules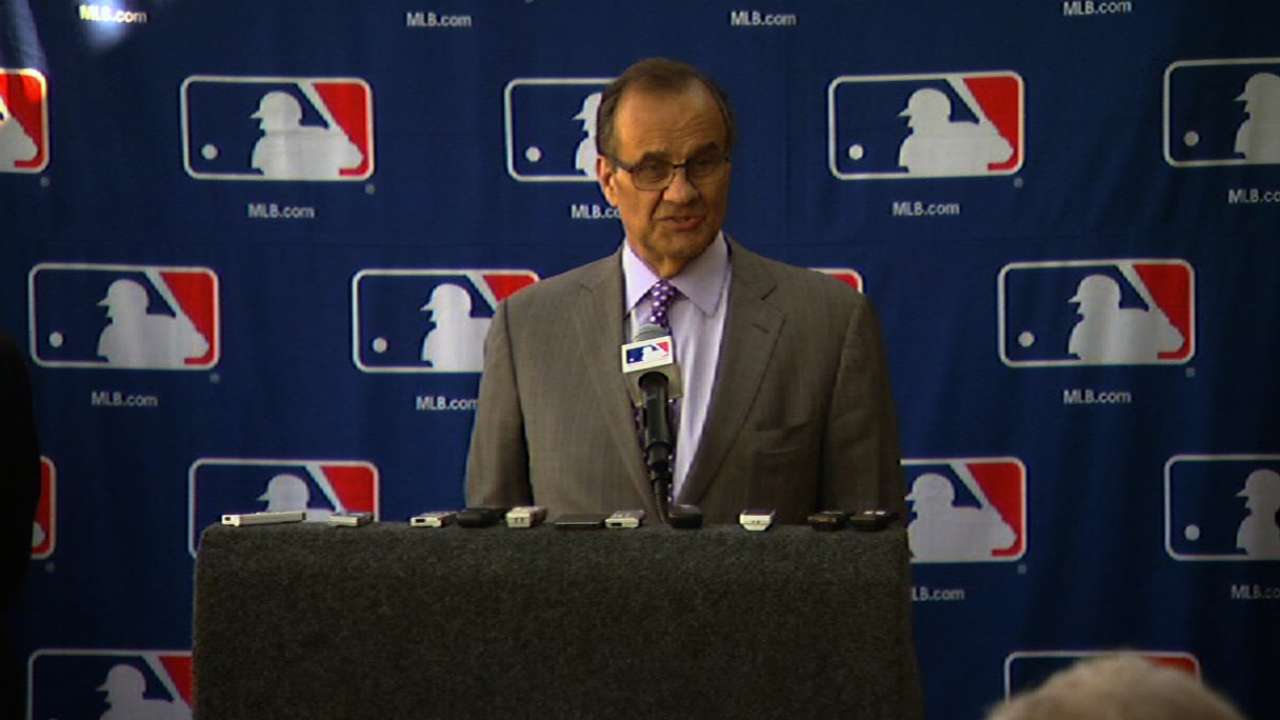 TEMPE, Ariz. -- Mike Scioscia was among those who met Monday with Joe Torre, MLB's executive vice president of baseball operations, regarding expanded instant replay. Asked how the meeting went, the Angels' manager said: "Obviously informative. There's a whole list of things that are reviewable and things that aren't, that can be challenged and not challenged. We'll just have to get up to speed on that and go from there."
Scioscia should get plenty of practice during Spring Training.
The Angels will be using all Cactus League games to get up to speed internally with how they'll go about determining which calls to challenge in-season. In addition, Major League Baseball has designated a variety of Spring Training games as "replay games," where managers will be given challenges in order to practice. A dress rehearsal, of sorts.
The Angels have 14 such games.
• March 4 vs. Rangers
• March 6 vs. Dodgers
• March 7 vs. Cubs (SS)
• March 8 vs. D-backs
• March 9 vs. Reds
• March 10 at Indians
• March 11 vs. Mariners
• March 14 at Padres
• March 15 at Rockies
• March 19 at White Sox
• March 25 at Cubs
• March 27 at Dodgers (Freeway Series)
• March 28 at Dodgers (Freeway Series)
• March 29 vs. Dodgers (Freeway Series)
Under the new rules, each manager starts the game with one challenge. If it's upheld, he retains it. But mainly because of pace-of-game concerns, he can't have more than two challenges in a game. Everything besides obstruction, interference and strike-zone calls are now reviewable.
Boundary calls and home-plate collisions, in tune with the new ruling that was announced Monday, cannot be challenged but can be reviewed under an umpire's discretion, Scioscia said. Other calls can't be reviewed under an umpire's discretion until the start of the seventh inning.
Alden Gonzalez is a reporter for MLB.com. Read his blog, Gonzo and "The Show", and follow him on Twitter @Alden_Gonzalez. This story was not subject to the approval of Major League Baseball or its clubs.