Molina, Hanigan share thoughts on new collision rule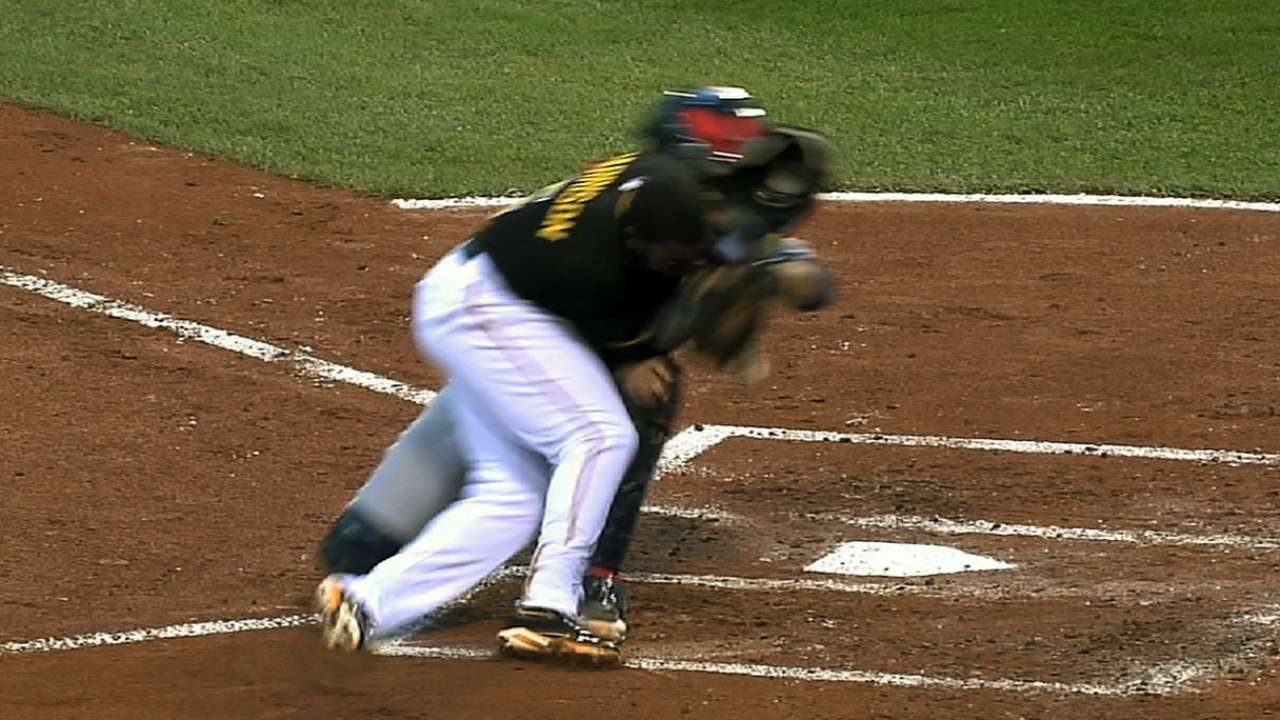 PORT CHARLOTTE, Fla. -- Rays manager Joe Maddon bounced a few ideas off veteran catchers Jose Molina and Ryan Hanigan on Tuesday regarding the newly implemented, experimental Rule 7.13, intended to increase player safety by eliminating "egregious" collisions at home plate.
While Maddon is withholding his thoughts and official approach regarding the rule until Wednesday's workout, Hanigan and Molina spoke Tuesday about how it will affect them behind the plate.
Molina said he's generally not a fan of the rule change -- particularly given how little time players will have to practice it before the season begins -- but he doesn't think it will affect him all that much. Hanigan said it might actually help him block the plate more effectively, as he'll be able to focus more on catching the ball and getting in the right position without worrying about whether he's going to get bowled over by a baserunner.
"It's going to be a little different, to say the least. I'm probably not going to do anything much different," Hanigan said. "I always give a little plate if I don't have the ball, so I don't think I'll change my mechanics too much, so I don't think it'll be too big a deal. ... But I don't know, man. I'm surprised, to tell you the truth.
"I don't know. I've been doing it one way for so long, it's going to be tough to try to do anything different. That's what Jose said, too. We talked. He's been doing it so long for one way, it's what you know. I think it'll help the guys who are younger that are coming up, be taught it a little differently and understand that you're really not as vulnerable now. ... We'll see how it goes."
Both catchers had some questions. For instance, Hanigan asked reporters, what happens when a catcher has to come up the third-base line to receive the ball? That's where a lot of collisions take place, and a runner can't be expected to slide around a catcher that far up the line. Will that be up to the umpire's discretion if the runner collides with the catcher?
Maddon expects the specifics of the experimental rule will be fluid as the year progresses. And he still has some questions as well, though he plans to address Tampa Bay's catchers and potential baserunners Wednesday after consulting with Molina, Hanigan and executive vice president Andrew Friedman.
Molina's biggest question -- and he hopes to get a chance to ask umpires about it -- is how much of the plate catchers can cover without violating the rule. Molina said he blocks the plate differently than most catchers, as he gives up a lot of the plate until the last second then takes it away. Since he can't cover up the plate while waiting for the throw home, Molina said he'll have to focus mostly on his technique the second or two before he receives the ball.
In short, Molina didn't have any problem with the way it worked before, even if he doesn't have to change too much himself.
"I'm old school, so I don't really like the rule," Molina said. "I wish it would stay the same way. ... As a catcher, we have to adjust to some little things -- hopefully not much. The guys that like to be in the middle [of the plate], those are the ones that are really going to have to fight off what they have done for many years."
Added Hanigan: "It's just a play that's been in the game so long, I'm surprised they completely eliminated it, honestly. ... I don't know, man. It's surprising. I expected it to be a little different, but I think some guys are happy with it and some aren't. I think we're split. At the end of the day, we're trying to protect guys, which I can understand."
Adam Berry is a reporter for MLB.com. Follow him on Twitter at @adamdberry. This story was not subject to the approval of Major League Baseball or its clubs.