MLB.com Columnist
Jim Callis
Virginia studs show out vs. Hoffman
Downes hits two homers; East Carolina right-hander's stock not hurt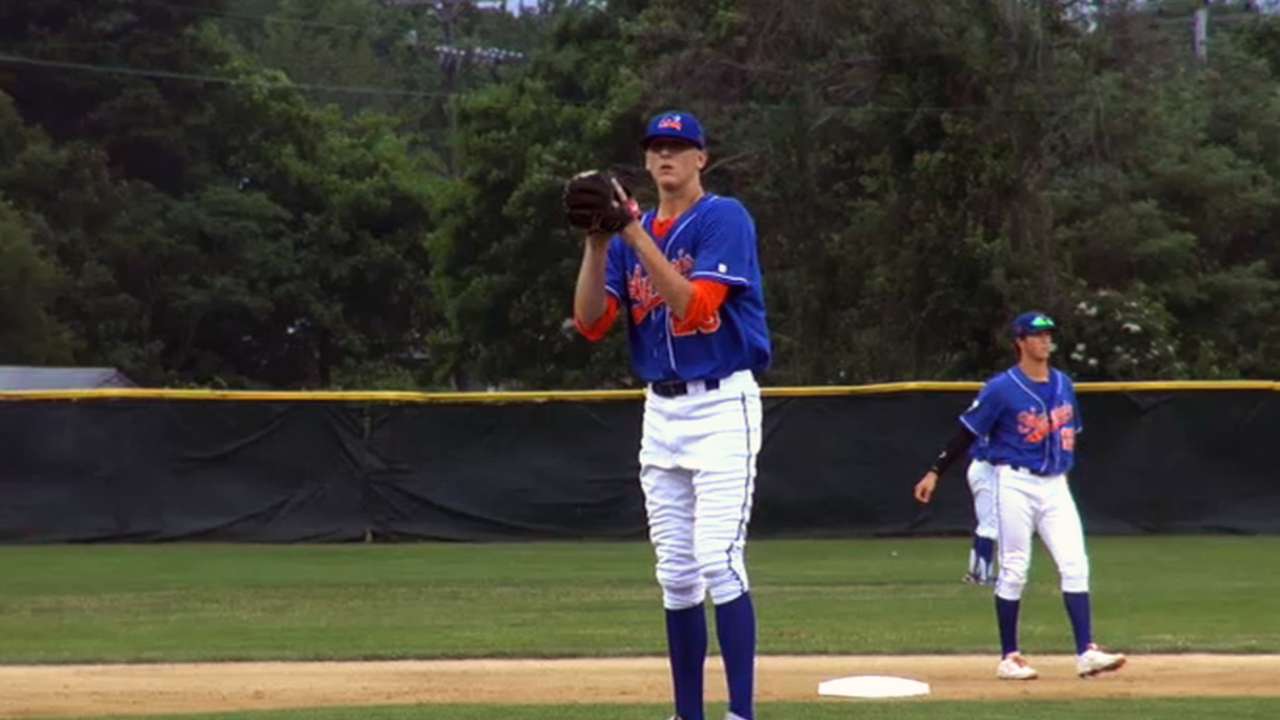 February scouting opportunities don't get much better than the one that presented itself Friday afternoon in Charlottesville, Va.
East Carolina right-hander Jeff Hoffman, the No. 2 prospect on MLBPipeline.com's First-Year Player Draft board, took the mound against what is likely the best lineup he'll face all season. Ranked No. 1 in Baseball America's Top 25, Virginia has a potential 2014 first-rounder (left fielder Derek Fisher) and three more position players (second baseman Branden Cogswell, center fielder Brandon Downes, first baseman Mike Papi) who could go in the top five rounds. As a bonus, the temperature was 60 degrees when the game started at 3 p.m.
Hoffman recorded a quality start but also took a 3-2 loss. He struck out six in 6 2/3 innings, giving up all three runs on five hits and three walks. Hoffman threw 61 of his 107 pitches for strikes, and one scouting director in attendance described the outing as good but not great.
"About 60 percent of his pitches were really good, but 40 percent weren't," the director said. "The 40 percent that weren't got hit. Certain guys, when they're throwing 95-98 mph, they make a mistake and it gets fouled back or hit weakly. It seemed like when he missed at 95-96, they squared it up."
Hoffman's fastball ranged from 92-97 mph against the Cavaliers, and he did a good job of maintaining his velocity deep into the game. His improved changeup was his best secondary pitch, just as it was in his season-opening outing against James Madison the week before. Hoffman's breaking ball had its moments, particularly when the 6-foot-4, 192-pounder stayed on top of it and threw a true curveball.
The scouting director said at times Hoffman showed three different pitches that would grade as 65s, or well above average, on the 20-80 scouting scale.
"He flashed a 65-70 fastball, the changeup was really good and the curveball was good," the director said. "The changeup was outstanding, the best I've ever seen it. He threw a curveball and a slider. The slider was bad, but the curveball at times was pretty good, and others times it was a little spinner."
While Hoffman didn't hurt his standing at all, the player who helped his stock the most was Downes. The 6-foot-3, 200-pounder homered twice against Hoffman, turning on a mid-90s fastball in the second inning and punishing a changeup in the sixth.
"I'll tell you what, Downes could go in the second round," the scouting director said. "For me, the value of what you're going to have to pay Fisher to get him versus the value for what you're going to have to pay Downes to get him, it's better with Downes. I expected to walk in there and like Fisher a lot more than Downes.
"Downes has good instincts in center field, and he's a tick above-average runner. He hit two homers against a kid in the mid-90s. From a pure hitting aspect and swing path, Fisher's bat is probably a little better, but I haven't seen Downes as much. Downes is good enough to hit and have a little more juice and defensively play center field."
Fisher went 0-for-4, but he surprised scouts by displaying above-average speed, recording 4.0-second times from the left side of the plate to first base. Papi drove in Virginia's other run with an opposite-field double in the third. Scouts who struck around until the end of the game saw another Cavaliers early-round prospect, as right-hander Nick Howard worked a perfect ninth inning at 92-95 mph to earn the save.
Jim Callis is a reporter for MLB.com and writes a blog, Callis' Corner. Follow @jimcallisMLB on Twitter. This story was not subject to the approval of Major League Baseball or its clubs.