MLB.com Columnist
Jim Callis
Kolek throws serious heat in first start
After recovering from broken arm, No. 4 Draft prospect hits 97 mph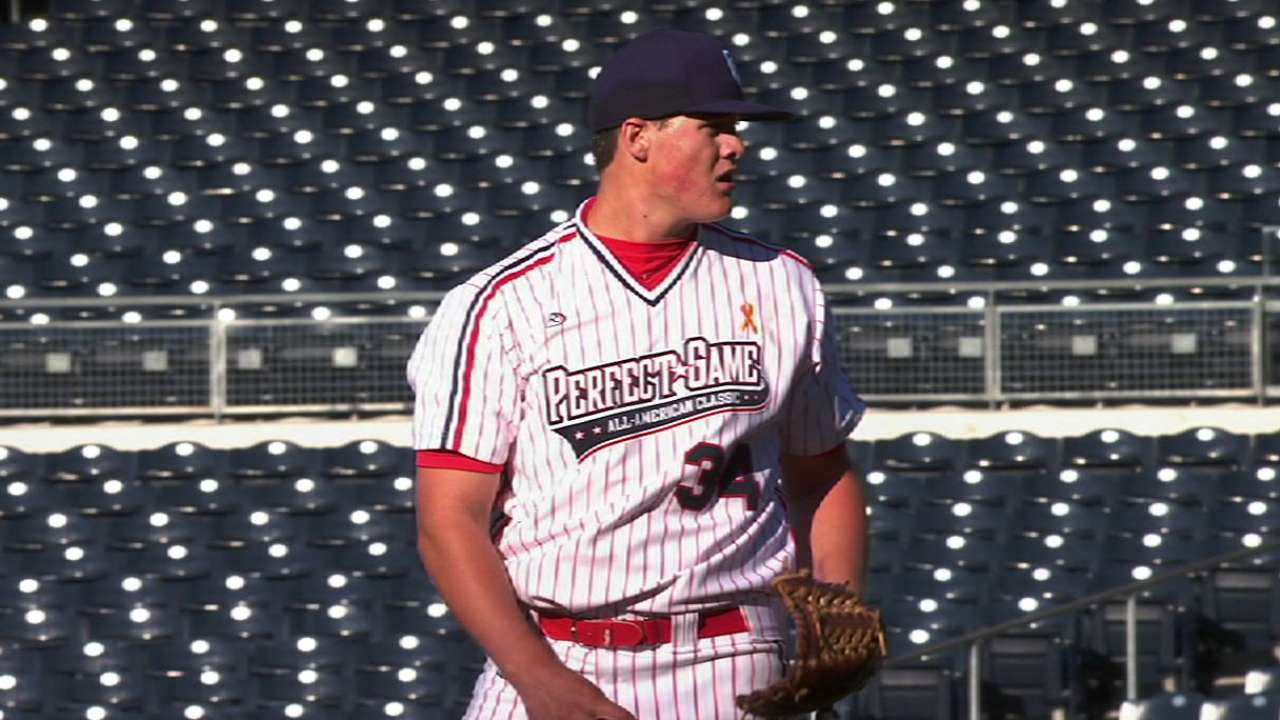 No 2014 First-Year Player Draft prospect throws as hard as consistently as Shepherd (Texas) High's Tyler Kolek. The 6-foot-6, 250-pound right-hander missed most of his junior season after breaking his left arm playing first base, but he announced his return last summer by reaching 99 mph during an Area Code Games tryout. Kolek worked in the mid-90s on the showcase circuit and hit triple digits during scrimmages earlier this month.
Kolek, No. 4 on the MLBPipeline.com Top 50, was supposed to make his first official start last week, but he missed it when he came down with strep throat. His debut then was slated for Tuesday, but a forecast for rain led Shepherd to move its game against Lumberton (Texas) to Monday evening. That left scouts scrambling to see Kolek in action, and about 30 made it to the game.
As expected, Kolek's fastball was lights out -- and so was the game. When a girls track meet ended after the fourth inning, someone shut off the lights at not just the track but also the baseball field, causing a 20-minute delay.
Kolek opened the game with a 97-mph fastball that hit the backstop, and he threw 97 mph again in the sixth. He did tire toward the end, bottoming out at 90 mph, though scouts thought his breaking ball was a little better after the unexpected delay.
Kolek didn't allow a hit in six innings, striking out 11 with one walk and two hit batters. His brother Stephen, a junior who already reaches the low 90s, closed out the 3-0 win with a scoreless seventh inning.
The knock on Kolek is that he's still figuring out how to harness his premium stuff. That was the case on Monday.
"His velocity was fine, 92-98 mph for the four innings I saw, but the command was spotty," an area scout said. "Obviously, you don't find a big body throwing like that too often, but if I were picking up near the top, I'd be concerned about whether he's going to throw enough strikes. At this level, no one is going to be able to hit that fastball.
"He threw a few sliders at 84-85, a few curveballs at 79-80 and a few changeups. I [clocked] the changeup at 91. None of those pitches, I'd call plus. The curveball had better shape than the slider, which looks more like a cutter. But I'm not sure he threw any of those offspeed pitches for strikes."
Jim Callis is a reporter for MLB.com and writes a blog, Callis' Corner. Follow @jimcallisMLB on Twitter. This story was not subject to the approval of Major League Baseball or its clubs.