Trio out to build off playoff experience in first full year
Wacha, Bogaerts, Gray targeting sustained success over long haul of regular season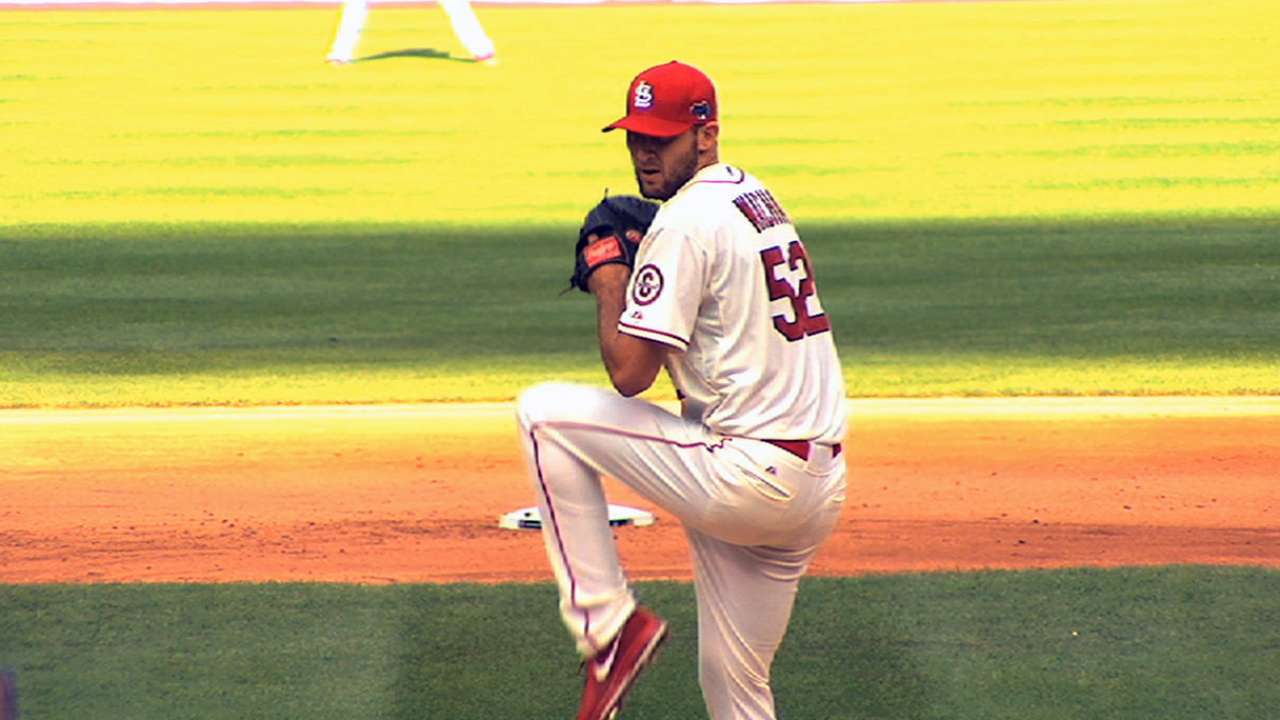 When the 2013 season began, Michael Wacha, Xander Bogaerts and Sonny Gray were top prospects with Major League dreams and, presumably, a good amount of time left in the Minors to sort things out.
Then August, September and October happened, and all three were playing a huge role in their team's surge into the postseason and beyond.
Wacha, 22, was almost unhittable for the St. Louis Cardinals as their playoff co-ace, until running into a bit of fatigue and a buzzsaw Boston Red Sox lineup in the World Series.
Bogaerts turned 21 on Oct. 1, and he didn't take long to seize third base, which isn't even his natural position, and become an unflappable on-base machine as the Red Sox won it all.
Gray, who turned 24 in November, solidified his role as a starter in a young and dominant Oakland rotation, dueled with Justin Verlander in the American League Division Series, and is set for a prime role as one of the A's top starters in 2014.
In other words, a lot has happened in a short amount of time for all three players, and now they're being counted on to do it all season long. Nothing is guaranteed in baseball, but it seems like this is a trio ready for the pressure of expectations and eager to shine.
For Wacha, brilliance appeared to be the norm in an unheard-of 2013 stint. It started with 8 2/3 innings of no-hit ball against the Nationals in September and continued all the way into the Fall Classic. Over four starts, including the Washington outing and into the National League Championship Series (of which he was named MVP), Wacha gave up three earned runs on nine hits in 29 2/3 innings, striking out 31 batters.
The World Series (1-1, 7.45 ERA in 9 2/3 innings) didn't work out the way he or the Cardinals would have liked, but the impression was made, and now Wacha is a fixture in manager Mike Matheny's rotation as the NL champions prepare for a pennant defense.
"I'm sure people's expectations are going to be so out of this roof after the past postseason," Wacha said. "It's going to be tough to try to do that over a full year, so I try not to listen to those expectations. I have my own set. I'll just go from there."
And that's all the Cards want. The St. Louis brass loves Wacha's mound demeanor, and October proved he can handle big crowds and bigger stakes. His attitude this spring has been reflective of that composure.
"I don't want to let it go to my head," Wacha said. "You have to perform whenever you're out there and get their attention."
Bogaerts has taken to shortstop this spring with the Red Sox in Fort Myers, Fla., with a similar approach. Depending on what moves Boston might still have in store in the weeks leading up to Opening Day, it's possible he could play some third, too.
One thing to bank on is that Bogaerts will be a regular in manager John Farrell's lineup. He hit .296 in 12 games in October for the Red Sox, a feat for any player and a startling accomplishment for a man who had just turned 21.
"That poise -- it seems like he's got ice water in his veins," said Red Sox president and chief operating officer Larry Lucchino. "He is 21, but boy, does he play like a veteran."
Bogaerts' batting average was impressive, but the on-base percentage (.412) and walks (six) in key situations were what opened the most eyes.
"It's hard to put into words what poise he's shown in these games, these at-bats," Boston general manager Ben Cherington said during the World Series. "It's one thing to go up there, get a mistake and hit a ball hard. But he's had quality at-bats. He's seeing pitches, taking tough pitches -- it's pretty remarkable what he's doing."
Now the Red Sox hope Bogaerts will do similar things over a full year with somewhere around 600 at-bats and constant infield play. They'll be defending a World Series title with some roster turnover and expecting Bogaerts and young center fielder Jackie Bradley Jr. to step in and account for some of the offense and defense they've lost in departing free agent Jacoby Ellsbury, who signed with the Yankees.
Bogaerts will have the chance to show why he's been so highly touted for so long over a 162-game haul.
And now, so will Gray. The right-hander, who is fully recovered from a fractured left thumb sufffered in his Game 5 loss in last year's ALDS, is throwing so well in Spring Training that A's manager Bob Melvin blew off his last live batting-practice session.
"I purposely didn't watch Sonny today," Melvin said. "I didn't want to see him break any bats or hurt any feelings."
Melvin will want to see it this year, though. If Gray stays healthy all year, he'll make more than 30 starts, and Oakland will once again like its chances of competing in the AL West, which the A's have won the past two years. Gray didn't make the club out of Spring Training last year, but he came up during the summer and made 12 appearances (10 starts), going 5-3 with a 2.67 ERA and 67 strikeouts in 64 innings. He then made two starts in the postseason against the Tigers, going 0-1 but allowing just three runs on 10 hits and six walks, while striking out 12 in 13 innings. Gray's pure stuff (mid-90s fastball, excellent breaking ball and plus changeup) and mound makeup turned heads.
"He was the crown jewel of all the guys in the Minor Leagues, and [he] came up and made an incredible impact right away," Melvin said. "He has a very bright future ahead of him."
Doug Miller is a reporter for MLB.com. Follow him on Twitter @DougMillerMLB. This story was not subject to the approval of Major League Baseball or its clubs.