Dunn focused on 2014, not beyond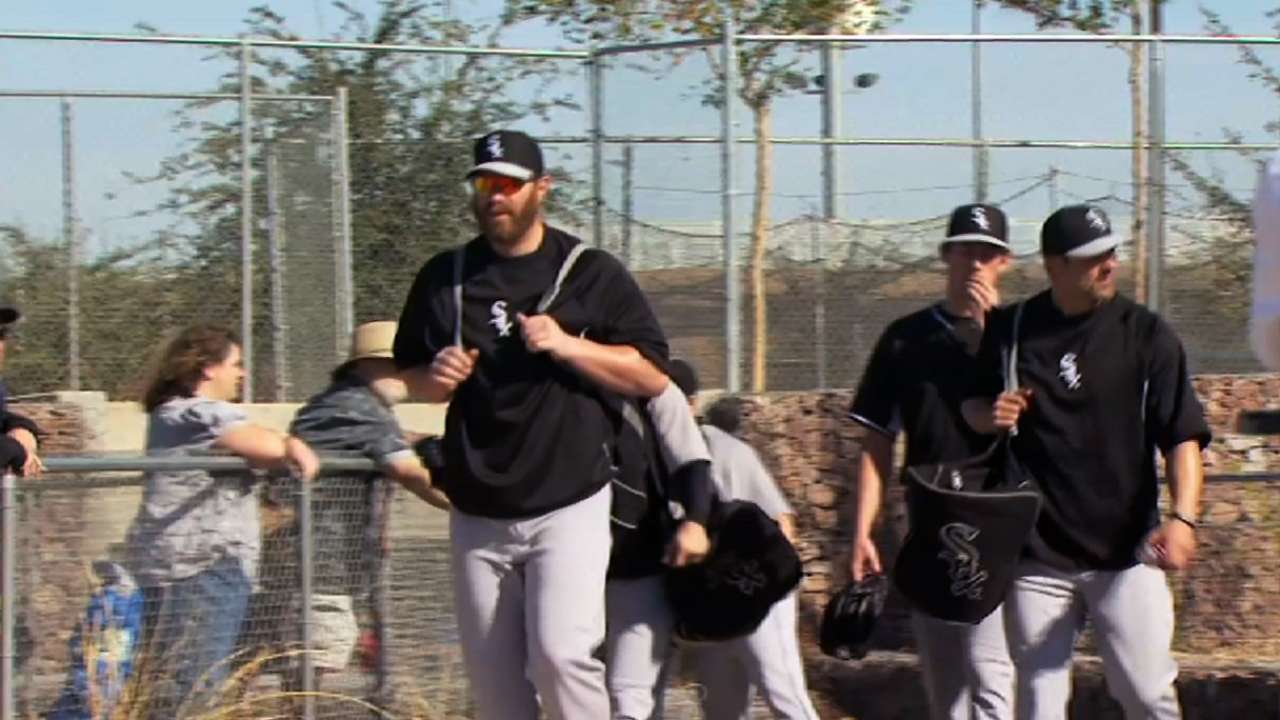 GLENDALE, Ariz. -- Spring Training sits at Day 10 for the White Sox, and nobody on the team has thrown a Cactus League pitch.
Yet, talk of what Adam Dunn will do after the present season already has arisen.
Dunn, 34, is playing in the fourth and final season of a four-year, $56 million deal with the White Sox. It has been a disappointing run in Chicago for Dunn, who has a .197 average with 86 homers, 224 RBIs, a .317 on-base percentage and .405 slugging percentage. And with Paul Konerko and Jose Abreu in the first base/designated hitter mix, Dunn could find himself in a partial platoon role primarily against right-handed pitchers.
There have been moments in the past when Dunn has talked about walking away from baseball if he wasn't having fun. In a conversation with reporters on Monday, Dunn indicated that 2014 would not be his final year.
"Yeah, as of right now, today, yeah. I plan on coming [back]," said Dunn, who said he wouldn't think about life after this season and possibly the White Sox until next Thanksgiving. "Again I could go out and stretch and say, 'I'm done, I'm not having any fun.' But I don't see that happening today."
With manager Robin Ventura talking about Dunn getting some time in left field, the owner of 440 career home runs believes that Spring Training work might lead to some regular-season time in the outfield. He said the biggest change of moving from first to left is moving to different sides of the field and then seeing the ball off the bat.
Preparation, in this case, is crucial to help Dunn be ready for pretty much anything.
"Whatever is going to help win, I'm in," Dunn said. "If I'm not swinging it good and everyone else is, I'll sit and watch and do that. But I don't plan on that happening."
"My job is to be ready every day and I'm going about it like I do every spring. I'm going about it like I'm going to have and plan on having 700 at-bats.
"It didn't take a rocket scientist to figure out there are a lot of guys that have the ability, have the talent to play and you can only have a certain amount of spots," Dunn said. "But again, I'm not looking at it like I'm going to play once a week, twice a week. I'll be ready to play 162-plus games."
Scott Merkin is a reporter for MLB.com. Read his blog, Merk's Works, and follow him on Twitter @scottmerkin. This story was not subject to the approval of Major League Baseball or its clubs.