Royals bats on display in intrasquad game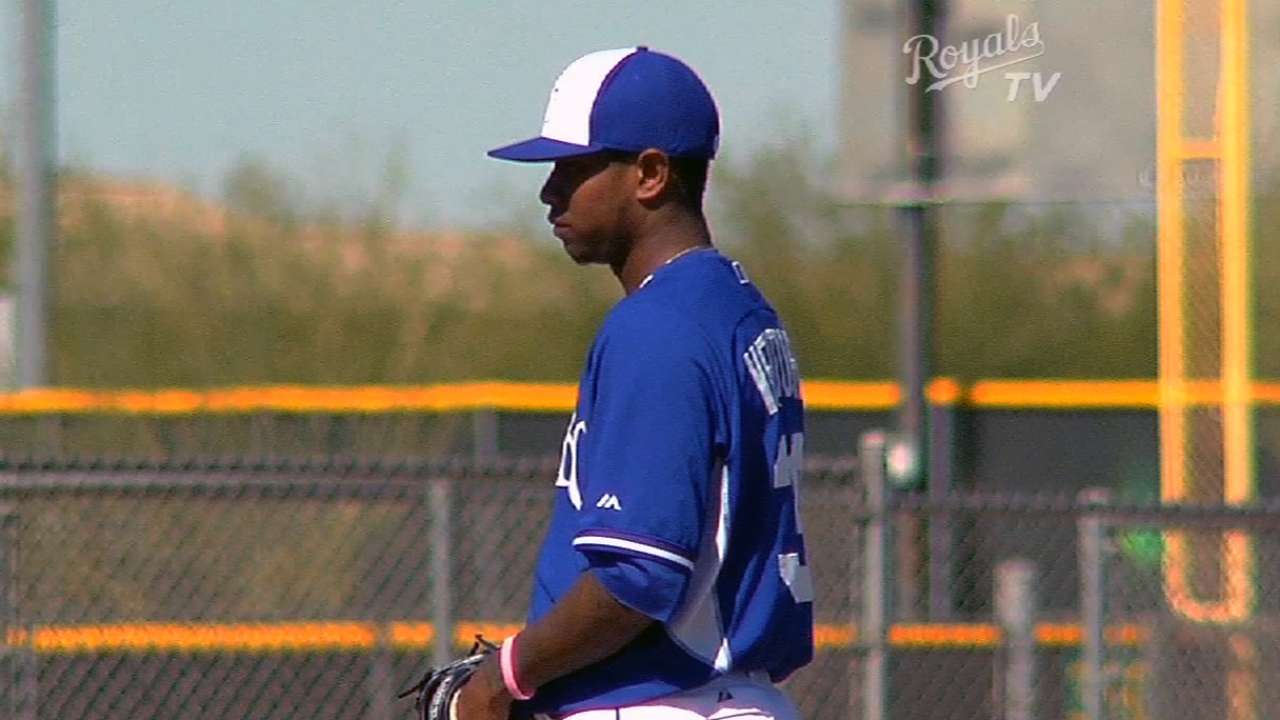 SURPRISE, Ariz. -- This is the time of the baseball year, training camp, when the pitchers are supposed to be ahead of the hitters.
Yet, as the Royals beat the Royals, 5-2, in an intrasquad game on Monday at the Surprise complex, the hitters seemed to be ahead of the pitchers. They hammered out 15 hits, including two home runs, and drew six walks in a six-inning game.
Manager Ned Yost, however, chose not to take sides after the first game action of Spring Training.
"This is a taste of competition in a low-key setting and in one inning you try to get them [the pitchers] acclimated to competing again, and I thought it went well," Yost said. "All the pitchers threw fine; I thought all their stuff was really good, I thought we swung the bats really well."
Right-hander Yordano Ventura, considered a front-runner for the open fifth-starter job, threw a lot of pitches, and his inning was cut short after walks to Jarrod Dyson and Alex Gordon, a foul fly out by Omar Infante, and some foul balls by Billy Butler who didn't even get to finish his at-bat.
"He got his pitch count up. His command was off a little bit but that's to be expected early," Yost said. "He threw like 24 [pitches], and we try to keep them around the 20-pitch mark their first time out."
Two other pitchers with their sights on that starting job, Luke Hochevar and Wade Davis, weren't dazzling, either. Hochevar gave up four singles, a walk and two runs, although he did get Eric Hosmer to rap into a double play. Davis gave up a home run to Carlos Peguero and a double to Alcides Escobar, but he did notch two strikeouts.
The other home run, also a solo shot, was by Paulo Orlando -- a laser over the left-field wall against left-hander Donnie Joseph.
Other hits included Justin Maxwell's triple against lefty Tim Collins; back-to-back doubles by Christian Colon and Jimmy Paredes off lefty John Lamb; and Johnny Giavotella's double against righty Jason Adam.
The only 1-2-3 inning was turned in by Minor League right-hander Aaron Brooks to end the two-hour workout. There'll be another intrasquad game on Tuesday.
"We don't expect them to be ultra-sharp, in midseason form," Yost said.
Best news: Nobody got hurt.
"That's the key," Yost said.
Dick Kaegel is a reporter for MLB.com. This story was not subject to the approval of Major League Baseball or its clubs.