Gardy unsure of how home-plate rule will be applied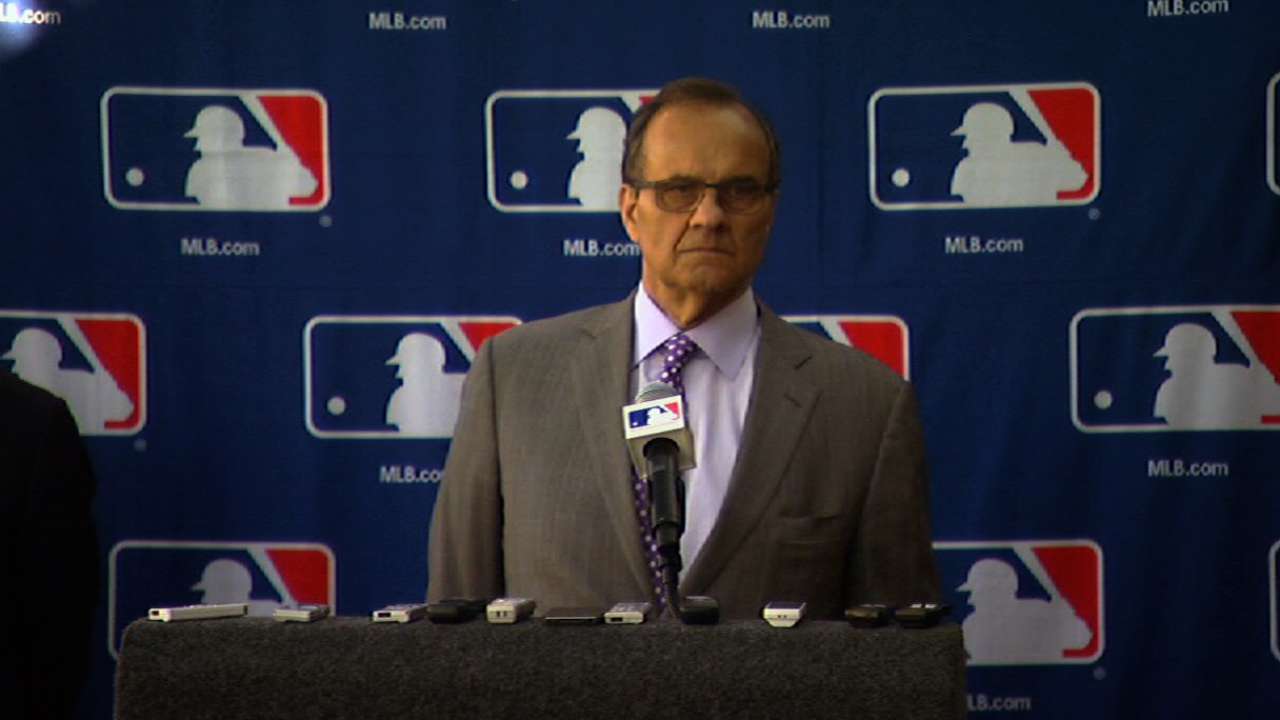 FORT MYERS, Fla. -- Twins manager Ron Gardenhire came away mostly satisfied with what he heard about baseball's expanded replay during a meeting with MLB in Port Charlotte on Sunday, but still has questions about the new home-plate collision rule that was formally approved on Monday.
Gardenhire, along with Baltimore's Buck Showalter, Boston's John Farrell, Tampa Bay's Joe Maddon and Pittsburgh's Clint Hurdle, met with MLB executive vice president of baseball operations Joe Torre, special consultant Tony La Russa and Jim Leyland to discuss the upcoming rule changes this season.
Gardenhire believes that the experimental rule which is aimed to prohibit the most egregious home-plate collisions will be difficult for umpires, who will have to determine whether a catcher blocked the plate improperly.
"We need more information on it," Gardenhire said. "I need pictures. I need to see plays they're talking about -- what they want our catchers to do, what we want our baserunners to do. We need video of it to give to our players, instead of saying, 'This is what we're going to do,' and make a call on it. We need to see some plays. There's plenty of plays they can look up. Show us what's good and what's bad and where a catcher should be standing."
Gardenhire also maintains that the rule could lead to unintended consequences, such as injuries to baserunners. A player will be ruled out if he lowers his shoulders and pushes through the catcher with his hands, elbows or arms, but the catcher cannot block the pathway of the runner unless he has possession of the ball.
"There's going to be times when a guy comes in there with no place to go and slides and he gets hurt, and then you're going to have issues, because he can't protect himself as a runner trying to score and a catcher whacks him," Gardenhire said. "I'm more worried about my runners going in there than my catchers. They're going to have to change what they do to score, which is scary, because that's how you get hurt."
But Gardenhire seemed on board with baseball's new replay system, which will expand instant replay, but won't extend to balls and strikes. Managers will get one challenge per game, and if the call is reversed, they retain their challenge. Umpires can also request review on close plays from the seventh inning on. The reviews will be made at MLB Advanced Media headquarters in New York by a rotating umpire crew.
"There's technology out there that will help the game," Gardenhire said. "There's some tweaking needed, but this is a start. It's all about trying to make it better.
Rhett Bollinger is a reporter for MLB.com. Read his blog, Bollinger Beat, and follow him on Twitter @RhettBollinger. This story was not subject to the approval of Major League Baseball or its clubs.