Ubaldo settling in just fine with new ballclub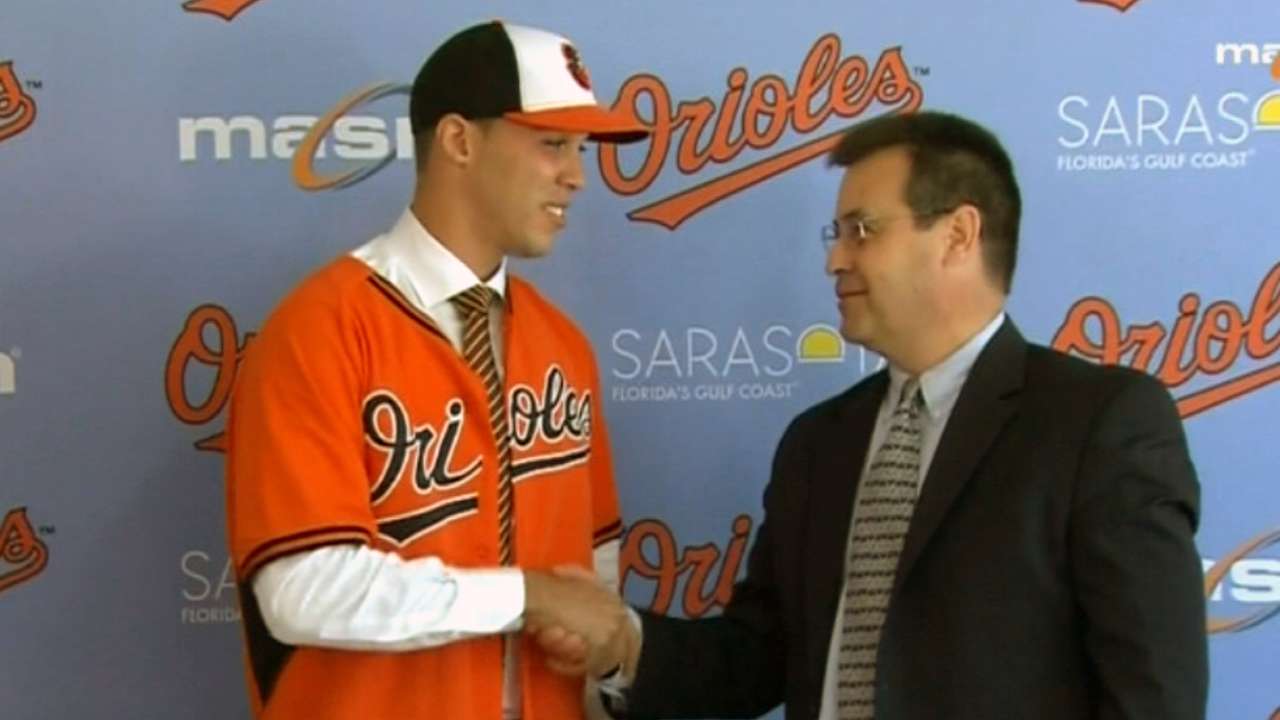 SARASOTA, Fla. -- Ubaldo Jimenez hopes to make his spring debut for the Orioles during the first week of March and is on a similar schedule to fellow newcomer Suk-min Yoon, who is tentatively slated to pitch March 6 or 7.
Jimenez will throw at least one more bullpen session before facing hitters. He said his arm feels good and he isn't worried about being behind at all. The 29-year-old Jimenez, who signed a four-year, $50 million deal last week, has really enjoyed just being out on the field with new teammates after an offseason of waiting around.
"I was kind of desperate to be out there, be with a team, doing my stuff," Jimenez said Monday morning. "I'm used to every year in February be doing something. And this year everything was different, so it was hard. It was hard to be waiting so long. It feels like I'm able to breathe again. I'm able to be happy."
Jimenez played a Double-A All-Star Game with Miguel Gonzalez and was Little League teammates with Alexi Casilla. They go way back, playing together when Jimenez was 12 or 13, and he lauded Casilla for being an "unbelievable hitter" on that club. Jimenez is looking forward to getting to know the rest of the Orioles, including newcomer Nelson Cruz.
"It's going to be fun," Jimenez said. "[Cruz is] a superstar. Forget everything that happened with him, he's good.
"It is exciting as a player that you have a clubhouse full of superstars and you know you have a pretty good chance. It's never going to come easy, but we have the potential in this clubhouse to beat anyone."
Up next on the docket for Jimenez is finding a home in the Baltimore area. Part of a very close-knit family, his parents will live with him, and Jimenez -- whose sister is doing her residency in the Dominican Republic -- is already looking forward to having his niece visit Camden Yards when school is out for the summer.
"It feels good knowing I am going to be here for a while, and not have to worry about next year if I am going to have to sign with a new team," Jimenez said. "That's something I was looking for, to be able to be in one place for a long time."
Brittany Ghiroli is a reporter for MLB.com. Read her blog, Britt's Bird Watch, and follow her on Twitter @britt_ghiroli. This story was not subject to the approval of Major League Baseball or its clubs.