Bauer ready to test mechanics in Cactus opener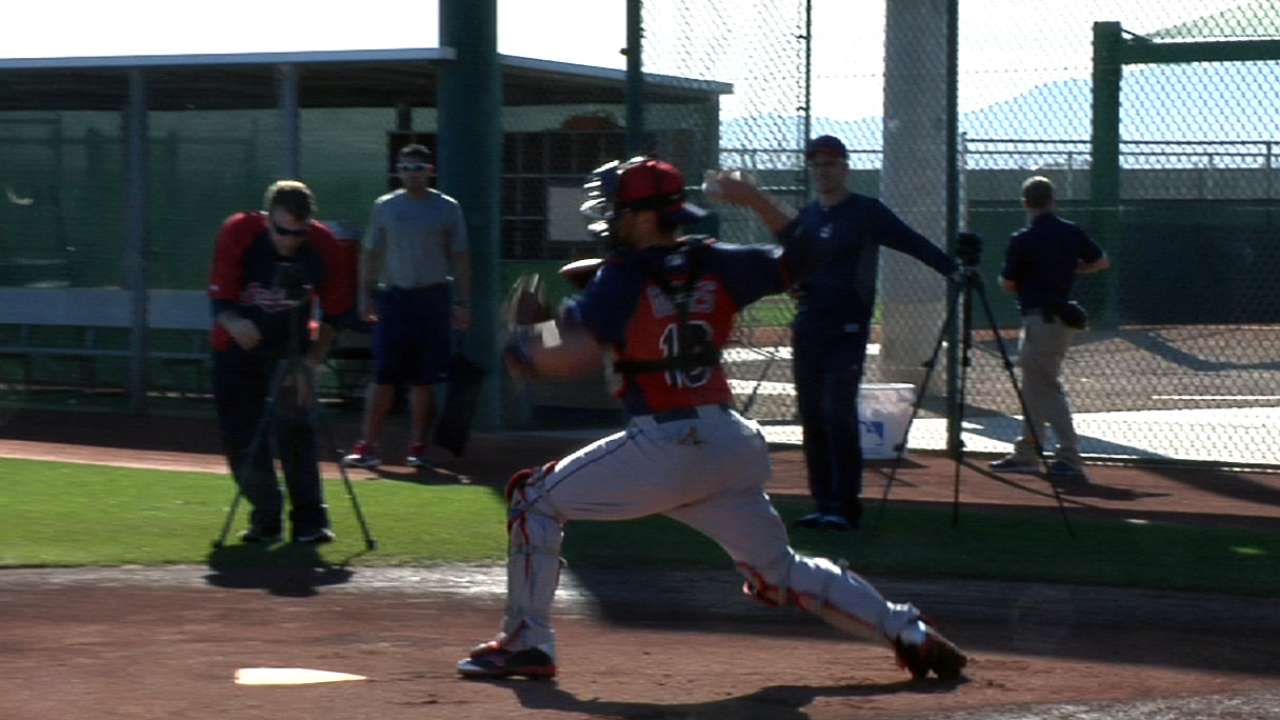 GOODYEAR, Ariz. -- Trevor Bauer did not feel right on the mound during his first live batting-practice session Friday. When the Indians starter went back and examined the video, he was surprised to see his retooled mechanics were in order.
"It looked good," Bauer said Sunday. "That's kind of a positive thing for me, that even when I don't feel very good, it still looks how I want it to. That's a good sign. We'll see what happens when the hitter steps in and there's a defense back there and everything kind of starts."
That step will arrive Wednesday, when Bauer is scheduled to log one inning as the starter for the Indians in their Cactus League opener against the Reds at Goodyear Ballpark. Indians manager Terry Francona warned against reading too much into the fact that Bauer -- one of the candidates for the lone vacancy in the rotation -- is starting the first spring game.
All it means for now is that Bauer will get to test his new mechanics in a game environment.
Throughout last season, and over the course of the winter months, the 23-year-old Bauer went to work on a series of adjustments. It began with a lower-half alteration with the aim of reducing injury risk and continued this past offseason with changes to his lead arm and upper half. Francona has been pleased with what he has seen to this point in camp.
"We're pretty encouraged. His delivery looks good," Francona said. "Looking at his video and watching his first bullpen, his hands are separating better to where he can catch up. I thought he looked better. I thought he looked more like the guy you probably saw coming out of college."
Bauer was a key piece in a nine-player, three-team trade that the Indians swung two winters ago. In his first tour with the Tribe last season, though, the young righty had a 4.15 ERA with 73 walks in 121 1/3 innings at Triple-A and posted a 5.29 ERA with more walks (16) than strikeouts (11) in a four-start stint at the big league level.
No one was more upset over his performance than Bauer.
"I'm just trying to pitch to a level that I can be satisfied with," Bauer said. "I didn't pitch up to my personal standards last year by any means and it was frustrating for me, going out there and knowing I can be so much better than I was showing. My goal is to come in and pitch how I know I can pitch. We'll see where I end up after that. Mostly, I just want to enjoy playing baseball. Last year wasn't any fun.
"It's definitely nice to be working with people that are on the same page with kind of what I'm trying to do. I don't look at anything as final. If I have a good outing, I'm not good. It's just a good outing. If I have a bad outing, I'm not terrible. It's just a bad outing along the process. It's nice to have people kind of look at things the same way and are willing to look at the future, a year out, two years out, five, 10 years out, and try to plan for that."
Jordan Bastian is a reporter for MLB.com. Read his blog, Major League Bastian, and follow him on Twitter @MLBastian. This story was not subject to the approval of Major League Baseball or its clubs.