Montgomery uses struggles as learning experience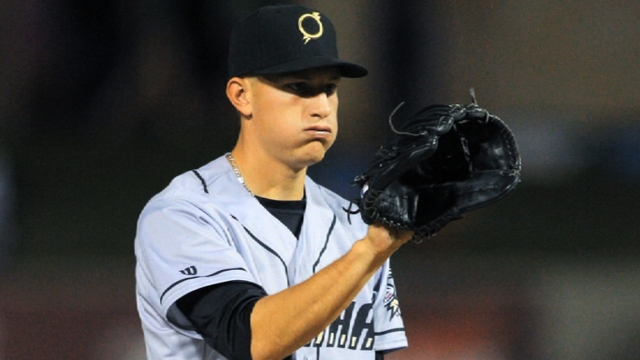 PORT CHARLOTTE, Fla. -- The Rays acquired left-hander Mike Montgomery on Dec. 9, 2012, from the Royals along with outfielder Wil Myers, right-hander Jake Odorizzi and third baseman Patrick Leonard in exchange for right-handers James Shields and Wade Davis and a player to be named (infielder Elliot Johnson).
After several promising seasons in the Royals' farm system, Montgomery struggled in 2011 and '12 prior to being traded. Last spring, the Rays liked what they saw in Montgomery, but noticed some mechanical issues that needed to be addressed. So he spent most of the season with Triple-A Durham, where he made 19 starts and one relief appearance for the Bulls despite missing more than a month with left forearm tightness after his season debut.
Montgomery followed that up with a successful stint in the Arizona Fall League, where he pitched exclusively out of the bullpen. Against the prospect-laden lineups of the Fall League, he posted a 2.57 ERA and 1.14 WHIP over 14 innings in nine outings, striking out 14 while walking four and giving up 12 hits.
Now in his second camp with the Rays, Montgomery called 2013 a "good year for me as far as a learning experience and moving forward."
"Kind of learning myself," Montgomery said. "That's what it's always been, learning myself as a pitcher. How I want to attack guys. How I want to react in certain situations. And I think last year was a big step forward. It's just about getting better every year."
As for his mechanical issues, Montgomery noted they've always been about getting a consistent arm slot and arm release.
"I think the combination mechanically of really using my legs more, letting my legs do most of the work instead of trying to provide the power with my arm," Montgomery said. "It's really shown to be way more consistent. That being said, it comes down to being consistently being able to get that arm slot with my legs.
"It's simple in concept. It's really just a matter of generating the speed off the mound with your lower half instead of your arm."
Rays farm director Mitch Lukevics spoke glowingly about Montgomery.
"Left-hander, good stuff, he came along really well this year," Lukevics said. "Coming into a new organization, new coaches, everyone talking how to get a player better, with his effort, the pitching coach's effort. We were pleased how it went for him."
All professional players want to play in the Major Leagues, but Montgomery allowed that he has thought on occasion about being fortunate that he hasn't been rushed up the ladder.
"At this point, everything kind of happens for a reason, in my mind," Montgomery said. "Whatever struggles I had for a couple of years, I think is going to make me a better pitcher in the long run. That's really my focus. I'm not worried about what happened last year or the year before. It's, 'This is a new year. What did I learn in the last year?' Take that and see what I can learn this year."
Looking ahead at the long blue row of pitchers can be daunting to any pitcher in the Rays' farm system. Montgomery tries to focus on other things.
"I've done a pretty good job not thinking about that anymore," Montgomery said. "At the end of the day, we're playing a game. It's a tough game. There's a lot of good players. There's always been good players. There's going to be a lot more good players coming through. I just have to get as good as I can be and wherever that takes me, that's where it's going to take me."
Bill Chastain is a reporter for MLB.com. This story was not subject to the approval of Major League Baseball or its clubs.