Franklin embraces challenge of return to short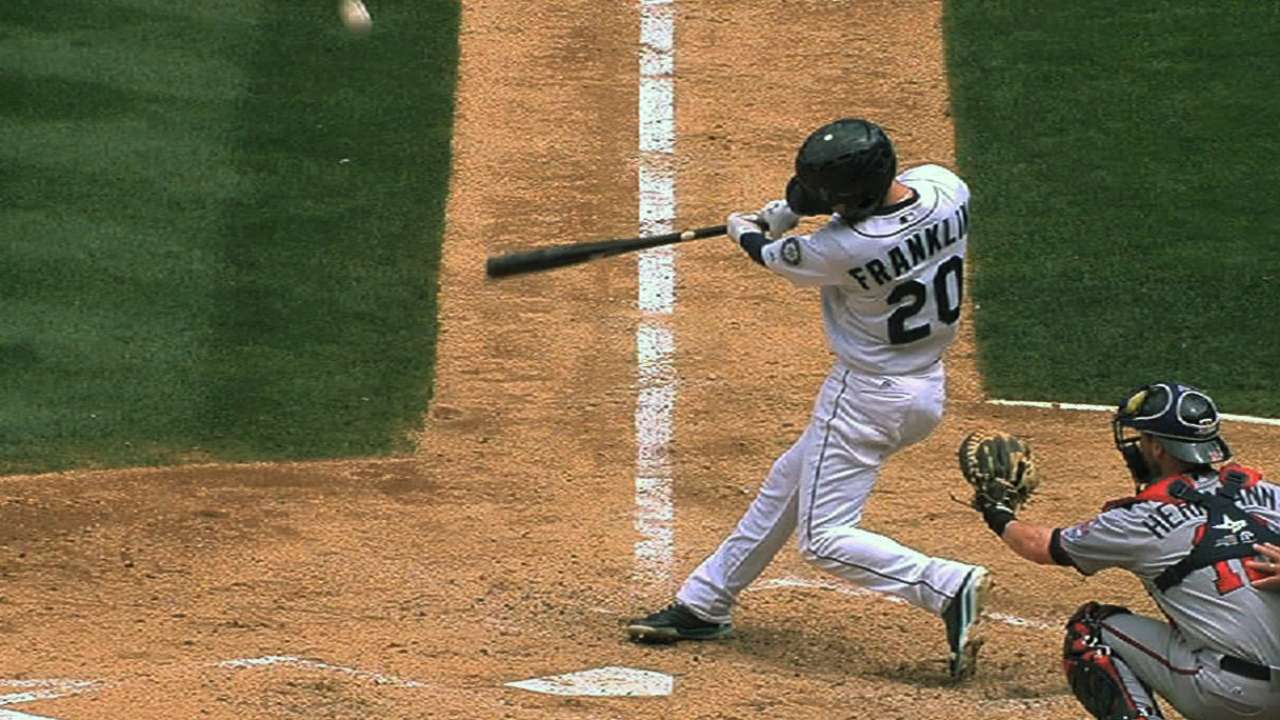 PEORIA, Ariz. -- Nick Franklin knows he won't be the Mariners' starting second baseman this season, not with Robinson Cano now in the fold. But the 22-year-old arrived at Spring Training looking stronger and feeling confident that things will work out for him if he does his part during camp.
"When they first signed him, I knew I couldn't control anything," said Franklin, who started 90 games at second base last year as a rookie. "All I can do is come out here and compete. If I can just have fun and enjoy my time and get familiar with the new faces, then we'll come together as a team and it'll work itself out."
Franklin said he weighed in at 192 pounds, down from 198 last year, but has added upper-body strength after an offseason working out at home in Florida.
Franklin worked at shortstop alongside Brad Miller on Tuesday in the first day of full-squad drills, and the youngsters figure to compete all spring for that starting job. He said he felt good being back at the position he grew up playing, as the Mariners drafted him as a shortstop out of Lake Brantley (Fla.) High School with a first-round pick in 2009.
"I felt comfortable there," Franklin said. "I worked with Barry Larkin a couple days this offseason in Windermere [Fla.]. He's a Hall of Famer, so that was huge. That was good help, and I'm looking forward to just coming along and hopefully making the team this spring."
Franklin and Miller both have Minor League options remaining, so whoever doesn't win the job could well wind up back in Triple-A Tacoma. Franklin understands the stakes. He got his feet wet last year, hitting .225 with 12 home runs and 45 RBIs in 369 at-bats after being called up in late May.
He brings a new comfort level to camp this spring, along with his leaner physique.
"Last year, when I was at this point, I was more all eyes and ears," Franklin said. "Now I feel a lot more comfortable, just the fact that I've been through it. This year I'm going in with a better mindset and as a better player."
Yet nothing will come easy. Miller also is a well-regarded youngster who played 76 games at short last year and hit .265 with eight home runs and 36 RBIs.
"There's a lot of talent here and a lot of competition," Franklin said. "More than anything, I just have to go out there and play the game."
Greg Johns is a reporter for MLB.com. Follow him on Twitter @GregJohnsMLB as well as his Mariners Musings blog. This story was not subject to the approval of Major League Baseball or its clubs.