Ellsbury getting used to donning pinstripes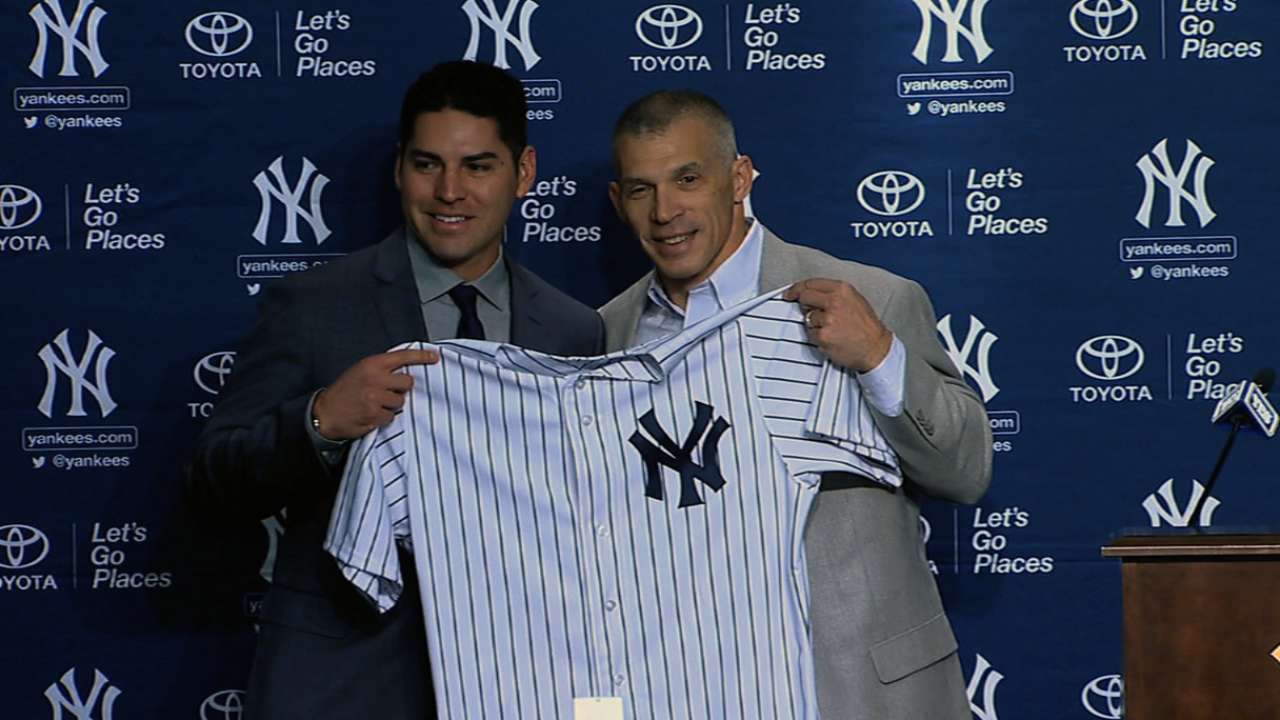 TAMPA, Fla. -- Jacoby Ellsbury dropped his bags off on Tuesday afternoon and said that he has been told to get ready for a season of hitting leadoff and playing center field. No problem: Those are both familiar assignments by this point in his career.
What will be an adjustment, of course, is looking in the mirror before games and seeing those Yankees pinstripes. Ellsbury said that his Red Sox days ended the moment he signed his seven-year, $153 million contract, and he is ready to begin this new chapter.
"I'm looking forward to it," Ellsbury said. "I did a shoot for Nike the other day; they sent down the official jersey and pants. It was the first time putting all that on a couple days ago, and it felt good.
"Obviously, it looks a little different, but that's something I was looking forward to -- something I was excited about. This team has a great chance to win and play deep into October."
Ellsbury, 30, said that he is 100 percent healed from the foot and hand injuries that lingered throughout Boston's run to the World Series title last season. He said that a full offseason of strength training will have him "ready to go Day 1 here" as part of the re-tooled Yankees roster.
"They've definitely added some great pieces; they've had great pieces here," Ellsbury said. "Just the combination of guys coming back, the guys they've brought in, the sky's the limit. There's a lot of talent here. We haven't even started camp yet, but I'm just excited to go out there."
The Yankees' outfield projects to have Ellsbury in center field, Brett Gardner in left field and Carlos Beltran in right. Ellsbury said that he was excited to share an outfield with Gardner in particular.
"When you're looking in the outfield, it just looks like there's nowhere you can hit it," Ellsbury said. "You've got to hit it out. It just puts a lot of pressure on the offense to really drive the ball. Anything that's hanging in the air, I feel like we're going to track down."
Ellsbury said that he has kept in touch with some of his old Boston teammates, and recently saw Dustin Pedroia and Cody Ross. They told Ellsbury that they were sorry to see him go, but happy for his new beginning with the Yankees.
It remains to be seen how the rest of Boston will react when Ellsbury next sets foot in Fenway Park. He won't have to wait long: New York's first road series against the Red Sox is scheduled for April 22-24.
"I definitely gave them everything that I had in that organization," Ellsbury said. "I played as hard as I could, tried to do everything the right way. I left it all on the field for them. Whatever reception I get, I guess it's yet to be seen, but I'm not going to think about it too much, just because it's going to be out of my hands."
Bryan Hoch is a reporter for MLB.com. Follow him on Twitter @bryanhoch and read his MLBlog, Bombers Beat. This story was not subject to the approval of Major League Baseball or its clubs.