Right fit with Rox a comfort to prospect Butler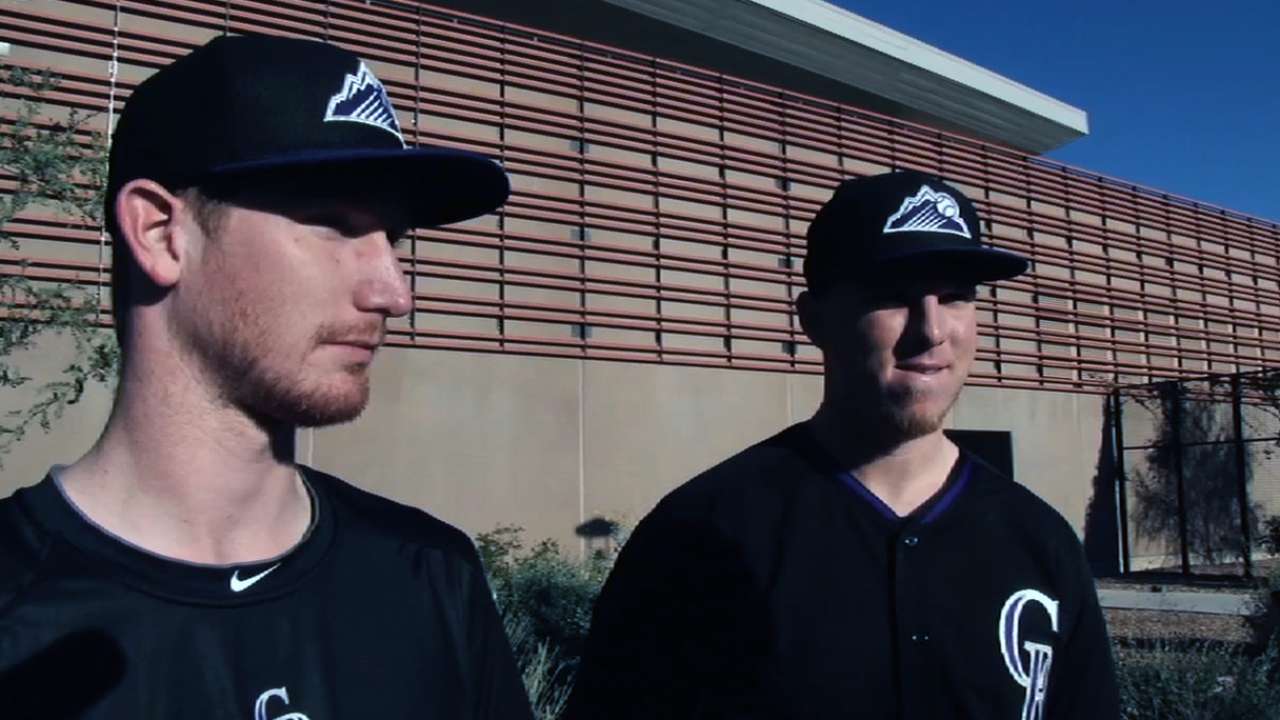 SCOTTSDALE, Ariz. -- Rockies pitching prospect Eddie Butler, who is hoping a strong showing in camp will quicken his path to the big leagues, has always believed the well-worn path isn't for him.
When he was graduating from Chesapeake (Va.) Christian Academy in 2009, several coaches at College World Series-level programs regaled him with stories of the big time. Coaches at Radford (Va.) University, in the unheralded Big South Conference, couldn't one-up the big boys, but it didn't matter because that type of talk didn't impress Butler.
"I had the big opportunities, but none of them appealed to me," Butler said. "A lot of them talked about their championships, how many guys they'd gotten to the big leagues. But they were never really saying what their plan was for me. I went to Radford and they told me their plan and their expectation for me."
Butler has been excelling in pro ball since the Rockies took him as a supplemental first-round pick in 2012, partly because the organization's plan was in line with that of the pitcher.
Much of the talk going into the Draft was Butler, who relied on a fastball and slider in college, would have to convert to relief. But from the moment they took him, the Rockies had faith he'd be an effective starter. After revealing a Major League-level changeup, Butler has shut down hitters over 41 Minor League appearances (40 starts) to the tune of a 1.90 ERA, .180 batting average against and 8.2 strikeouts per nine innings against 2.7 walks per nine. Butler finished last season at Double-A Tulsa, where he went 1-0 with a 0.65 ERA in six starts covering 27 2/3 innings.
"Many teams thought of me as a reliever," Butler said. "They didn't see the potential in my changeup and they didn't see a curveball. So they immediately threw me out as a two-pitch guy as a reliever. Right now it's out there that I have other pitches to go along with my fastball-slider. I'm glad the Rockies always thought of me as a starter, because that's been my thought of what I would be.
"It would be cool to be a closer. But I want to start. I want to have a big role in the game. I want to be able to hand the ball to my closer and have him finish it out for me."
Butler is eager to show what he can do on the Major League stage.
"This is the closest I've been," Butler said. "To be in here with the big leaguers, it's a great feeling. I'm hoping to make a push to be up here this year. It would be great. Maybe if I have a good spring, I don't know. You never know how soon I'll be up here. There's plenty of time, but I'd love to spend most of it here."
Thomas Harding is a reporter for MLB.com. Follow him on Twitter @harding_at_mlb. This story was not subject to the approval of Major League Baseball or its clubs.