Beltran can't hide excitement at camp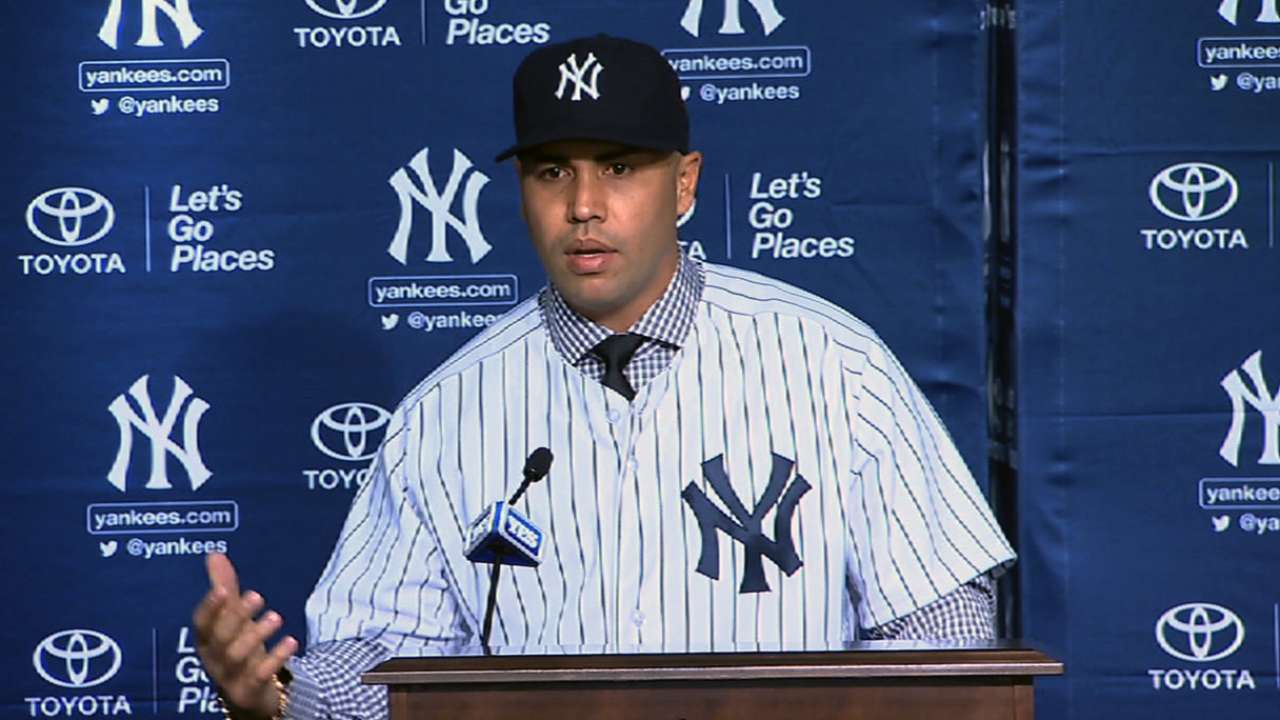 TAMPA, Fla. -- Veteran outfielder Carlos Beltran waited a long time for the chance to wear his Yankees gear, and as he made his first appearance at camp on Monday, he once again showed his excitement.
"I feel great, man, honestly," Beltran told reporters at the club's Minor League complex. "It's a great experience. This organization has always been an organization, tradition-wise, where many good players have put on this uniform. For me to be able to be part of history, I would say it feels great. I'm happy and looking forward to doing my job."
Beltran, who turns 37 in April, came to the Yankees on a three-year, $45 million deal. He had a brief workout on Monday in advance of Wednesday's official reporting date for position players, spending some time with new teammates Brian Roberts, Kelly Johnson and Eduardo Nunez.
"I look at the team, I look at our situation and the players that we have; we have a pretty good chance," Beltran said. "Last year I experienced being in the playoffs, being in the World Series with the Cardinals. It was a great feeling. Once you play there, you want to go there every year. Everything starts from Spring Training."
Beltran expects that the Yankees will need to dedicate some time to meshing this spring. The club also added Brian McCann, Jacoby Ellsbury and Masahiro Tanaka, highlighting a spending spree that exceeded $500 million.
"The good thing is that we're all veterans," Beltran said. "It's not like you're dealing with a bunch of younger guys that probably don't know what they need to do. We know what we're capable of. We just need to find a way to come to the ballpark, get used to the Yankees' way of playing the game and go from there."
Monday was not Beltran's first visit to the Yankees' spring complex. He sat down here with the late George M. Steinbrenner before the 2005 season, when he and agent Scott Boras explored the possibility of him signing with the Bombers as a free agent.
Steinbrenner was impressed by the meeting, but the negotiations did not work out, as The Boss prioritized pitching at the time. Beltran landed across town with the Mets instead, but nearly a decade later, he is pleased that he finally made it back.
"Of course, we have to win," he said. "I don't know how far we will go, but at least we have to do something positive -- better than what they did last year. No doubt about that. They went out, spent a lot of money on players to try to improve the ballclub.
"You want to be around an organization like that, where every year they're trying to improve and get better. In my case, I'm going to be blessed for three years here."
Bryan Hoch is a reporter for MLB.com. Follow him on Twitter @bryanhoch and read his MLBlog, Bombers Beat. This story was not subject to the approval of Major League Baseball or its clubs.