Venters believes slow, steady rehab way to go
Southpaw reliever navigating on road back from Tommy John surgery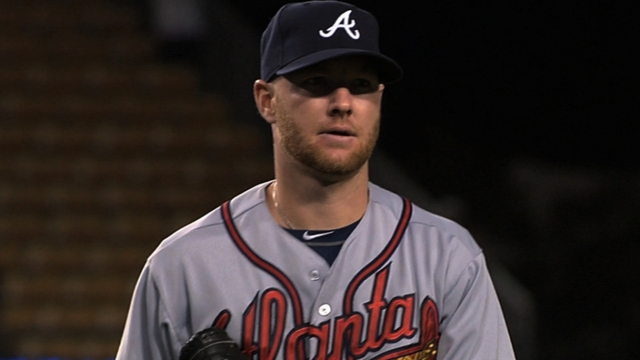 LAKE BUENA VISTA, Fla. -- Jonny Venters is scheduled to throw off a mound on March 5 following two more weeks in his current long-toss program.
Venters is humming along the comeback trail after undergoing Tommy John surgery last May, but this ride is slower and steadier than the first time he underwent the procedure in 2005. His previous rehab effort was not as measured, and ultimately resulted in pain.
"The way I went about [rehab] was so much different than the first time," Venters said. "From Day 1 of the throwing program the first time, I was trying to throw hard and constantly pushing. I was constantly sore and never feeling good."
Rather than throwing full throttle from the get-go, Venters is gradually stressing the ligament and fine-tuning his mechanics. The 28-year-old hopes that by the time the Braves wrap up Spring Training at the end of March, he will be throwing hard and ready to start planning rehab assignments.
"My main goal is once I get on the mound, just to be able to find my delivery and be able to repeat it," Venters said. "Once I start throwing harder, it'll just be that much easier to repeat, and stuff like that."
Venters began dealing with soreness in July 2012 and felt discomfort in his elbow early in 2013. The injuries followed two seasons as one of baseball's best relief pitchers. He compiled a 1.89 ERA in 171 innings between 2010 and '11, earning an All-Star nod and leading the Majors with 85 appearances in his sophomore season.
The southpaw hopes to return to that form after avoiding arbitration with a one-year deal signed in November. Through his more gradual rehab, Venters feels the ball is coming out of his hand much better than before his surgery more than nine months ago.
"I haven't been sore at all," Venters said. "It's been smooth. I'm taking it slow. It's been a much better experience this time in every way really."
Joe Morgan is a contributor to MLB.com. This story was not subject to the approval of Major League Baseball or its clubs.