Myers has bumpy road getting to Rays camp
AL Rookie of Year has flight canceled, forced to rent car, drive 10 hours from NC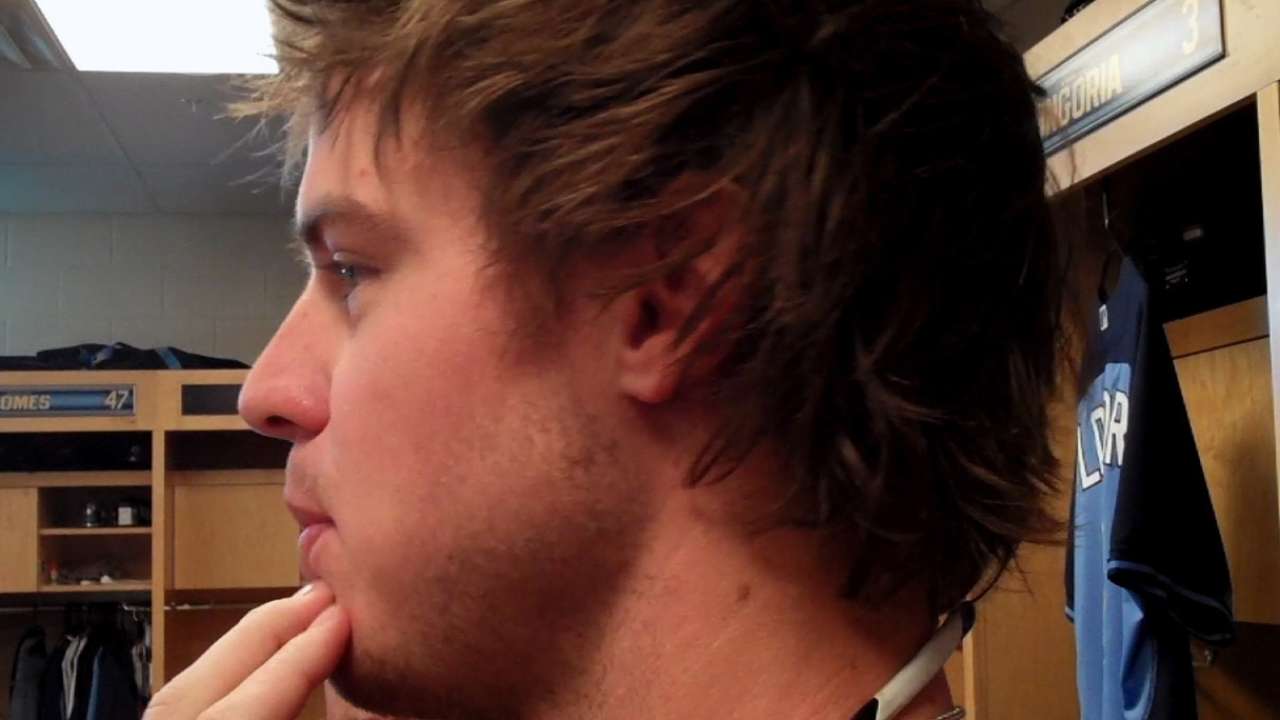 PORT CHARLOTTE, Fla. -- Wil Myers highlighted a group of position players arriving early to camp on Sunday.
The reigning American League Rookie of the Year lives in Thomasville, N.C., and he did not experience an easy road to Port Charlotte.
Due to the dire weather conditions that have hamstrung much of the nation, Myers' Friday flight from Charlotte to Tampa got canceled.
"So I just decided to drive," Myers said. "I ended up renting a car to drive down on Friday. What a day."
Myers squeezed into a KIA.
"A small one," said the 6-foot-3 Myers with a smile.
Fortunately for Myers, he had shipped most of his stuff earlier, so he had just two bags.
"Took me 10 hours," Myers said. "It's really not that bad of a drive. I was already in Charlotte. It was pretty easy."
Myers said he only stopped twice.
"When I get on the road, it's, 'Just keep going,'" he said.
While Myers made his trip without incident once he got behind the wheel, the weather did cause one disappointment prior to hitting the road.
"I was supposed to go to the Duke-Carolina game on Wednesday, but the game got canceled," Myers said. "That would have been my first Duke-Carolina game. But I didn't get to go. What are you going to do?"
Memorable from his offseason was his trip to New York to receive his AL Rookie of the Year Award at the annual Baseball Writers Association of America dinner, an occasion that prompted Myers to wear a tuxedo for the first time, albeit a rented one.
"It was cool," said Myers, noting that he sat next to the National League winner, Miami's Jose Fernandez. "It was a good experience. My family went up there with me. My dad got to meet a bunch of cool people that he watched growing up. So it was a cool experience."
Myers allowed that "hanging out at my house" -- a rented house in Thomasville -- was the "coolest" thing from his offseason.
"During the season you're on the road so much, everybody was like, 'Did you take any trips?'" Myers explained. "I didn't take any trips besides New York and I came to Tampa a couple of times. You just want to be in one place for a while instead of on the road every 10 days."
Though out of the nest, Myers said he still visited his parents regularly.
"Once a week," he said. "I went out to eat with them. I had a good time. I had two roommates with me. One of them played, so we got to work out together. So it was pretty cool."
Myers looked lean on Sunday, prompting one reporter to ask if he had lost weight.
"I did not," Myers said. "I actually put on eight pounds. It's the shirt. Bad shirt."
Among the other position players reporting Sunday were Sean Rodriguez and Matt Joyce.
Bill Chastain is a reporter for MLB.com. This story was not subject to the approval of Major League Baseball or its clubs.