Bradley eager to compete for center-field job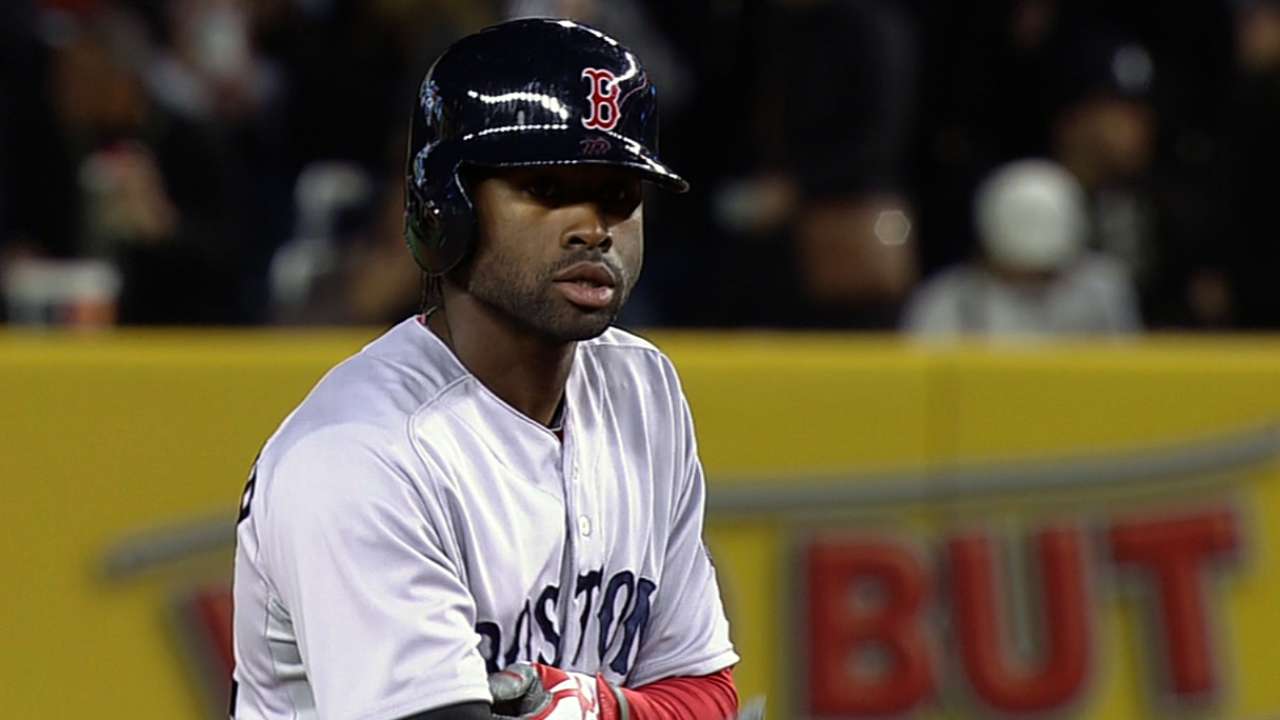 FORT MYERS, Fla. -- After serving as the feel-good story of Spring Training last year, Jackie Bradley Jr. comes to camp this time around determined to become the starting center fielder for the Red Sox on Opening Day.
To earn that job, he will have to beat out Grady Sizemore, a former All-Star who is on the comeback trail after not playing in the Majors the last two seasons.
"Yeah, it's different going into it knowing you are competing for a spot," Bradley said. "Last year I came into it just here trying to learn and seeing what I could get out of it."
For a while over the winter, it seemed like the job was all Bradley's. Jacoby Ellsbury left for the Yankees, and the Red Sox didn't sign a replacement for weeks after that.
But in late January, Sizemore was still without a job, and he wound up signing an incentive-laden deal with the Red Sox.
Bradley didn't expect anything to be handed to him.
"Yeah, I mean, competition in general is very beneficial," Bradley said. "When you're competing, that brings the best out of all players. That's what we do; we compete and we enjoy competing."
Bradley was the hottest hitter the Red Sox had in Grapefruit League competition last year and won a roster spot out of camp, but he was quickly humbled by Major League pitching. He spent most of the year at Triple-A Pawtucket, which was expected anyway.
This time around, Bradley hopes to be ready for the highest level of competition.
"I'm very excited," said Bradley. "Opportunities don't really come often, so you want to make sure you take full advantage of them. I don't feel any pressure. I'm not replacing Jacoby. I'm just going to be myself, enjoy it and have fun."
As for Sizemore, he has also been working out at the Player Development Complex this week, even though position players aren't due to report until Tuesday.
At this point, there's not much the Red Sox can do when it comes to evaluating Sizemore's readiness.
"I've seen him in the early workouts. He's moving well," said Red Sox manager John Farrell. "We'll probably reserve any kind of evaluation on him until we get into games and see how he tolerates the volume and what kind of recovery time he's going to need. But still, this is a guy who hasn't been in any game action for a couple years. So we have to be open minded to the needs he's going to have and really the repetition against game speed to get a more accurate read."
Ian Browne is a reporter for MLB.com. Read his blog, Brownie Points, and follow him on Twitter @IanMBrowne. This story was not subject to the approval of Major League Baseball or its clubs.