Nova not taking rotation job for granted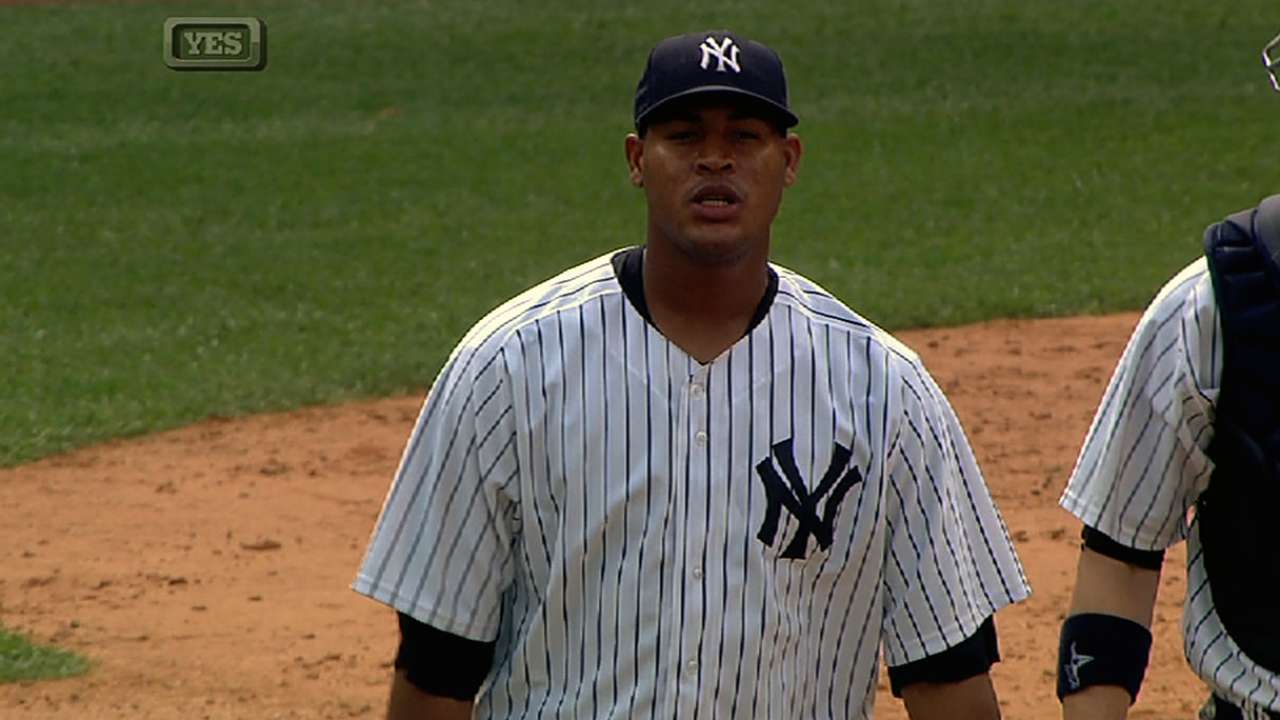 TAMPA, Fla. -- Ivan Nova is expected to be in the Yankees' rotation to begin the season, but the right-hander is approaching this camp as though he still must fight for his job.
After being demoted to the Minors early last season, Nova does not want to take any chances. Nova returned to the big league squad in late June and put up solid numbers down the stretch, so he hopes to never ride a Triple-A bus again.
"I'm still in a competition. Nothing is sure," Nova said. "I know that CC [Sabathia] can be sure, [Hiroki] Kuroda, [Masahiro] Tanaka. I'm one of the young guys. I've got to be doing the best out there in the competition."
Yankees manager Joe Girardi is planning on having Nova as one of the club's five starters, but he applauded Nova's mindset.
"We expect Nova to be in our rotation, but I love that attitude," Girardi said. "You have to perform. The bottom line is it's a performance-based business, so you have to go out and perform, but I love that attitude."
Nova said that he spent most of his winter in Santo Domingo, Dominican Republic, with his family and is looking ahead to fixing some of the inconsistency that marked his 2013 campaign. He struggled in six early-season appearances before being optioned to the Minors, which came as a surprise to him.
"You've got to prove that you can pitch in the big leagues," Nova said. "It's something you put in your mind and you work hard to do. When I took the time in the Minor Leagues again, [I was] thinking what I want to do and execute in the big leagues.
"I know I have the stuff to have success in the big leagues. I did in the past, I guess I've got to do everything together from the beginning. That's what I want to do from the first month, first start of the year."
Saying that he was more focused after the demotion, Nova returned in late June to go 7-5 with a 2.70 ERA through the end of the year. He finished the campaign with an overall 9-6 record and a 3.10 ERA.
"That's something that you've got to go through," Nova said. "I haven't seen anybody yet that's been in the big leagues, and from the first day to the last day, they're always consistent. Everybody goes through that. I'm still trying to find a way to be consistent every time. Hopefully this year is the start."
Bryan Hoch is a reporter for MLB.com. Follow him on Twitter @bryanhoch and read his MLBlog, Bombers Beat. This story was not subject to the approval of Major League Baseball or its clubs.