Fujikawa shifts focus to return, not Tanaka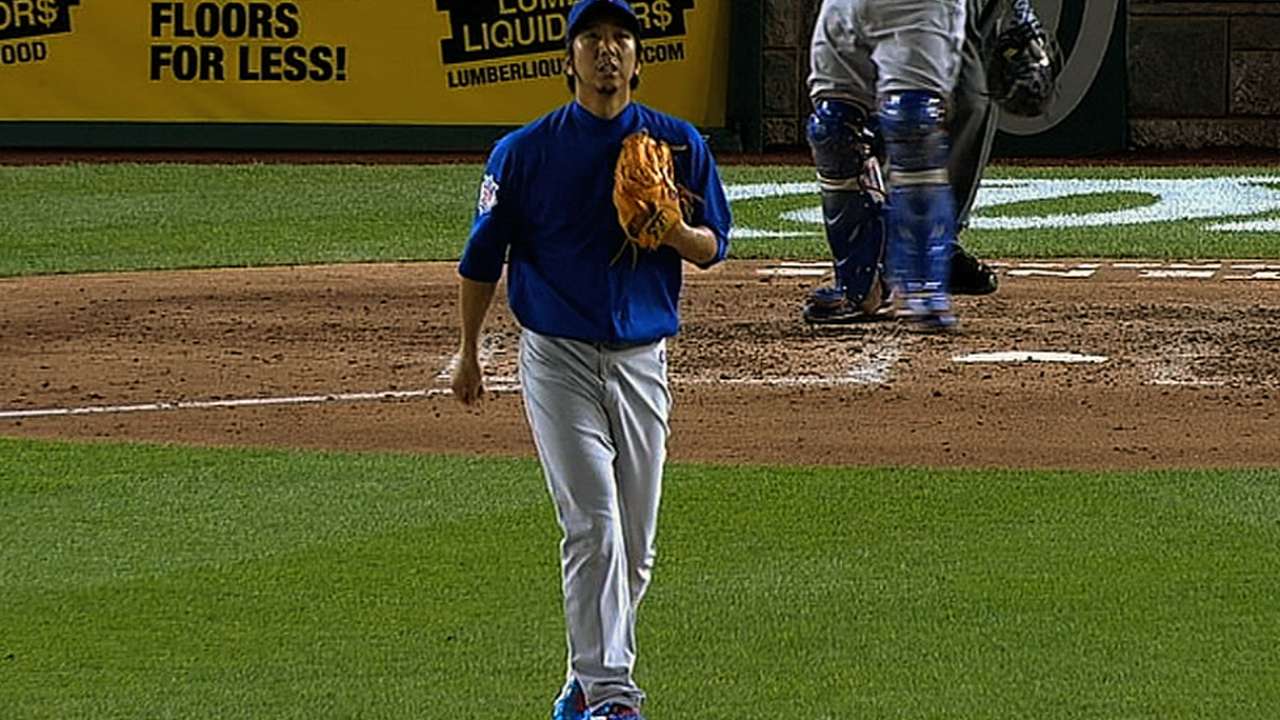 MESA, Ariz. -- Kyuji Fujikawa is throwing this spring, and he could be able to pitch in the big leagues by June. But he was not able to recruit Masahiro Tanaka to sign with the Cubs.
Fujikawa and Tanaka were teammates three times in the World Baseball Classic. After 12 seasons in Japan, Fujikawa left to sign a two-year contract with the Cubs in December 2012. But his 2013 season ended after 12 games because of elbow problems, and he had Tommy John surgery in June.
All winter, Cubs fans were giddy over the possibility of the team adding Tanaka, a 25-year-old free agent who eventually agreed to a seven-year, $155 million deal with the Yankees.
Whether Fujikawa talked to Tanaka is unclear.
"I can't really say much," Fujikawa said Saturday. "It's not for me to comment."
Fujikawa said he did not talk to any Japanese players before he signed with the Cubs -- his options included Kosuke Fukudome, who spent three and a half seasons in Chicago.
Instead, the right-hander shifted the focus back to his rehab.
"I can't really say anything about Tanaka, but for myself, I just want to say last year wasn't my real self, and I'm trying to think about myself," Fujikawa said through interpreter Ryo Shinkawa. "I can only talk about myself."
Right now, Fujikawa is playing catch five to six times a week, alternating between a long-toss day and a light-toss day. He is close to throwing off a mound.
"It was definitely tough while the season was going on and you have to understand you can't be able to contribute; that was the tough part," he said.
Fujikawa knows Cubs fans were interested in having the team acquire Tanaka.
"It's a good thing that everybody was talking about him," he said. "He has a strong heart, so he shouldn't have a problem in New York. He's used to it."
Carrie Muskat is a reporter for MLB.com. She writes a blog, Muskat Ramblings, and you can follow her on Twitter @CarrieMuskat. This story was not subject to the approval of Major League Baseball or its clubs.