Wieland eager to get back on track with Padres
After setbacks following elbow surgery, promising pitcher aims for normal camp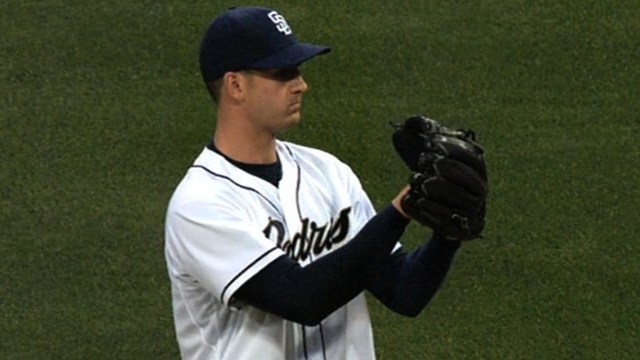 PEORIA, Ariz. -- It was only 25 to 30 pitches, Joe Wieland estimated, though his first session throwing off a mound Friday certainly felt a little more momentous than just shaking off a winter's worth of cobwebs.
"I've been waiting a long time for that," Wieland said. "And it felt great to have all of the coaches there, not just watching me but evaluating me."
On the first day of workouts for pitchers and catchers at the Padres' complex, Wieland threw fastballs and a few changeups in an eight-minute session that was strikingly similar to what every other pitcher did Friday.
With one notable exception: Wieland is working his way back from Tommy John surgery in 2012 and is coming off a year when he rested and rehabilitated his elbow. He had three setbacks along the way, all dealing with a triceps strain that later became a stress reaction.
All the while, though, the ligament held and, eventually, became stronger. Now, Wieland is cleared to pitch much like any other healthy pitcher in camp.
More than anything, he's excited. More than anything, he's thankful. Wieland saw good friend Padres pitcher Cory Luebke work his way through rehabilitation for the same injury only to find out that he will need a second surgery on his elbow.
"It was extremely difficult. ... It was a grind, especially with those three setbacks," Wieland said. "I think what made it a little easier was they had nothing to do with the actual surgery, repairing the ligament.
"So you could probably say I'm the most excited guy here in camp. How long has it been for me? Eighteen or 19 months since I was part of a team? This is something I've been looking forward to for a while ... just getting out there and competing again."
In a sense, the Padres still don't entirely know what to expect from a healthy Joe Wieland. They thought enough of him that they were able to part with successful reliever Mike Adams at the Trade Deadline in 2011 when they landed Wieland and lefty Robbie Erlin from the Rangers.
Wieland breezed through the Minor Leagues with the Rangers, tossing a no-hitter in 2011. He was then exceptional for the Padres' Double-A affiliate in San Antonio, helping the team to the Texas League title.
Wieland, 24, made two starts in Triple-A for the Padres in 2012 and then found himself in the starting rotation at the age of 22, making his big league debut at Dodger Stadium in front of a crowd of 46,549. He lost that game, allowing six runs. Wieland then allowed one run over six innings the next time out against the Phillies.
But he later experienced soreness in his right elbow, which eventually led him down the path to having Tommy John surgery.
"He was probably pitching at the top of his game at that point, pitching with great velocity, pitching with a lot of confidence," said Padres manager Bud Black. "... There were some stretches of innings where he really showed what he can do."
At 24, Wieland believes he still has time on his side. When you're on the disabled list and miss significant time, there's often an out-of-sight, out-of-mind mentality. But Wieland hasn't forgotten about the team and the Padres, in turn, certainly haven't forgotten or given up on Wieland.
He appeared in two games last fall in the Arizona Fall League, which he counted as a notable step in his rehabilitation -- providing that familiar taste of competition, preparing him for this spring.
"He's at a stage in his career where there's still some upside. We think the velocity will come back and the sharpness to all of his pitches," Black said. "Time will tell. This year will be a time for Joe to get that foundation laid again. He has a lot of things going in the right direction."
Now all he needs is a chance to pitch. Some argue that six weeks of Spring Training is far too long. But for Wieland, it will give him a chance to build his endurance, his pitch count. The team will monitor his innings this season, wherever that may be.
That much, Wieland said, he won't mind.
"I know I'll have an innings limit, but there's no need at all to bring me along slower than anyone else," he said. "It's finally behind me. I'm ready to go now."
Corey Brock is a reporter for MLB.com. Keep track of @FollowThePadres on Twitter. This story was not subject to the approval of Major League Baseball or its clubs.