McClure brings new voice to Phillies' pitchers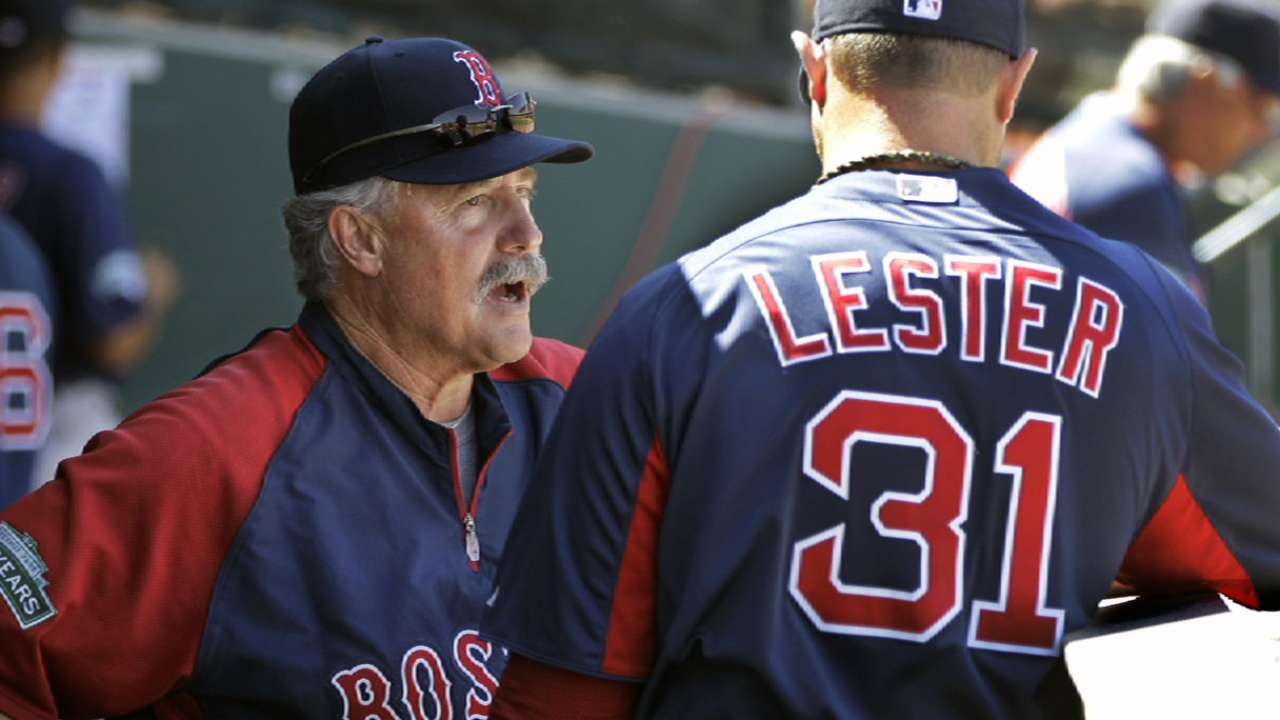 CLEARWATER, Fla. -- For the first time since 2004, Phillies pitchers will hear somebody other than Rich Dubee offer instruction in the bullpen and on the mound.
The organization declined to bring back Dubee following last season, and after a lengthy search with numerous candidates, it finally found Bob McClure, who has been asked to improve a pitching staff that finished 27th in baseball with a 4.32 ERA.
"They are used to a voice and a routine," McClure said. "I don't know if 'challenge' is the right word. It's like anything where you fall into a routine, then a new boss comes in and says, 'Listen, I want it done this way.' At first it's a little bit of a culture shock, but you're basically trying to get the same thing accomplished, but it might be in a different way."
McClure enters camp knowing his rotation when everybody is healthy: Cole Hamels, Cliff Lee, A.J. Burnett, Kyle Kendrick and most likely Roberto Hernandez. If the Phillies carry a seven-man bullpen as expected, Jonathan Papelbon, Mike Adams, Antonio Bastardo and most likely Jake Diekman are locks to make the team, although Adams is behind schedule following right shoulder surgery.
But plenty of things can happen between the first days of Spring Training and Opening Day on March 31 in Texas.
In the meantime, McClure, 61, is just happy to get started.
"I have twin 2-year-olds, so I needed to get some sleep," the pitching coach said. "I was at home and [the Phillies] called. Everything I heard was so positive about the organization, and I talked to a lot of good people that I trust, and they said this is a really good baseball organization. That's really what got me there. So many of the organizations are getting into the computer and data and number-crunching, and they said, 'There's a lot of good old-school baseball people.' And that intrigued me."
McClure said he uses statistics and modern metrics, but he is not beholden to them.
"I think there's a place for old school with the new stuff, and a place for the new stuff with the old school," he said. "I think a mixture is good."
McClure talked about his pitchers focusing on pitching down in the zone, which he acknowledged is something Dubee certainly preached during his nine-year tenure. But sometimes it helps to hear it from a different voice.
The Phillies hope that is the case.
"Down in the zone is your thought and priority before you start thinking about edges of the plate]," McClure said. "Hopefully those younger guys that are just getting their feet wet, it's going to help them cut down on the walks. Cut down on the runs scored, cut down on the ERA."
McClure not only is a former big league pitcher and pitching coach, but he is a published author. He and Dave Downing wrote "Rotting, the Craze of the 90's" in 1991.
McClure explained.
"It's not a couch potato. It's a clean rot," he said. "We believed in exercise, take a shower, and for two days, do nothing. Even if the phone rings, even if there's a possibility of a hurricane, you're not moving. We even designed clothing that was reversible and fire retardant so in case of a fire, you didn't have to move so much."
The book got enough attention that a couple of universities asked him to speak. The Jenny Jones Show called, too.
"It's a real philosophy," he said. "It's tongue in cheek, but it will help anybody, because what it's doing -- and we've all gone there -- it's erasing the guilt for doing something that's so good for you and yet you're being lambasted for it. We've all been there."
And if any of his pitchers subscribe to the rot philosophy? He said it's OK, as long as it comes in the offseason.
Todd Zolecki is a reporter for MLB.com. This story was not subject to the approval of Major League Baseball or its clubs.