New Jersey native Porcello has Jeter's number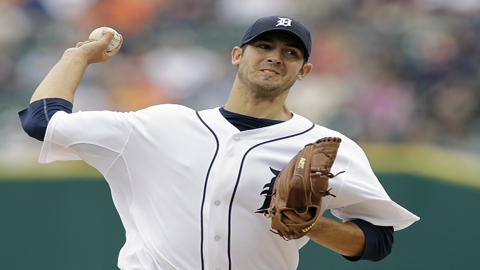 LAKELAND, Fla. -- Derek Jeter's farewell tour will potentially include seven games against the Tigers -- all of them in August, and three of them in Detroit. If he's healthy, that will more than likely give him at least one more chance against Justin Verlander and Max Scherzer, two American League Cy Young Award winners he has hit well over the course of his career.
It'll also give him one more chance against his real Detroit nemesis: Rick Porcello.
Yes, Porcello.
Including postseason play, Jeter -- who didn't face the Tigers at all in his injury-shortened 2013 season -- is 16-for-44 for his career off Verlander, including 4-for-11 with a home run in 2012. He's 5-for-16 off Scherzer. He's just 2-for-18 off Porcello, the New Jersey native who grew up watching Jeter in a Yankees family even though Porcello trended more toward following the Mets.
"My parents were huge Yankee fans," he said.
Even in such a small sample size, Porcello's success goes against the consistency in Jeter's overall resume. It doesn't just stand out among Tigers pitchers; it stands out in the game.
Jeter has posted at least 18 plate appearances against 207 Major League pitchers in his career. Just six have held him to two hits, and none have held him to less. Porcello is one of just two active pitchers on the list. The other, Brandon League, has walked Jeter five times.
The retired pitchers on the list include future Hall of Famer John Smoltz, former Tigers reliever Al Levine, and retired relievers Tom Gordon and Paul Shuey.
By contrast, Porcello has held just four out of 55 hitters with at least 18 plate appearances against him to two hits or less. All of them, oddly enough, are shortstops -- Jeter, Alcides Escobar (1-for-21), Orlando Cabrera (2-for-18) and Elvis Andrus (2-for-17 with two walks).
Jeter's damage against Porcello consists of a two-run double in Game 4 of the 2011 AL Division Series, and a ground-ball single on Aug. 7, 2012. Otherwise, Porcello has not only gotten Jeter out, he has retired him largely on his intended pitches, inducing 13 ground-ball outs.
Porcello might not remember them all, but he remembers facing Jeter in Spring Training in 2009, when he pitched his way into the Tigers' rotation at age 20.
"Playing against Jeter was pretty cool," Porcello said. "It's definitely something I'm not going to forget, and I'm fortunate enough to get to compete against him."
Jason Beck is a reporter for MLB.com. Read Beck's Blog and follow him on Twitter @beckjason. This story was not subject to the approval of Major League Baseball or its clubs.