At Cards camp, it's the young leading the young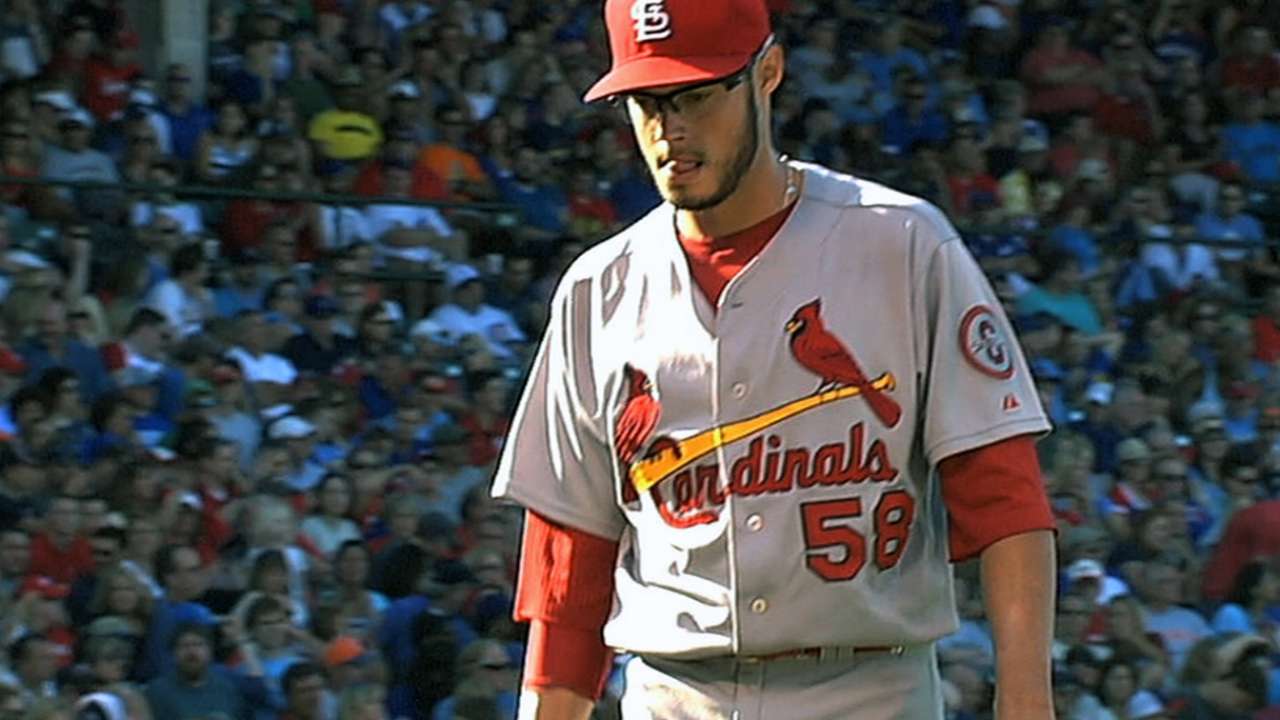 JUPITER, Fla. -- As manager Mike Matheny and his coaching staff went about forming eight groups of pitchers for Spring Training workout rotations, they quickly realized that they lacked enough veterans to have one in each group. But with that shortage, an opportunity formed.
Leadership responsibilities that recently fell on the shoulders of the experienced (think Chris Carpenter, Jake Westbrook, Kyle Lohse, etc.) are now being handed down to the lesser so. On a pitching staff that will be dominated by youth, several relatively inexperienced pitchers have been asked to take an increased responsibility in setting an example this spring.
Shelby Miller is leading a group that includes a fellow first-rounder, Marco Gonzales, who is participating in his first big league camp. Carlos Martinez is shadowing Joe Kelly. Lance Lynn and Trevor Rosenthal have also been designated as leaders. The intent is for them to show others in the group how to maximize their time on the field and set an example in comportment.
"It's weird to see us leading those groups around, but I think all of us are experienced enough to help in our own way," Miller said. "By no means am I obviously a veteran player, but I'll help them get the hang of things and maybe teach them a little something I learned along the way. It's weird how time flies by and I'm leading groups now, but I'll see if I can help them with something and at the same time, work on what I need to do and have a good spring."
The rotation projects to feature just one pitcher (Adam Wainwright) with at least three years of service time, so the youth movement that is evident in spring is not going away. The same pitchers asked to step up into greater leadership roles now will be needed to lead well after camp breaks.
"That's just kind of the club we have," Matheny said. "Typically, when we start putting those groups together, you have guys with six, seven, eight years of service who are out trying to lead a group. But we've got some younger players. They'll be ready for it."
Jenifer Langosch is a reporter for MLB.com. Read her blog, By Gosh, It's Langosch, and follow her on Twitter @LangoschMLB. This story was not subject to the approval of Major League Baseball or its clubs.