Guerra faces challenge earning spot in bullpen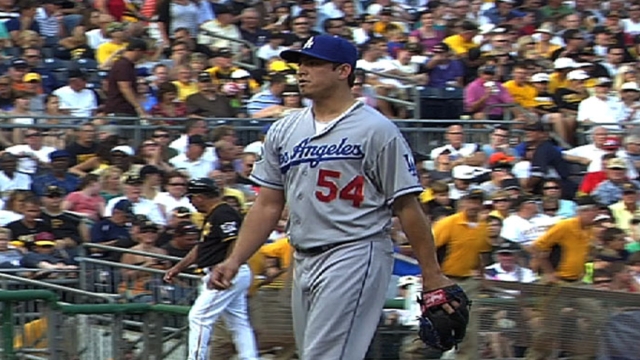 GLENDALE, Ariz. -- In what shapes up to be an unforgettable bullpen for the Dodgers, Javy Guerra is the forgotten man.
In 2011, he inherited the closer role from an injured Jonathan Broxton and had 21 saves. He came to Spring Training in 2012 as the closer, but had three injuries and two operations and lost the job to Kenley Jansen. In 2013, he made only nine Major League appearances.
In 2014, he's out of options and up against it as far as making a Dodgers bullpen again headed by Jansen, with former All-Star closers Brian Wilson, Chris Perez and Brandon League setting up. Lefties J.P. Howell and Paco Rodriguez are followed by long man Jamey Wright. If Josh Beckett is healthy, Paul Maholm will pitch relief. There doesn't even seem to be room for Chris Withrow, who was dominant at times down the stretch.
Meanwhile, Guerra either makes the Opening Day roster or can be lost on waivers. He said he's healthy and ready to win a job, regardless of the numbers.
"I understand who's in front of me," he said. "I'm competing for one spot with a lot of guys. The best will win. I hit it hard in the offseason. If I'm healthy, I can help the big league club. I can see myself being here. Mentally, I know I can perform."
Last year Guerra was asked to try starting at Triple-A Albuquerque, but that didn't work any better.
"Mentally, I didn't think the right way," he said. "I didn't understand why. It was a tough mental adjustment. Getting sent down was the defining moment of the season. Now I'm relieving again and comfortable. I've let it be known I'm serious in what I'm trying to accomplish. They realize I've grown up."
Ken Gurnick is a reporter for MLB.com. This story was not subject to the approval of Major League Baseball or its clubs.