Betances excited to compete for bullpen openings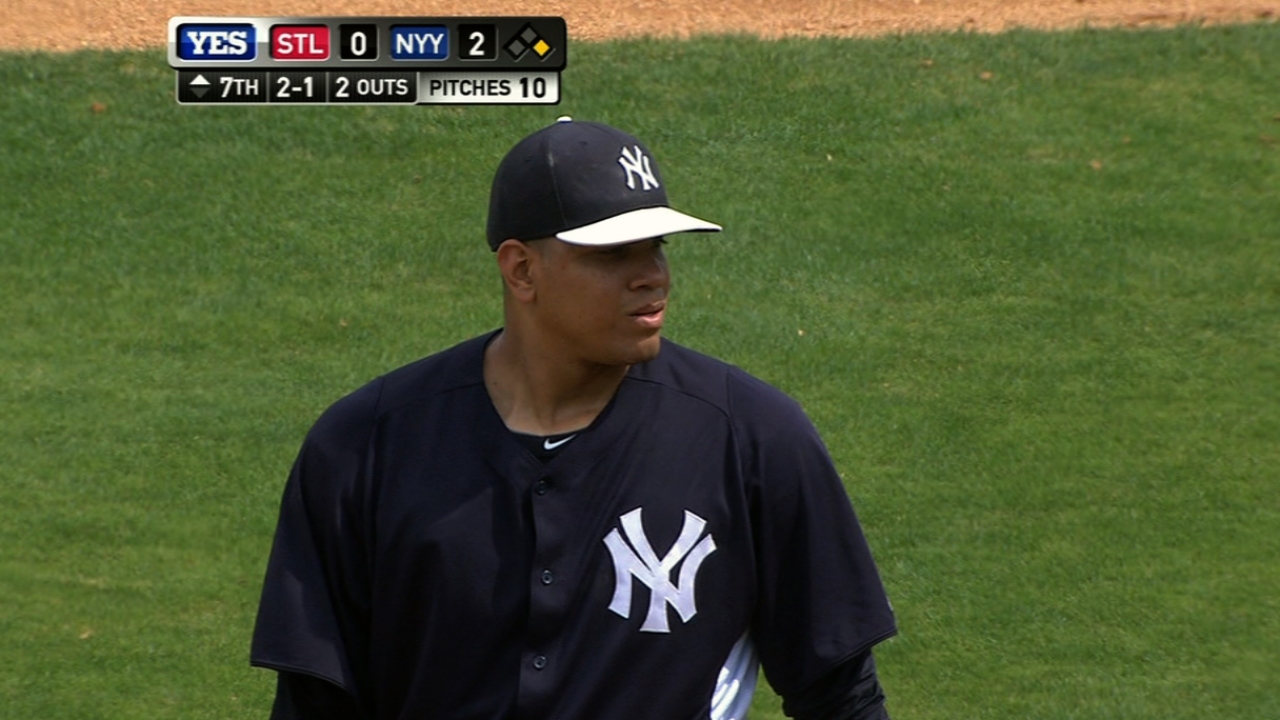 TAMPA, Fla. -- For the first time, Dellin Betances made the journey south for the spring believing he has a real chance to crack the Yankees' Opening Day roster.
This time last year, Betances was just hoping to rebound from an ugly 2012 season. The years before, he knew he needed more time in the Minors. But now, the once-hyped starting-pitching prospect could finally make an impact for the Yanks out of the bullpen.
"I feel like there's a lot of opportunities this year. It's going to be a fun competition," Betances said Tuesday after working out at the Yankees' Minor League complex. "I know a lot of guys are eager to get across the street [for Spring Training]. I'm excited for this year. I know I feel good about myself after last year, and I'll be ready to compete for one of those spots."
With Mariano Rivera retired, David Robertson set to assume the closer role and relievers Boone Logan and Joba Chamberlain gone, there are plenty of jobs available in New York's bullpen. Betances, who will turn 26 in March, has yet to prove himself in the Majors -- in eight appearances between 2011 and '13, he owns a 9.39 ERA -- but he pitched well in relief for Triple-A Scranton/Wilkes-Barre last season.
Betances finished the year 6-4 with a 2.68 ERA and 108 strikeouts in 84 innings over 38 appearances, including six starts. He credited the improvement to the more aggressive mentality and consistent work that comes along with being a reliever, as opposed to pitching every five days and having to get into the groove of a start.
Once hailed alongside Manny Banuelos and Andrew Brackman as one of the "Killer B's," the future of the Yanks' rotation, Betances said he's simply looking to contribute to the big league club however he can.
"As of right now, I'm in the bullpen, so I'm kind of going into that role. Later on ... if they want me to start, I'll start. But right now, the bullpen is where they want me at, and I'm happy there," Betances said. "I'm still here, so this year will be exciting. Manny's coming back. He's healthy now. Last year, he was going through his rehab process with Tommy John [surgery]. But he feels good now and I've seen him throw a bullpen [session]. He looks real strong. I'm happy to see him back.
"I feel strong and I feel ready to compete. Hopefully this year we'll both be up there, if not right away, at some point in the year, and hopefully we can help the team win. That's our goal."
Betances still has one Minor League option remaining, meaning he can be sent down if he doesn't earn a spot -- or can't keep one -- in the Yankees' bullpen. So the Yanks can keep him around even if he's not deemed Major League-ready before Opening Day, but he said that won't change his attitude this spring.
"If I do what I have to do, the option doesn't mean anything. Then, I have to perform up there. I have to put in the work to keep myself up there if I do make the team," Betances said. "You kind of see it and you might think, 'Oh, man.' But nothing's going to be handed to me, so I have to earn the spot."
Adam Berry is a reporter for MLB.com. Follow him on Twitter at @adamdberry. This story was not subject to the approval of Major League Baseball or its clubs.