D-backs players appreciative of Arroyo move
New teammates in Arizona like idea of innings-eater, veteran presence in rotation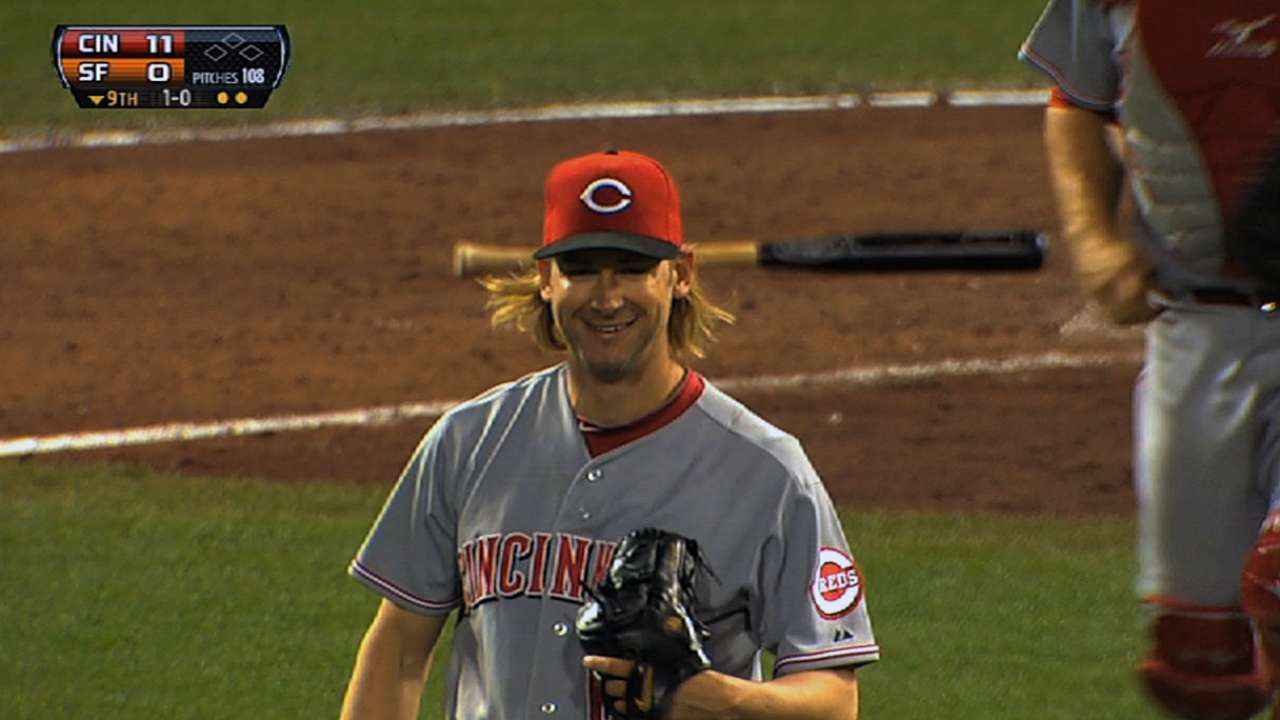 SCOTTSDALE, Ariz. -- The D-backs did not officially announce the signing of free agent Bronson Arroyo on Saturday because the right-hander still must undergo a physical exam, but his new teammates expressed their approval of the move.
"We're fortunate to have him, and he can be a really good quality arm for us," reliever Brad Ziegler said. "[He's a] bullpen saver, go out and throw seven, eight innings every time out."
Arroyo, who turns 37 later this month, was 14-12 with a 3.79 ERA last season for the Reds, and he has been a workhorse during his career. Over the last nine seasons, he has thrown at least 199 innings.
The righty's addition gives the Arizona rotation greater depth. With Patrick Corbin, Arroyo, Wade Miley, Trevor Cahill and Brandon McCarthy now appearing to have spots, it allows the team to be patient with top prospect Archie Bradley.
It also means that Randall Delgado could either be moved to the bullpen, where some think he is better suited, or sent to Triple-A to start and be ready should one of the other starters get injured or falter.
"It's good to have a guy with that kind of experience in the rotation, especially with a bunch of young pitchers," catcher Miguel Montero said. "He takes the ball every five days regardless, and he eats innings. He knows what he's doing on the mound. I see him like Livan Hernandez pretty much."
After back-to-back 81-81 seasons, the D-backs' front office has boosted the payroll to a record level. Arroyo's addition pushed the figure to around $108 million, surpassing the previous high of $102 million in 2002.
"We know they want to win, obviously, so we know they're trying their best," Montero said of ownership. "It tells us a lot. They're trying their best to give us the best team they can. As a player, you really appreciate that from the front office. They're here with you. They want the guys to go out there and win, whatever it takes. It's good for all the players to see they're trying as we are."
Steve Gilbert is a reporter for MLB.com. Read his blog, Inside the D-backs, and follow him on Twitter @SteveGilbertMLB. This story was not subject to the approval of Major League Baseball or its clubs.