Perth wins Game 1 of ABL Championship Series
Rockies prospect Wong delivers game-winning double in the 14th inning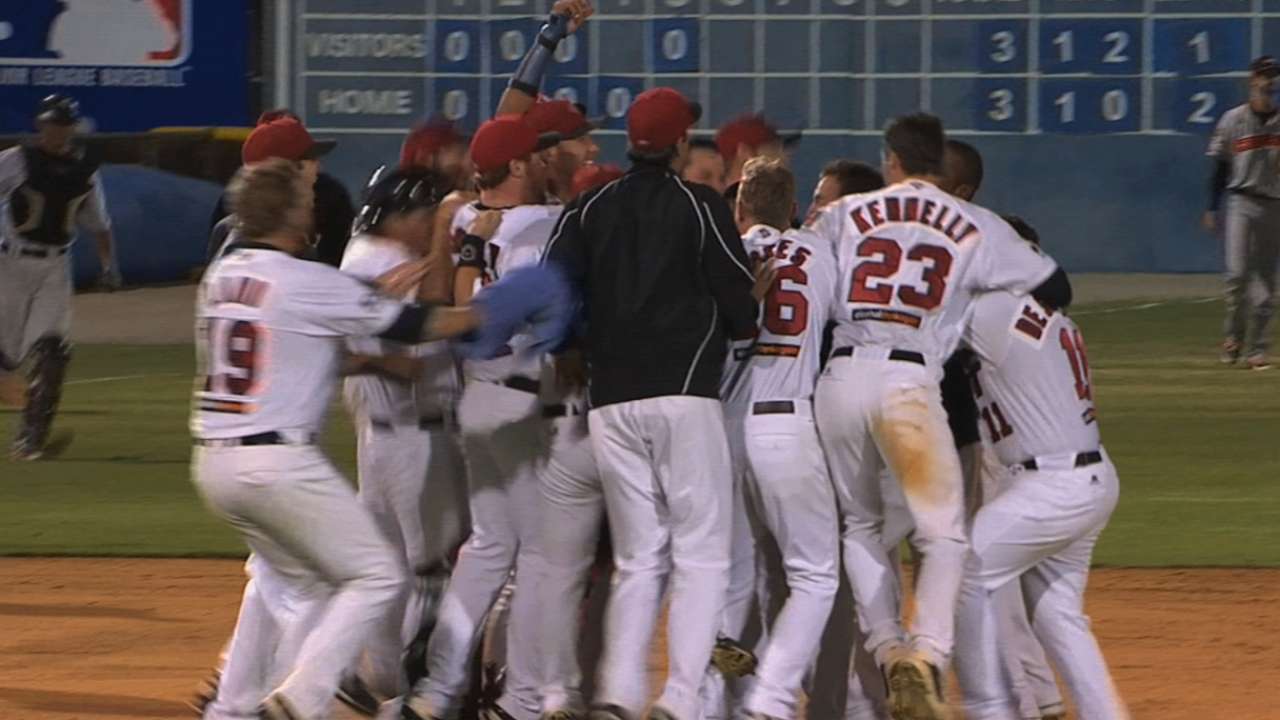 PERTH, AUSTRALIA -- Down, 3-0, after five innings, the Perth Heat scored four unanswered runs to top the Canberra Cavalry, 4-3, in 14 innings in the opener of the best-of-three Australian Baseball League Championship Series on Friday.
Rockies prospect Joey Wong delivered the game-winning hit with a double down the left-field line to score Padres prospect Corey Adamson from first. The hit was Wong's second of the night, and the latest in a series of big moments in Australia for the shortstop. In December, Wong was named MVP of the ABL All-Star game for his role in the World team's 6-0 victory over Team Australia.
Brandon Tripp and Matt Kennelly delivered two hits apiece for Perth in the victory, with Kennelly, a Braves prospect, knocking in the Heat's first run in the bottom of the sixth.
For Canberra, the game was one of missed opportunities.
The top four batters in the Cavalry lineup went a combined 2-for-24, yet the team still managed 12 hits as a group. The defending champions left 15 men on base, going just 3-for-15 with runners in scoring position.
Catcher and Blue Jays prospect Jack Murphy finished the game 2-for-4 with two runs scored, while fellow Blue Jays prospect Michael Crouse went 2-for-7.
Crouse also made a critical error in the bottom of the eighth. With Perth batting and trailing, 3-2, with two outs, Tripp broke from first as Allan de San Miguel grounded a single into center. Crouse bobbled the ball, allowing Tripp to score, and setting the stage for a long night of baseball in Western Australia.
Canberra's Jason Sloan led all players with four hits in the ballgame, while his brother Aaron Sloan drove in two runs for the Cavalry.
Cameron Lamb earned the victory for Perth, tossing a scoreless top of the 14th.Prior to Lamb, the Heat received six shutout innings of relief work from Brendan Wise and Scott Mitchinson.
Clint Everts allowed just one unearned run on three hits in 5 1/3 innings of relief for Canberra.
Game 2 will feature Brian Baker on the hill for Perth opposite Ethan Cole for Canberra. The Heat will be looking to secure their third ABL title in the past four years, while the Cavalry will attempt to force a decisive Game 3.
Craig Durham is a contributor to MLB.com. This story was not subject to the approval of Major League Baseball or its clubs.