Sarah's Take: Young's retirement limits Dodgers depth
Veteran left game with class, but Los Angeles loses backup infield option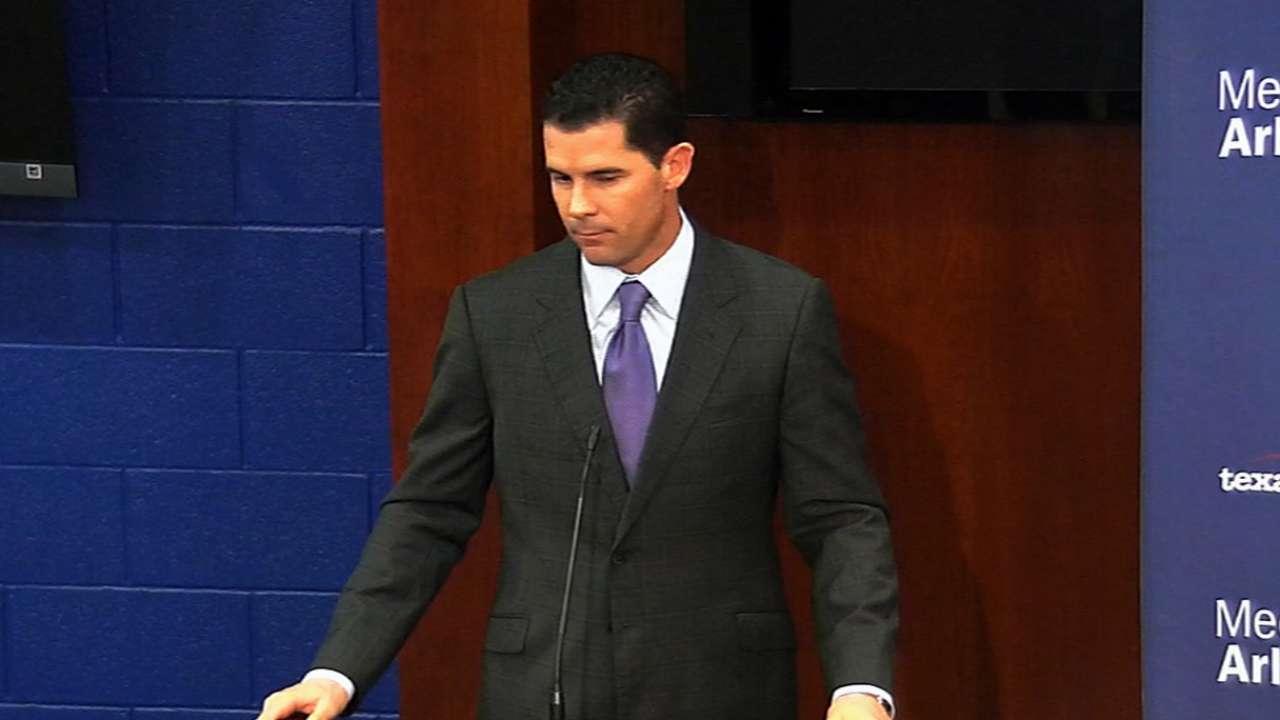 When Michael Young announced his retirement this past week, many baseball fans were disappointed. After all, at 37, this longtime Texas Ranger infielder still could contribute to a Major League team. After counting on Young's return, Los Angeles Dodgers general manager Ned Colletti now must scramble to find a reserve infielder.
Young has always been known as a team player and a good member of society. At the time of an Aug. 31 trade to the Dodgers from the Philadelphia Phillies, Young mentioned that the 2013 season probably would be his last.
Though tempted to return to the Dodgers to chase that elusive World Series title, Young decided the opportunity to watch his three sons was more important than perhaps winning the World Series. His fans wouldn't expect anything else from him.
The community-minded Young was the face of the Rangers from 2000 through 2012. The seven-time All-Star hadn't received the national attention for his unselfishness that he deserved. He endured many infield position changes during his career with the Rangers. Though he won a Gold Glove in 2008, the Rangers moved him from shortstop to third base to make room for top prospect Elvis Andrus. The team didn't consult him on this.
After the Rangers narrowly missed winning the World Series in 2011, they signed free-agent third baseman Adrian Beltre to a lucrative contract, again displacing Young. Both times he quietly requested a trade, but it wasn't granted. After the 2012 season with Young's skills declining while serving as a designated hitter and utility infielder, the Rangers traded him to the Phillies. In 2013, splitting time between the Phillies and the Dodgers, Young hit .279.
At the news conference announcing his retirement, Young said that he was "honored" to play for the Rangers. Considering how the team treated him, saying that and choosing to retire as a Ranger showed class. Young's class, unselfishness, team play, leadership, and community involvement will surely be missed in baseball.
As for the Dodgers, almost two weeks ago, Colletti signed Chone Figgins to a Minor League contract, essentially giving him an extended tryout during Spring Training.
While with the Angels, Figgins, who mostly played third, was a productive offensive player. Never known for power, Figgins relied on collecting many hits and using his above-average speed. Upon leaving the Angels as a free agent, Figgins' career began to decline. After the Seattle Mariners signed him to a lucrative contract, his performance suffered, never finding the spark he had with the Angels. He signed a Minor League deal with the Marlins last year, but was released before the start of the season.
The Dodgers shouldn't rely upon him to make the team even though they need a backup infielder. During FanFest on Saturday, Colletti said that he will sign another infielder to a Minor League contract soon, but he didn't give any other details.
Most of the time, finding a backup infielder isn't a big deal for a club, but now with the Dodgers, it's crucial since they have many questions about their starting infield.
Juan Uribe should be solid at third base, but he has had a history of injuries. Hanley Ramirez was great in 2013 when healthy, but he missed half of the season due to injury. Both need frequent rests to prevent trips to the disabled list. Right now, the Dodgers don't have a sure-thing at second base even though Alexander Guerrero has tried to learn the new position during winter ball. A strained hamstring hampered his transition from shortstop to second base. He may very well start the season in the Minors.
The Dodgers have Dee Gordon and Justin Sellers who can play shortstop. Neither has demonstrated an ability to excel on offense and neither has significant experience at second or third. Gordon would be an asset to the team if he learned how to get on base regularly, so he could be a leadoff hitter, something the Dodgers lack. However, I don't think he's learned that in winter ball.
Many people forget about the Dodgers' early-season struggles in 2013. Nevertheless, they didn't look like a playoff team until their miraculous run in July and August. Since the National League West Division has strengthened during the offseason, they can't begin the season playing like a last-place team. To me, one of the most important and overlooked things about the rocky start to 2013 was the inability to have a shortstop who could deliver on offense. This can't be repeated at either shortstop or second base.
Many Dodger fans want Colletti to sign another starting pitcher with the uncertainty surrounding Josh Beckett and Chad Billingsley. It would be nice considering Colletti predicts Billingsley won't return to the starting rotation until June, but right now there are not many starting pitchers available.
Also on Saturday the Dodgers avoided arbitration with A.J. Ellis, the unassuming catcher who doesn't get enough credit for helping the rotation and offense. He finally received what he deserves.
The retirement of Michael Young should have been expected, but it threw a wrench in the Dodgers' plans. Unless Colletti finds a good backup infielder before Valentine's Day, the first full-squad workout, or every infielder remains healthy and lives up to expectations, the Dodgers could have a disappointing season.
Sarah D. Morris can be reached at sdmorris27@outlook.com. This story was not subject to the approval of Major League Baseball or its clubs.