Hot Stove roundup: Tanaka signing sparks activity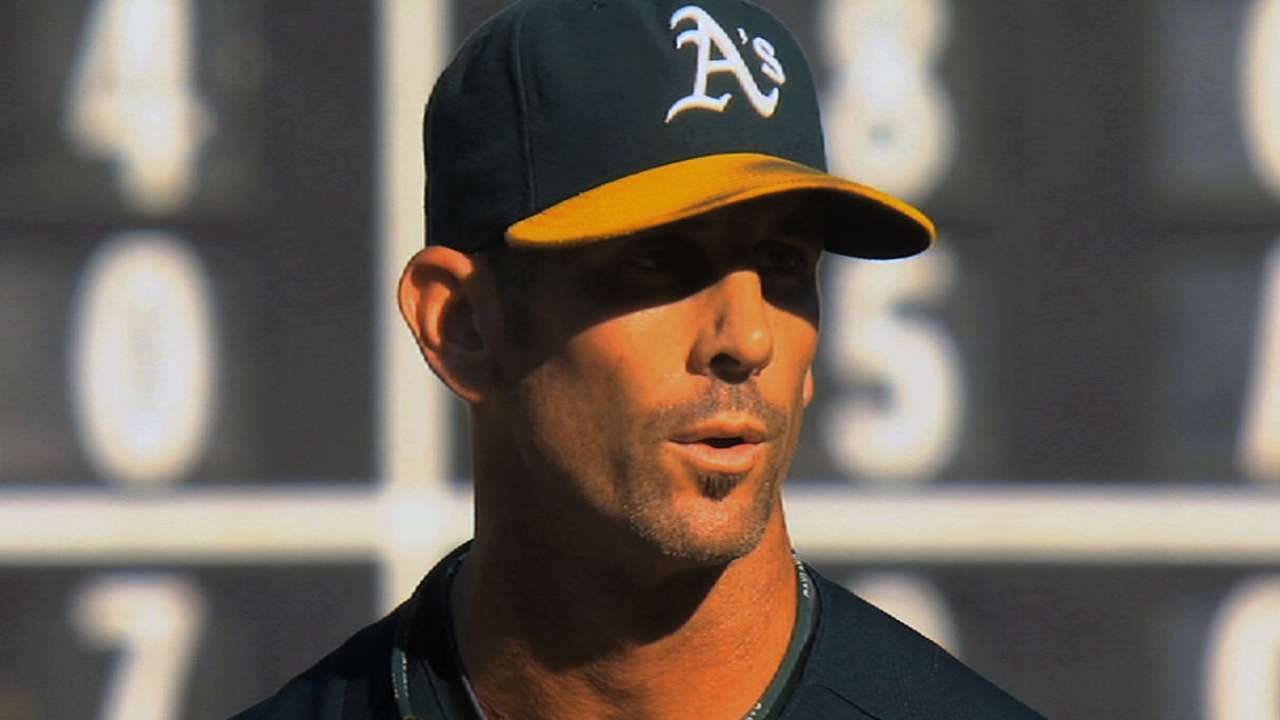 The theory went that once Masahiro Tanaka signed, the rest of the free-agent market would loosen up after weeks at a near standstill. Well, the Yankees won the bidding for the Japanese right-hander on Wednesday, and on Thursday -- as if on cue -- more action followed.
Although several significant free agents remain available -- such pitchers as Ubaldo Jimenez and Ervin Santana, for instance -- the chips began to fall in Tanaka's wake. With the Rays signing closer Grant Balfour and the Brewers drawing close to a deal with starter Matt Garza, Thursday's activity was a signal that the Hot Stove could once again be sizzling.
Here's a look at news from around the league:
• Garza reportedly agreed to a four-year, $52 million deal with the Brewers on Thursday, but the club later announced that negotiations were "ongoing." If the contract goes through, it'll be a strong move for Milwaukee, writes MLB.com columnist Mike Bauman.
• Balfour's deal with the Orioles earlier in the offseason fell through after issues arose with his physical, and that allowed the veteran to wind up back with Tampa Bay on a two-year deal. Balfour was a setup man for the Rays from 2007 to 2010 but returns as the ninth-inning man after a successful stint in Oakland.
• During a news conference with the Japanese media in Tokyo, Tanaka said that the Yankees gave him the "highest evaluation" and that he is "going there to win the World Series."
Tanaka's new general manager, Brian Cashman, said that his offseason "heavy lifting" likely is complete, although there are still areas for him to address. According to Jon Heyman of CBSSports.com and MLB Network, the club is considering adding free agent Stephen Drew now that it won't be able to stay under the luxury tax threshold. Drew could play second base or move back to shortstop if Derek Jeter is injured.
• With Clayton Kershaw's massive extension with the Dodgers now about a week old, two other All-Star pitchers expressed their desire for long-term contracts that would allow them to stay put. Reigning American League Cy Young Award winner Max Scherzer told reporters at the Tigers' Winter Caravan that he hopes to get something done by this spring or, if not, after the season. Meanwhile, Red Sox lefty Jon Lester stated his desire to spend the rest of his career with the only organization he has known.
• On the topic of extensions, the Marlins are interested in signing slugger Giancarlo Stanton to one now that they have avoided arbitration with a one-year contract for 2014.
• This has been a much more patient type of offseason for the Angels, writes MLB.com's Alden Gonzalez, who also takes a look at five free-agent starters the team could target.
• Elsewhere in the AL West, the Mariners are looking to add a starter, preferably a veteran who could fill the No. 3 slot in their rotation behind Felix Hernandez and Hisashi Iwakuma.
• Reds GM Walt Jocketty thought his club was going to be able to sign outfielder Grady Sizemore but said that Sizemore, "changed his mind at the last minute" before signing with the Red Sox on Wednesday.
• Thursday also brought some Minor League deals for veteran players, with righties Jon Rauch and David Aardsma signing with the Royals and Indians, respectively, lefty Aaron Laffey going to the Orioles and outfielder Endy Chavez returning to the Mariners.
• The Giants avoided arbitration with infielder Joaquin Arias, signing him to a two-year deal.
Andrew Simon is a reporter for MLB.com. Follow him on Twitter @HitTheCutoff. This story was not subject to the approval of Major League Baseball or its clubs.