Pryor could miss several months of 2014 season
Progress slow for Seattle reliever, who's coming off rare surgery on lat muscle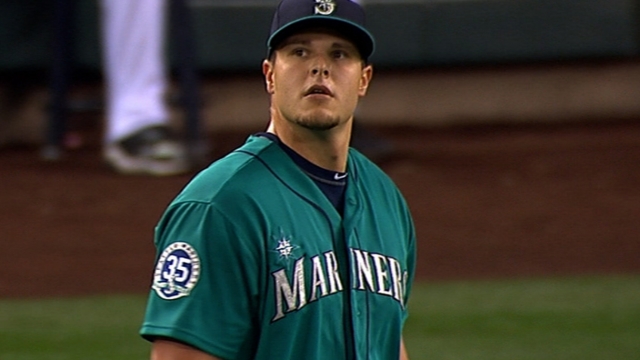 SEATTLE -- Mariners reliever Stephen Pryor, who missed almost all of the 2013 season with shoulder problems, is just beginning a throwing program at his offseason home in Tennessee, and he doesn't figure to be game ready until several months into the season, trainer Rob Nodine said on Thursday.
Pryor had surgery to repair a torn latissimus dorsi muscle on Aug. 9 after attempting to return much of last year following an early-season injury. The hard-throwing right-hander threw 7 1/3 scoreless innings in seven appearances in the first two weeks of the season, then went on the disabled list.
He made five Minor League rehab appearances in July, but eventually underwent season-ending surgery and is just now starting to throw again.
"There's been very few of these injuries that have been surgically repaired," Nodine said when asked to estimate how soon Pryor might be available to pitch. "A lot will depend on when he ramps up his throwing program and gets off the mound. Hopefully it will be somewhere around the end of May, we're guessing, but we'll see how that goes. We're not going to hold him to a timetable, just because we want to see how this progresses."
Nodine said Jake Peavy had a similar injury, but said there have only been three similar surgeries on a torn lat muscle with baseball players.
"It's a long rehab progress, so that's why we're going slow with it and speaking with his doctor," Nodine said. "He's been doing great so far and is very excited. When he gets to Spring Training, he'll continue to progress, as his doctor permits."
The Mariners' other serious injury rehab involves left-handed starter Danny Hultzen, who has already been ruled out for 2014 after having rotator cuff surgery. Nodine said Hultzen is on the verge of beginning a throwing program that the club will oversee in Arizona as he begins his return.
On other health fronts, Nodine said outfielder/first basemen Corey Hart and Logan Morrison are both working out at full speed and having no issues as they return from knee injuries. Hart missed all of 2013 for the Brewers after having microfracture surgery on both knees, while Morrison has missed the past two Spring Trainings with the Marlins due to knee surgeries on his right knee.
"As Spring Training is going along, we'll have to monitor their playing time so we don't just throw them into the fire right off the bat," said Nodine. "But both of them are doing very, very good."
First baseman Jesus Montero has recovered from a hand injury that required stitches after being involved in a car accident while playing winter ball in Venezuela, he and will report to camp early -- with the pitchers and catchers -- on Feb. 12. Montero is being viewed primarily as a first baseman now, though general manager Jack Zduriencik said he might see a little duty behind the plate early in camp when extra catchers are needed.
Greg Johns is a reporter for MLB.com. Follow him on Twitter @GregJohnsMLB as well as his Mariners Musings blog. This story was not subject to the approval of Major League Baseball or its clubs.