Sarah's Take: Offense, rotation key for Giants
San Francisco dropped 86 games in 2013 while defending World Series title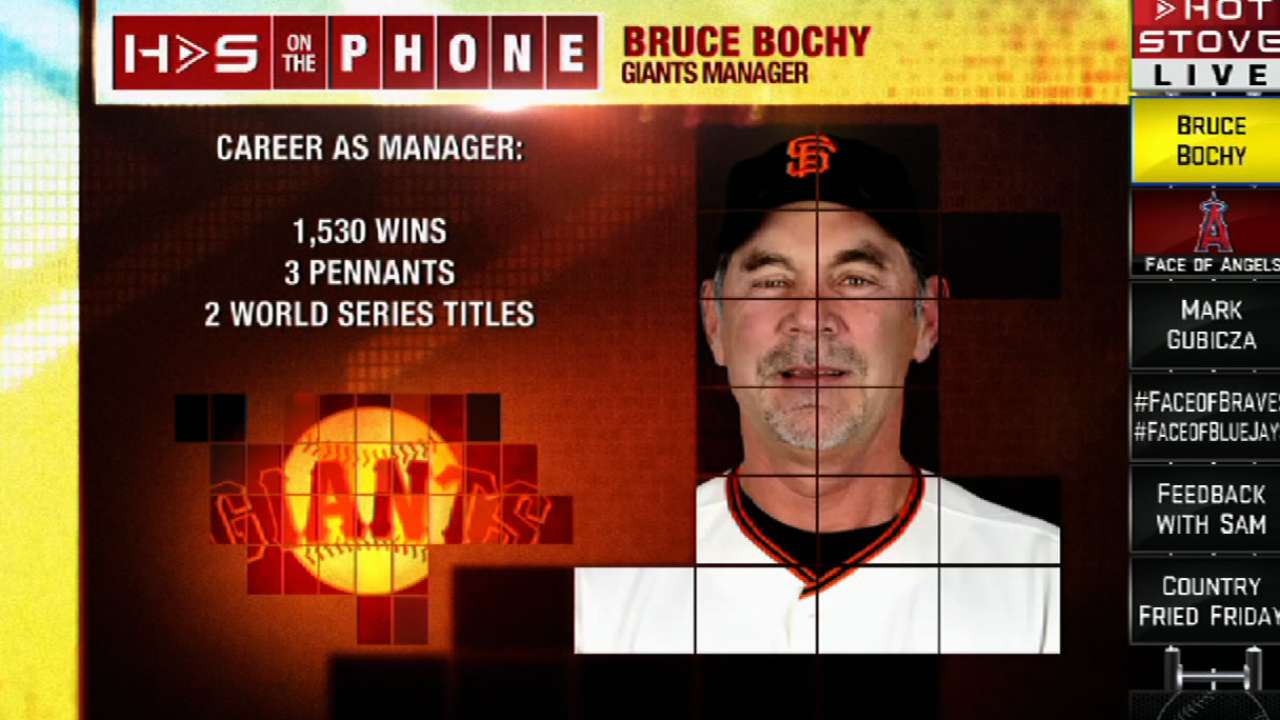 After earning their second World Series championship in three years, the San Francisco Giants had a disappointing 2013 season. They tied with the San Diego Padres for third place in the National League West with a record of 76-86. Looking to rebound, the Giants have made a few strategic moves to return to their championship level.
The Giants, like all of the teams in the NL West, suffered many injuries to key players in 2013, and those injuries undermined their efforts. If they can remain healthy, they should give the Los Angeles Dodgers a run for their money this season.
The Giants will never spend as much money or make as many headlines as the Dodgers, but general manager Brian Sabean knows how to assemble a winning team. Playing half of their games in AT&T Park, he understands that the Giants can't rely on home runs to win. They need good pitching and defense, and an ability to manufacture runs.
Some members of the media blamed the Giants' problems on Sabean re-signing some of his older players to long-term contracts. While they're an older team, their age didn't cause their problems.
Angel Pagan, their speedy center fielder and leadoff hitter, missed 91 games with a torn hamstring. Lacking this offensive catalyst caused the Giants struggle to score runs. Without Pagan roaming center field, their defense suffered, putting more stress on the pitching staff.
When Pagan returned in September, he didn't appear to have lost speed -- amazing some, because his type of injury usually robs speed from players. The Giants need Pagan's enthusiasm for the game to make the team believe in itself even when it is behind. Having a healthy Pagan for the entire 2014 season should improve the offensive production and defense.
Feeling that they needed more power in left field than Gregor Blanco could provide, Sabean signed Michael Morse. Blanco played both left and center field in 2013. Although he helped the defense and had a decent batting average, he doesn't have much power. With left-handed Brandon Belt playing first base, the Giants felt like they needed a right-handed power hitter to add balance to the lineup so that the opposition couldn't bring in a left-handed relief specialist and get a couple easy outs.
Morse, coming off a poor offensive performance with the Seattle Mariners, accepted a one-year $6 million contract. Signing him enables the Giants to use Blanco as their fourth outfielder, and that strengthens the bench, which was a weakness in 2013.
Pablo Sandoval has lost weight this offseason. The Giants hope he will be faster and healthier with less bulk. While he had a decent year in 2013, the notorious bad-ball hitter had his batting average and power statistics decline from the previous season, when he won the World Series MVP Award. Since Sandoval is the best pure hitter that the Giants have, they hope his offensive production will improve in '14.
For many years, the Giants' starting rotation carried the team despite having a weak offense. In 2013, their starters struggled. Ryan Vogelsong missed a significant amount of time with a broken hand that occurred while he was batting. Matt Cain, the projected ace of the staff, had a 4.00 ERA and a losing record. Tim Lincecum, though he pitched a no-hitter in July, didn't rebound from an awful '12 season. Madison Bumgarner continued to shine after pitching wonderfully in the postseason the year before.
After finally getting out of Barry Zito's enormous seven-year contract, Sabean signed Tim Hudson to be San Francisco's fifth starter.
At 36, Hudson is nearing the end of his career. Having come back from Tommy John surgery a few years ago, he can set an example for his fellow rotation pitchers to get outs without their best stuff. He relies on a heavy sinker that most hitters can't lift. While pitching in Atlanta, if a batter hit a fly ball, it had a decent chance to be a home run. However, pitching on the West Coast with cool, damp, night air that kills most fly balls, Hudson should fare better.
While the starting rotation struggled and needed more offensive help than the Giants could provide, their bullpen was among the best in the NL. And if the starting rotation can pitch more innings than in 2013, the bullpen also should improve in '14.
The health of the Giants will determine how they will do in 2014. They need a better offense and pitching to have a chance of winning the NL West. Unlike the Dodgers, San Francisco didn't break the bank trying to improve the team, but the thoughtful moves should help shore up shortcomings.
Sarah D. Morris can be reached at sarahmorris27@gmail.com. This story was not subject to the approval of Major League Baseball or its clubs.