Hot Stove roundup: Deadline looming for Tanaka deal
Japanese righty has until 5 p.m. ET Friday to sign with Major League club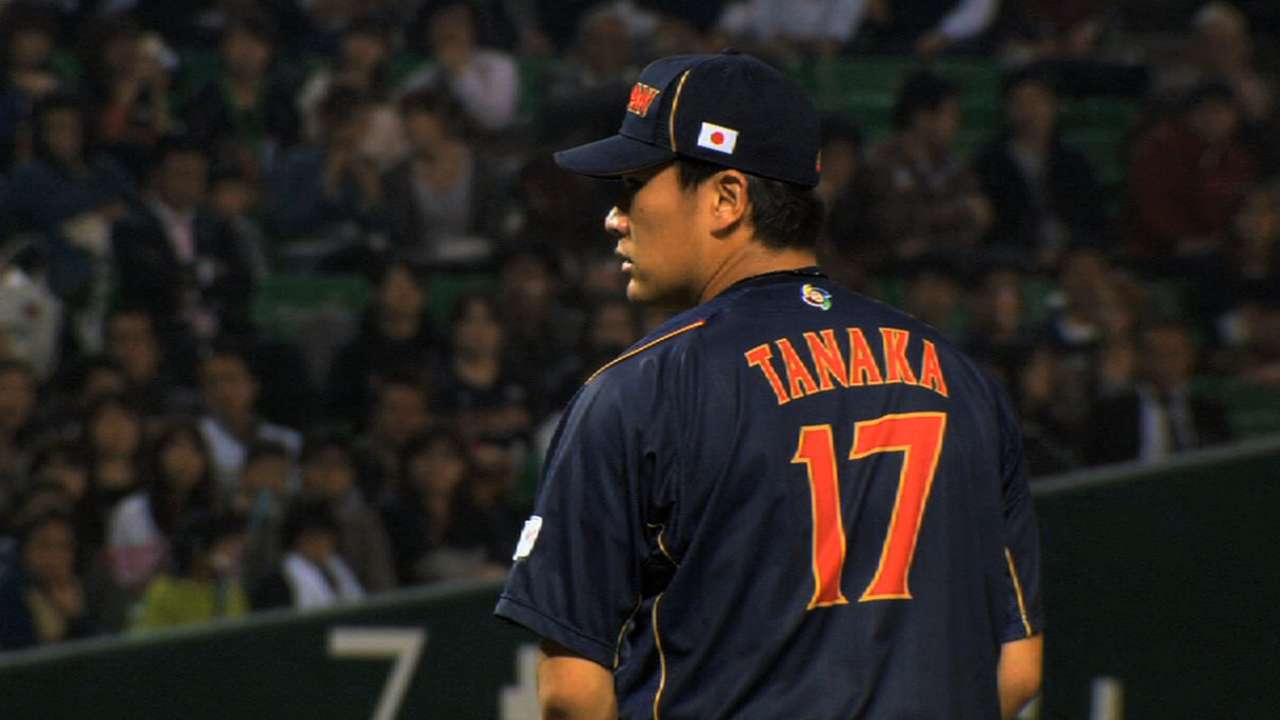 Masahiro Tanaka has captivated Hot Stove followers for much of the offseason, and now that the deadline for the Japanese free agent to sign with a Major League team is fast approaching (Friday, 5 p.m. ET), Tanaka Watch is only intensifying. Several teams, including the D-backs, are waiting intently for his decision.
As MLB.com's Doug Miller writes, Tuesday was another day with much speculation but little actual news, starting with an innocuous Tanaka tweet that quickly was misinterpreted.
Regardless of where Tanaka ends up, the long process will leave him with huge expectations and several disppointed suitors, as MLB.com columnist Phil Rogers writes. Tanaka also is a shining reminder of baseball's international growth, according to columnist Mike Bauman.
In other news from around the league on Tuesday:
• The Indians have not taken part in an arbitration hearing since 1991, but as MLB.com Indians beat writer Jordan Bastian reports, the longest streak in the Majors seems likely to end this year. The club and All-Star righty Justin Masterson exchanged salary figures that stand nearly $4 million apart, a gap that could be too wide to cross without a hearing. Bastian also reports that the two sides remain far apart on a possible contract extension, with Masterson set for free agency after this season.
• Astros owner Jim Crane confirmed that his club, underdogs in the Tanaka sweepstakes, nonetheless has participated in the bidding.
• The White Sox have a Tanaka-or-bust mentality when it comes to adding to their rotation, reports beat writer Scott Merkin, who doesn't believe the club will explore other free-agent options, such as Matt Garza or Ubaldo Jimenez.
• The Angels, on the other hand, have targeted Garza, as Alden Gonzalez writes in his latest inbox. Bronson Arroyo, Paul Maholm and Chris Capuano could be some of their other options as they try to bolster their rotation.
• Reds beat writer Mark Sheldon addresses several issues in his inbox, including a potential signing of Grady Sizemore and the status of Homer Bailey.
• The Phillies had a busy day, highlighted by signing Bobby Abreu to a Minor League deal. Abreu, a star with the club from 1998-2006, didn't play in the Majors last season but parlayed a strong winter-ball campaign in Venezuela into another chance. Philadelphia also avoided arbitration with lefty reliever Antonio Bastardo and signed veteran righty Chad Gaudin to a Minor League deal, getting a pitcher with the versatility to start or come out of the bullpen.
• As part of this notebook, Rangers beat writer T.R. Sullivan reports that the Rangers are "cautiously optimistic" that starters Matt Harrison and Colby Lewis, both on the comeback trail from injuries, will be 100 percent for Spring Training. Lewis is one candidate for the No. 5 starter job, in a race that also includes second-year righty Nick Tepesch.
• The Royals signed outfielder Justin Maxwell to a one-year contract, avoiding arbitration and leaving them with two unsigned arbitration-eligible players.
Andrew Simon is a reporter for MLB.com. Follow him on Twitter @HitTheCutoff. This story was not subject to the approval of Major League Baseball or its clubs.