Hot Stove roundup: Rays find right price for Price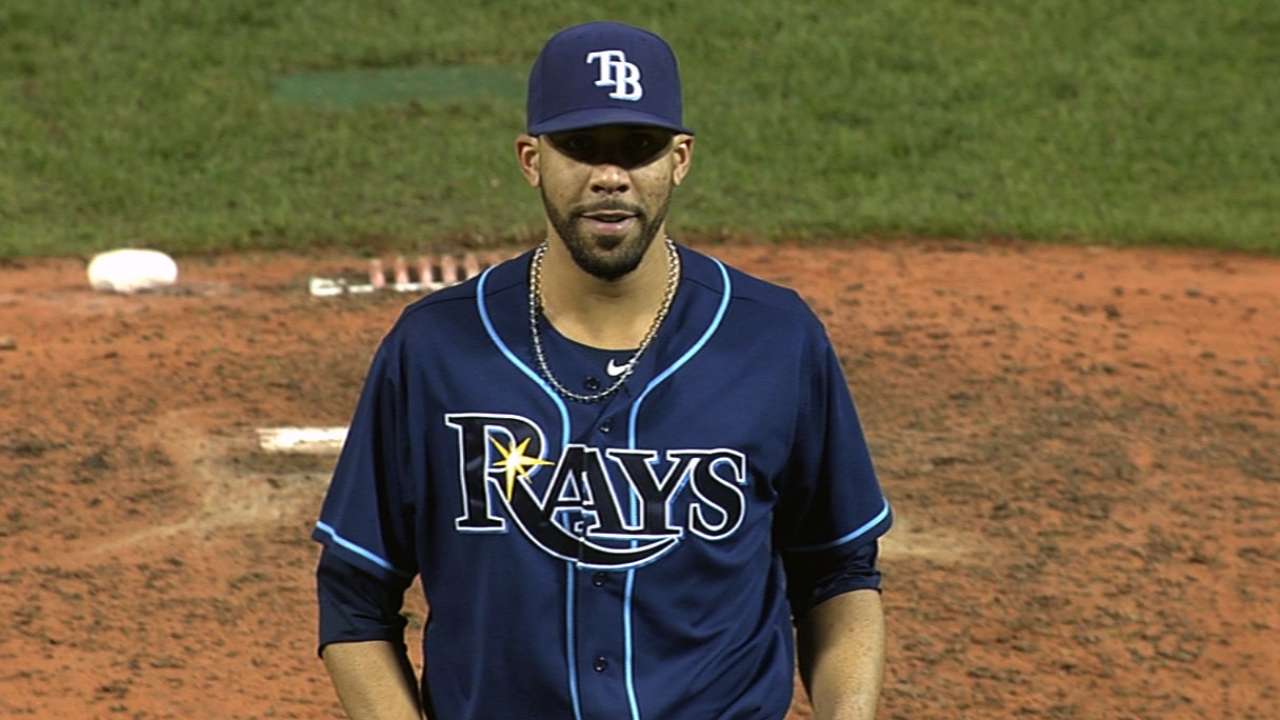 With teams scheduled to exchange salary figures with arbitration-eligible players on Friday, Thursday's most popular Hot Stove activity was finding a way to prevent the hearing process.
The Rays' David Price is the most high-profile of several players who agreed to one-year deals, thereby avoiding arbitration. The 2012 American League Cy Young Award winner will make $14 million in his second-to-last season of club control.
Price, the subject of frequent trade rumors, told reporters during a conference call that he wants to remain with Tampa Bay, although the deal does not guarantee that the club won't trade him before or during the 2014 season.
• Others who avoided arbitration with one-year deals include Ike Davis with the Mets, Jim Johnson and John Jaso with the A's, Chris Heisey with the Reds, Ross Detwiler with the Nationals, Wilton Lopez with the Rockies and Tim Collins with the Royals.
• Even with Clayton Kershaw locked up thanks to a massive contract extension, the Dodgers could be far from done making big moves, writes MLB.com's Ken Gurnick. Los Angeles remains a possible destination for Japanese right-hander Masahiro Tanaka, and shortstop Hanley Ramirez could be in line for his own extension heading into the final year of his contract.
• Kershaw's seven-year, $215 million deal could have implications for the other defending Cy Young Award winner, the Tigers' Max Scherzer. As MLB.com's Jason Beck writes, Scherzer figures to benefit as he enters his third year of arbitration. The Tigers will have to pay big if they want to keep him off next winter's free-agent market.
• Cubs manager Rick Renteria confirmed that he was part of a contingent that met with Tanaka in California.
• The Orioles and free-agent righty Bronson Arroyo are engaged in "ongoing discussions," according to Jon Morosi of FOX Sports, who added that the Dodgers are also involved.
• The Brewers have drawn close to signing first baseman Mark Reynolds to a Minor League contract. Reynolds would likely compete for playing time at first base, a weak spot for Milwaukee.
• The Indians announced their Minor League deal with outfielder Nyjer Morgan, who is bringing his Tony Plush persona back to the U.S. after spending 2013 in Japan.
• The Mariners added to their catching depth by signing the veteran John Buck to a one-year deal.
• The Royals brought in a pair of veteran pitchers on Minor League contracts, signing righties Brad Penny and Guillermo Mota.
• Other Minor League signings on Thursday included catcher Michael McKenry with the Rockies, infielder John McDonald with the Angels, pitcher Henry Rodriguez with the Marlins and infielder Chris Getz with the Blue Jays.
Andrew Simon is a reporter for MLB.com. Follow him on Twitter @HitTheCutoff. This story was not subject to the approval of Major League Baseball or its clubs.