Sarah's Take: Kershaw a wise investment for LA
Dodgers ace is one of the best players -- and people -- in the Major Leagues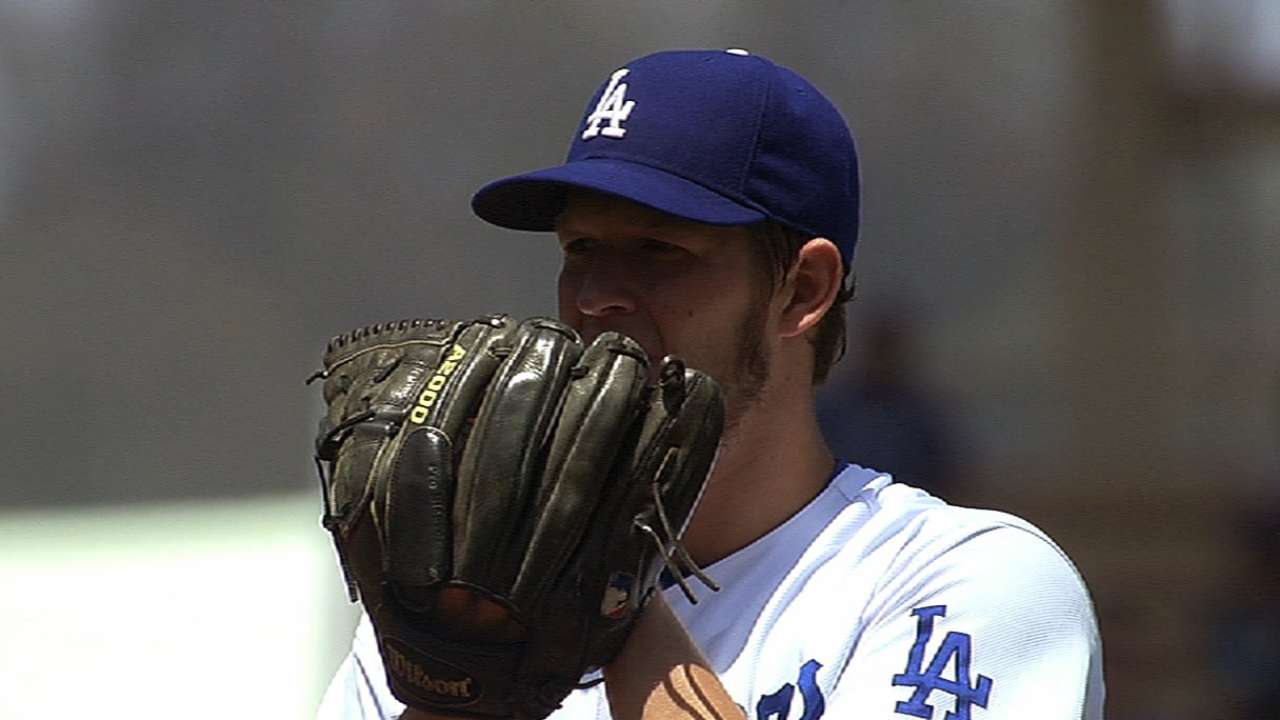 It's a happy day for Dodgers fans. The Los Angeles Dodgers made Clayton Kershaw the richest pitcher in baseball history this week when they locked him up for the next seven years at a cost of $215 million. At 25, Kershaw is already the best left-handed pitcher in baseball history, and this should continue, barring injury.
To give any baseball player a lucrative long-term contract is risky for the organization involved, but with the current economic situation in baseball, it's necessary to keep or acquire exceptional talent.
The risks with Kershaw are minimal. Of course, he could develop a serious arm or shoulder injury that would require surgery and a rehabilitation period, but it's unlikely. He has almost flawless mechanics, lessening the stress on his valuable left arm. He takes his pitching craft seriously, and it makes him work hard to strive for perfection.
While Kershaw has a different pitching style from newly elected Hall of Famer Greg Maddux, both Kershaw and Maddux were unsatisfied by their exceptional performances and wanted to do better than they already have. After a night start, Kershaw comes out early the next day to do his follow-up work. Every time he has a bullpen session between starts, his fellow starters watch in wonder because Kershaw performs perfectly.
Two out of the past three years, Kershaw has won the National League Cy Young Award, and all three years he has had the lowest ERA in the NL. In 2011, when he won his first NL Cy Young Award, Kershaw accomplished the rare Triple Crown for pitchers -- leading the league in wins, ERA, and strikeouts.
At the beginning of 2013, Kershaw was the only reliable Dodgers starter, so many people wondered if he deserved the National League MVP Award as well. Pitchers shouldn't be considered for this award because they don't play every day. A position player can't win a Cy Young Award.
During 2008 Spring Training -- the first time Dodger fans saw Kershaw -- everyone thought he was special. He struck out a big-name Boston Red Sox player with a large rainbow curveball, and its break could be seen on TV. After that, every Dodgers fan wanted the organization to promote the 21-year-old. Joe Torre even compared Kershaw to the great Sandy Koufax, which was unfair to the kid. However, Kershaw handled the pressure wonderfully.
Now Kershaw has surpassed Koufax's dominance, even though he hasn't pitched a no-hitter yet. He has four quality pitches, while Koufax relied on a fastball and large, rainbow curveball. Kershaw gained control of his pitches faster than Koufax did. Kershaw should have a much longer career than Koufax, since he hasn't developed an arthritic condition in his elbow. Modern medical techniques probably would have extended Koufax's career.
The Dodgers, by giving Kershaw a contract that equates to a little more than $30 million a year, has sent a message to Los Angeles and the baseball world that they can and will pay anything to get the players they think they need to win.
Everyone who follows baseball somewhat knows that a team can't buy a World Series championship, but having money helps a team to be competitive yearly. However, a team that doesn't have money can't pay for players to fill in its holes. It has been 26 years since the Dodgers won a World Series championship, and their fans have grown impatient. The Dodgers need to show their fans that they are serious about bringing another title to Los Angeles soon, or they might lose some of their incredible fan base, especially after they signed a lucrative television contract.
Making a substantial financial commitment to Kershaw a day after he filed for arbitration makes many Dodgers fans dream about postseason glory. Many times when a team makes a significant financial commitment to a young player, it needs to worry about how the contract will change him. The Dodgers don't worry about this with Kershaw, one of the most humble people ever.
After establishing an orphanage in Zambia and writing a book with his wife, Ellen, about their experiences in Zambia, Kershaw was honored with the 2012 Roberto Clemente Award. He and Ellen established "Kershaw Challenge," where they donate $10,000 for each strikeout to their Zambian orphanage. Kershaw's low-key personality has made him popular with and admired by his teammates. In 2013, he received the prestigious Roy Campanella Award, which is given to the most inspirational Dodger chosen by players and coaches.
Now, despite the rumors that the Dodgers want to add another experienced starter to the rotation before Spring Training, they have one of the best rotations in baseball. Having both Kershaw and Zack Greinke to begin the starting rotation ensures the Dodgers that they will win many series during the season. Winning series is a key to going to the playoffs. Hyun-Jin Ryu, coming off a great rookie season, gives the Dodgers a bona fide third starter. If either Chad Billingsley or Josh Beckett can rebound from having major arm surgeries, the Dodgers will have a satisfactory fourth starter. Signing Dan Haren should give them a knowledgeable fifth starter .
Now with Kershaw signed, general manager Ned Colletti should switch his concentration from pitching to obtaining middle infielders. Alexander Guerrero, a Cuban refugee, is slated to start at second base, but a hamstring injury during winter ball hampered him from learning the new position. The Dodgers don't have a backup for shortstop Hanley Ramirez, who has a long history of injuries, except for the light-hitting Dee Gordon and Justin Sellers. Colletti wants Michael Young to return, but the veteran infielder is leaning towards retirement so that he can spend more time with his family. As the offseason proceeds, the options for middle infielders are disappearing, and no team built around great pitching can win with a poor defense -- a major problem for the Dodgers in 2013.
Sarah D. Morris can be reached at sarahmorris27@gmail.com. This story was not subject to the approval of Major League Baseball or its clubs.