The Week Ahead: Tanaka drama to unfold
Plenty of talent remains on market but teams appear to be waiting on Japanese ace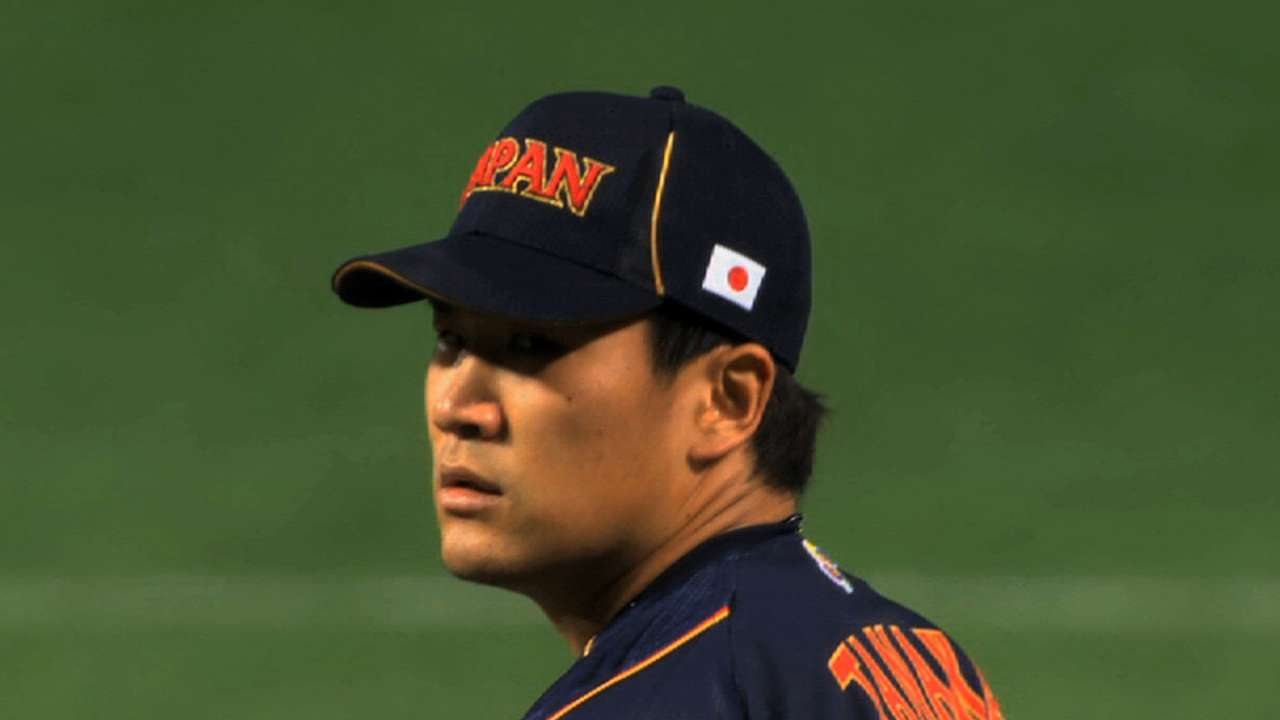 Last week ended with Japanese pitching sensation Masahiro Tanaka boarding a plane in Los Angeles and heading home to Japan. Now we might begin to find out what happened during his stay in California and what might happen in the coming two weeks.
The 25-year-old right-hander, who went 24-0 with a 1.27 ERA for the Rakuten Golden Eagles of Nippon Professional Baseball last season, has until Jan. 24 to make a decision about which Major League city and ballpark he'd like to occupy for the next five or six or seven seasons.
All 30 big league teams, even the ones that will not offer Tanaka a contract, are likely very interested in his signing, because it will help speed up a free-agent and trade market that slowed down prior to the holidays and hasn't picked up much steam since.
Last week was about the Hall of Fame and the good-natured but sometimes contentious discussions about who should and shouldn't be in. With a month remaining until pitchers and catchers report to Spring Training, a good part of this week will be about the Hot Stove and who's going where.
And it starts with Tanaka, who will help define the starting pitching market that also includes Matt Garza, Ubaldo Jimenez and Ervin Santana and many others.
So who will it be for Tanaka? The Dodgers, who sources indicated won't necessarily match the highest bidder? The White Sox, the only team that confirmed a visit with Tanaka in L.A. last week? The Yankees, who reportedly have made him their top target, even though they've already signed Jacoby Ellsbury, Brian McCann and Carlos Beltran?
And what about the Cubs, D-backs, Mariners, Rangers, Blue Jays, Indians, Twins … and anyone else who has already shown interest or might be laying in the proverbial weeds?
Maybe we'll find out this week. And maybe we'll find out more, too.
Maybe we'll learn if the Tampa Bay Rays are ready to make a decision to hold on to David Price or if they'll continue to see what might happen on the trade market. Price has two seasons remaining until he's eligible for free agency, a factor that might be working against the Rays in regard to the potential return they would get in a deal for Price. The highly respected Tampa Bay front office no doubt would prefer to make a mega-deal involving plenty of top prospects coming their way in return for their ace left-hander.
"We've had a lot of change, really, every offseason," said Andrew Friedman, the Rays' executive vice president of baseball operations. "There hasn't been an offseason with minimal turnover. The important thing is that, for the most part, our core guys have stayed in place, and we've been able to supplement around our core group."
While the Rays figure out their core group, other teams will do the same, and there are still a plethora of pieces to choose from as time begins to run out and decisions must be made.
The Rangers and Tigers, for example, might be sizing up the pitching market a bit more than they were prior to last week, when Texas left-hander Derek Holland (knee) and Detroit ace Justin Verlander (core) each underwent surgery.
They might be thinking about Tanaka or other free agents such as Bronson Arroyo, Chris Capuano, Barry Zito, Scott Baker, Jason Hammel, Tommy Hanson, Bruce Chen, Jake Westbrook and Paul Maholm.
Teams looking for bats can still sign shortstop Stephen Drew and other position-player headliners who remain on the free-agent board, such as Nelson Cruz and Kendrys Morales plus veteran role-player types Delmon Young, Mark Reynolds, Placido Polanco, Michael Young, Juan Pierre and Reed Johnson.
Need a closer? Grant Balfour is still out there, as are Fernando Rodney, Joel Hanrahan, Andrew Bailey, Rafael Betancourt and Kevin Gregg.
Available veteran relievers include right-handers Luis Ayala, Kyle Farnsworth, Frank Francisco, Matt Guerrier, Carlos Marmol, Francisco Rodriguez and Brett Myers and lefties Eric O'Flaherty, Michael Gonzalez, Oliver Perez and Rich Hill.
In other words, even if this week goes down without any Tanaka news, there could be plenty of Hot Stove simmering to pay attention to as the opening of spring camps gets seven days closer.
Doug Miller is a reporter for MLB.com. Follow him on Twitter @DougMillerMLB. This story was not subject to the approval of Major League Baseball or its clubs.