Who will become baseball's feel-good story in 2014?
After Pittsburgh's playoff drought ended last year, three AL clubs look to follow suit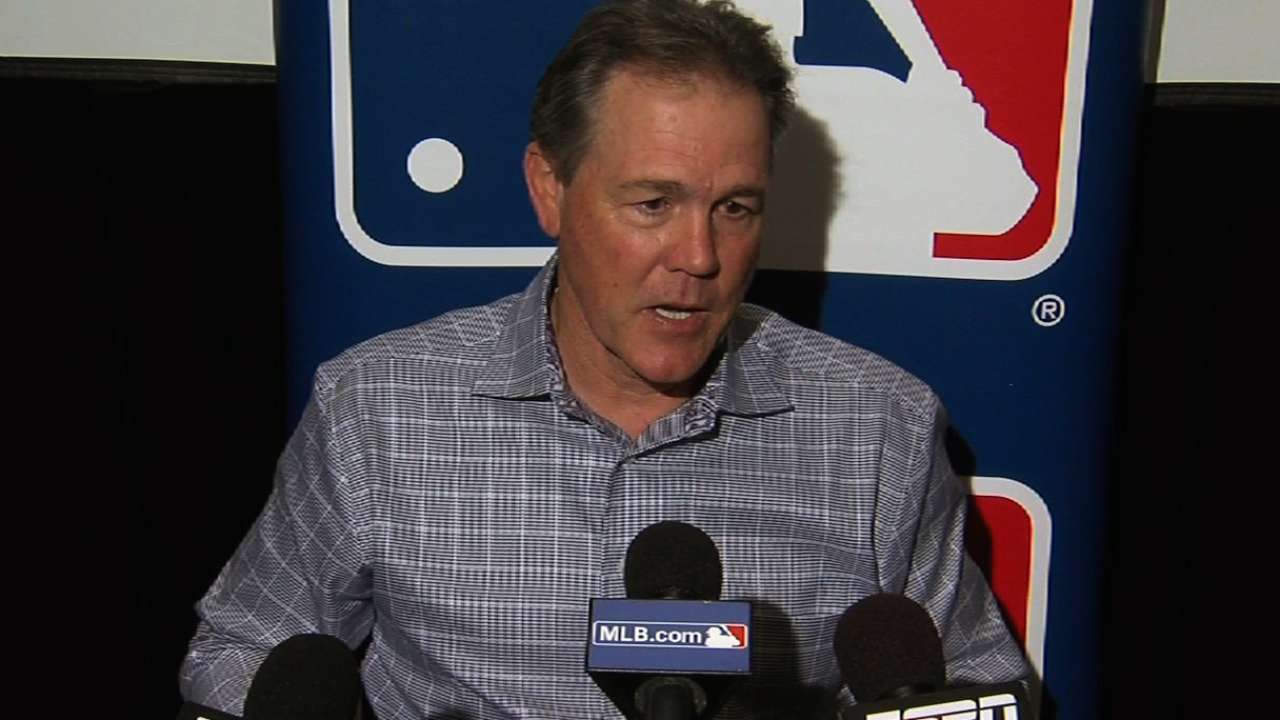 It became a daily storyline for all baseball fans to follow last September, but really it had been going on for three seasons in one sense, 20 seasons in another.
Cue the voiceover ...
The Pittsburgh Pirates are on the verge of a postseason berth for the first time since 1992. Will they finally get there?
We all know now that they did, writing one of the feel-good stories of 2013. The Pirates brought an end to what was the National League's longest active wait for playoff baseball, earning the top Wild Card seed after two previous years of falling short. The Bucs advanced to the National League Division Series against the Cardinals, taking the eventual NL champs to a decisive fifth game.
Active playoff droughts
| Team | Last time |
| --- | --- |
| Royals | 1985 |
| Jays | 1993 |
| Mariners | 2001 |
| Marlins | 2003 |
| Astros | 2005 |
| Mets | 2006 |
| Padres | 2006 |
| Cubs | 2008 |
| White Sox | 2008 |
Now that Pittsburgh's long wait has ended, a few teams will go into 2014 hoping to make their own long-awaited trips to the postseason and hop on that feel-good train to October.
Will they be able do it?
That remains to be seen, of course, but the three teams with the longest stretches without reaching the postseason -- all from the American League -- will head into the season with at least some of the same sense of anticipation that turned into raucous joy at PNC Park last October.
The Royals, who went in with high hopes in 2013 and very nearly reached the goal, have gone 28 seasons since they last brought the playoffs to Kansas City (including the 1994 season, when the postseason was canceled). Their last postseason appearance occurred in 1985, when they won the I-70 World Series over the Cardinals to cap a run of seven playoff berths in 10 years. The Royals' 28-season wait is the second-longest since divisional play began in 1969 -- the Nationals/Expos span of 30 seasons between postseason appearances came to an end in 2012.
The optimism the Royals took into 2013 -- after making bold moves to improve their starting pitching, with ace James Shields among the additions -- remains intact. After struggling to stay above .500 in the first half, posting a 43-49 record by the All-Star break, the Royals rallied down the stretch. They were in a wild six-team race for an AL Wild Card spot during the final weeks of the season, finishing 86-76 for their most wins since 1989. But ultimately, they fell short, getting eliminated with four games remaining in the season.
"I'm looking for us to continue doing what we did from the All-Star break on," Royals manager Ned Yost said at the Winter Meetings last month. "As a young club going into last year, you knew -- at least I knew, or I felt very strongly -- that there would come a point where it would all come together for us. And fortunately or unfortunately, that point didn't happen until [after] the All-Star break."
The Royals have much the same roster as they did last year, having brought in Jason Vargas while losing Ervin Santana in the rotation, adding veteran Omar Infante to play second base, and acquiring outfielder Norichika Aoki from Milwaukee to take over the top of the lineup.
Then there are the Blue Jays, who won back-to-back World Series titles in 1992-93 as part of three postseason appearances in four years, but haven't been back to October since.
Heading into last season, the Jays were a pick to click in the stacked AL East, having upgraded the veteran core of their club with shorstop Jose Reyes and starters R.A. Dickey and Mark Buehrle. But Reyes missed two months with an injury and Dickey came down hard from his NL Cy Young season in 2012, while Buehrle wound up being the lone bright spot in the rotation.
The rumors suggest that the Jays could be interested in free-agent pitchers Ubaldo Jimenez or the aforementioned Santana, though it'd cost them a Draft pick to sign either one. Toronto has been linked to the trade market for Cubs right-hander Jeff Samardzija, though the price tag of prospects appears to be high.
Whatever the Jays do or don't do this offseason, the AL East isn't getting any softer, and neither is the league as a whole, which might make for quite a Wild Card race.
The Mariners, who have gone 12 seasons without a postseason berth, could be a reason that Wild Card race is thick again, just as it was last September. By signing Robinson Cano to a monster contract, the Mariners at least made a statement that they intend to contend, soon if not immediately.
"I think it can help an awful lot," general manager Jack Zduriencik said upon the 10-year, $240 million signing. "We have elite pitching and we're going to get better. But we didn't have an elite player on the field. And I think, when you're going to put that player there, if I am his teammate right now, I am some kind of pumped."
Add a new manager in Lloyd McClendon to a mix that already includes one of the top 1-2 pitching punches in the game in Felix Hernandez and Hisashi Iwakuma. Throw in a couple of new pieces to the puzzle in Corey Hart and Logan Morrison, and the Mariners are putting forth an effort to steer toward a return to October.
The only other team with a double-digit playoff drought is the Marlins, whose wait is 10 seasons since their 2003 World Series stunner over the Yankees. Next are the Astros at eight seasons, the Mets and Padres at seven, and the list goes down from there, with 10 teams holding a big zero as their number after earning spots in the postseason in 2013.
That's a zero every team wants, and 2014 will offer another opportunity for teams to end their postseason waits, some of them longer than others.
John Schlegel is a national reporter for MLB.com. You can follow him on Twitter at @JohnSchlegelMLB.
This story was not subject to the approval of Major League Baseball or its clubs.